RUNNIN' REBEL PROMOTIONS ANNOUNCED AS 2022-23 SEASON OPENER APPROACHES

UNLV Athletics unveils slate of promotions that includes Runnin' Rebel Fest, Family 4 Pack, $2 beers, $5 Friday meal and special student incentives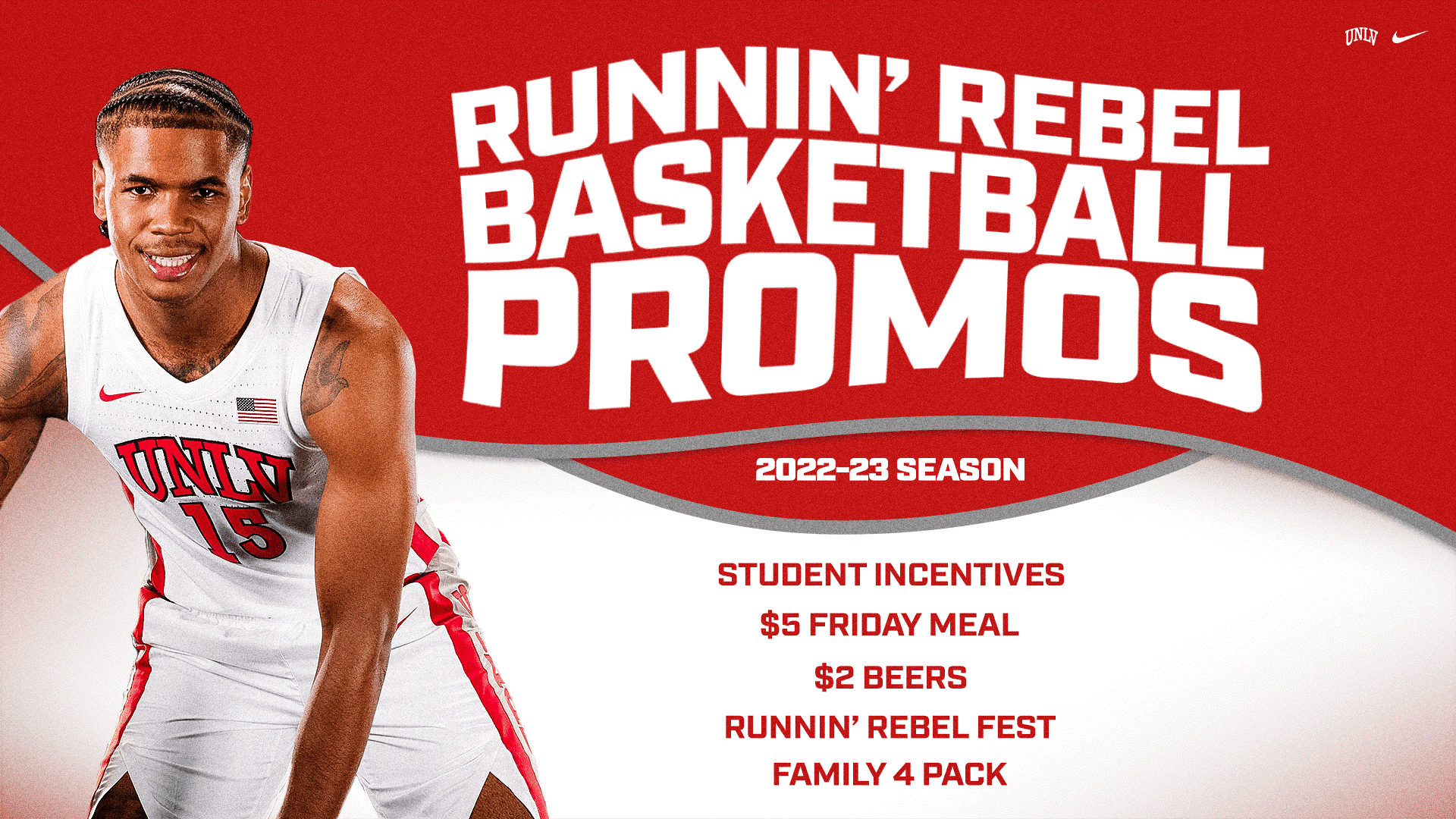 @TheRunninRebels  |  Purchase Tickets  |  Schedule
UNLV Athletics has unveiled a robust slate of promotions available to Runnin' Rebel fans before its men's basketball games this season. The popular Runnin' Rebel Fest returns this season, which begins on Monday, November 7 at the Thomas & Mack Center against Southern. The free pregame events will take place before 10 games this season, which is twice as many as previous years. It includes tailgate games (new games are being added this season), inflatables (a new basketball inflatable is also being introduced) and other activities for kids, along with drinks for all fans. Certain days of the week throughout the season will feature other promotions:
The Family 4 Pack, which includes four tickets and four chicken finger meals at a price starting at just $52, will be offered during three of the season's select Saturday home games.
$2 Beer Night will return for games that take place on Monday through Thursday, thanks to a partnership with Miller Lite.
A new $5 Friday meal will be available for games on Friday nights.
"We can't wait to see our fans back in the Thomas & Mack Center this season," UNLV Director of Athletics Erick Harper said. "We are pleased to announce our newest fan and family-friendly opportunities to welcome the community to campus to celebrate our city's longest sports tradition of cheering on their Runnin' Rebels." Additional promotions will be geared directly toward UNLV students, including the opportunity to earn a free UNLV basketball retro-inspired jersey, early entry into the Thomas & Mack Center, and exclusive food options at Runnin' Rebel Fest. Student-specific giveaways will include a tuition giveaway, concert tickets, exclusive apparel and more. "Getting UNLV students excited about attending Runnin' Rebel games is one of Coach Kruger's top priorities," said Gene Canal, Senior Associate Athletics Director for Marketing and Fan Engagement. "We look forward to continuing to implement new, attractive programs to encourage our students to set the tone and attendance records at our home games." Game-by-game promotions may be found on the UNLVRebels.com men's basketball schedule page.  The Runnin' Rebels will open the 2022-23 season with four home games in a 12-day span from Nov. 7-18 against Southern, Incarnate Word, No. 24 Dayton and High Point. 2022-23 SEASON TICKETS: Ticket prices for the 2022-23 season have been adjusted with affordability and family friendly value at the forefront of the changes. Click the links for more information or to purchase. Mini plans and single-game tickets are also on sale now. 2022-23 ROSTER: This season's UNLV men's basketball roster features six returners from last season's team and eight newcomers, including six transfers from the Division I level. FOLLOW US: For all things UNLV Runnin' Rebels, follow the social media accounts below: Twitter: @TheRunninRebels
Instagram: @RunninRebels
TikTok: @RunninRebels
Facebook: @UNLVRunninRebelBasketball
YouTube: @RunninRebels
Summary
Article Name
Runnin' Rebel Promotions Announced As 2022-23 Season Opener Approaches
Description
Runnin' Rebel Promotions Announced As 2022-23 Season Opener Approaches