RUNNIN' REBELS ADVANCE TO MOUNTAIN WEST QUARTERFINALS WITH OVERTIME WIN OVER AIR FORCE

EJ Harkless scores career-high 35 points and Luis Rodriguez records second straight double-double in 78-70 victory Wednesday at the Thomas & Mack Center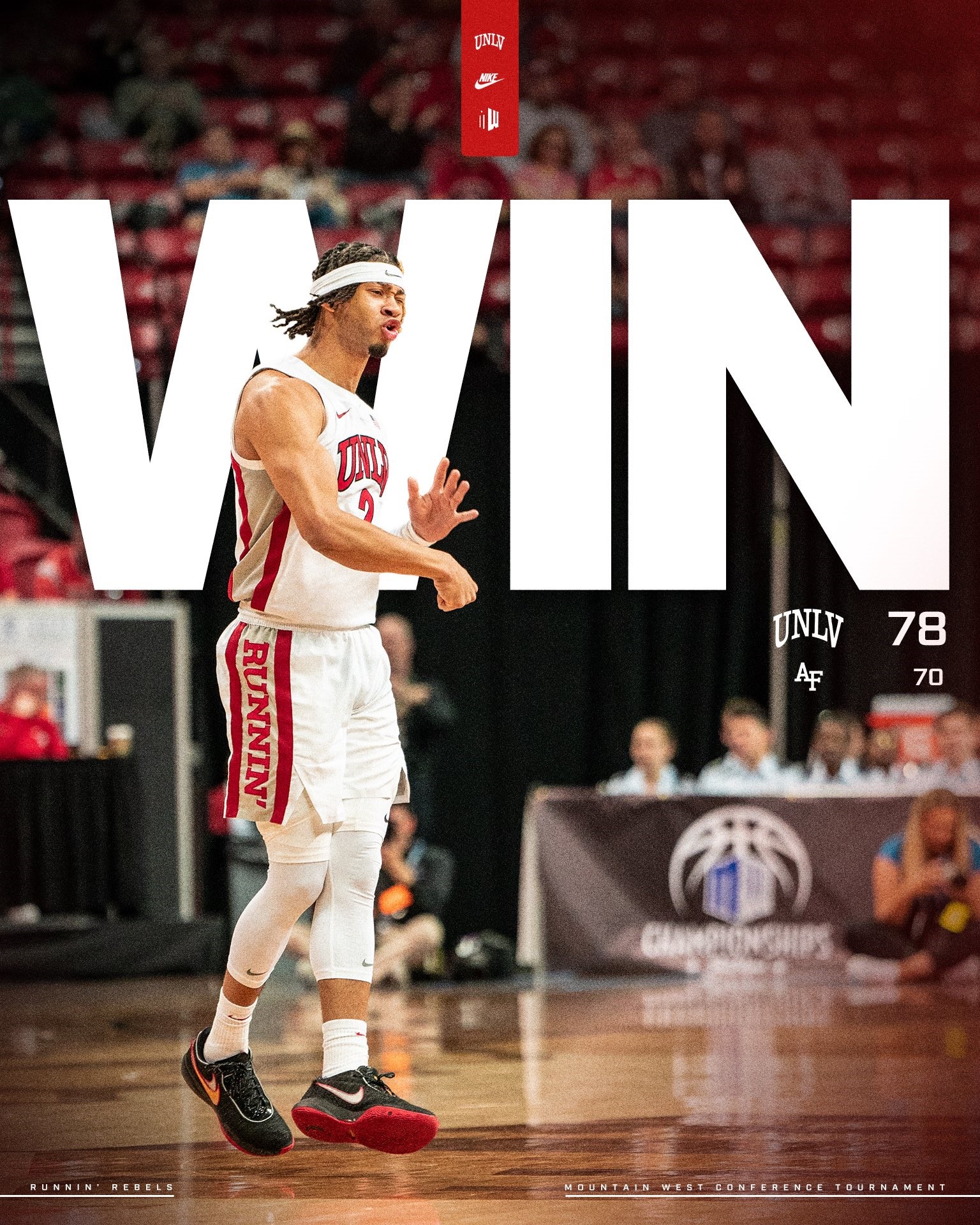 EJ Harkless scored a career-high 35 points, while Luis Rodriguez recorded his second straight double-double as the UNLV men's basketball team (19-12) won in overtime over Air Force 78-70 in the first round of the Mountain West Tournament Wednesday afternoon at the Thomas & Mack Center.
The No. 7 seed Runnin' Rebels have moved on to face No. 2 seed Boise State Thursday night at 6 p.m. in the quarterfinals.
Harkless scored 11 of his points in the extra period, while Rodriguez totaled 10 points and 11 rebounds in UNLV's second meeting with Air Force this season. In the first meeting, which was played less than two weeks ago, the Runnin' Rebels won another close one, 54-53, with Harkless again the hero as his putback with 1.8 seconds left gave UNLV that victory.
Air Force (14-18) was led Wednesday by Jake Heidbreder's 24 points. Carter Murphy added 19 points and Rytis Petraitis scored 15 as the trio combined to shoot 16 of 17 from the free-throw line.
END OF REGULATION: UNLV trailed 57-54 with two minutes left and Harkless' fastbreak layup made it a one-point game with 1:14 to go. Air Force missed a couple of shots and turned it over on a shot clock violation before Harkless tied it up by making one of two free throws with 18 seconds to go. Air Force had an opportunity to win the game, but Victor Iwuakor forced a turnover with three seconds remaining, giving the ball to UNLV for one last shot. Harkless' half-court heave was too strong and the game went into overtime.
Harkless scored 10 of UNLV's final 14 points in regulation.
IN OVERTIME: Harkless scored the first eight points of overtime and over the entire extra five-minute period made 3 of 4 shots, including his only 3-point attempt, and 4 of 5 free throws as UNLV scored a total of 21 points in overtime.
QUOTABLE: "Just really proud of the guys for fighting and staying with it. They clearly understood our concern as a staff about how a game with Air Force can turn into a rock fight, not only the last time we played them a couple of weeks ago, but that it's not going to change. They're going to run their stuff. They're going to cut hard no matter what you do. I felt like we guarded them in the first half of both games incredibly well, and things just don't change. They still cut hard. They still pass. The guys just did a great job of sticking with it, not putting their head down. The focus and attention was on the defensive side, and we ended up with a win." – UNLV head coach Kevin Kruger
OTHER NOTES:
– UNLV was without starting guard Keshon Gilbert, who was suspended for one game for violating the Mountain West's sportsmanship policy.
– Harkless' 35 points tied for the fifth-most in Mountain West Tournament history.
– UNLV is now 6-0 all-time vs. Air Force in MW Tournament play. This was the third time in the last four postseason meetings between the two teams that went to overtime.
– UNLV is now 34-2 all-time vs. Air Force at home.
– UNLV is 8-1 in the last nine overall meetings vs. Air Force and has won 14 straight against the Falcons at the Thomas & Mack Center.
– It was the second straight overtime win for the Runnin' Rebels, who improved their record in overtime games this season to 2-2.
– Harkless has now scored at least 20 points in each of the last four games and is averaging 25.5 ppg over that span.
– Harkless was 9 of 20 from the field, made four 3-pointers and was 13 of 18 from the free-throw line. He also added six rebounds and four assists.
– Justin Webster contributed 12 points, four assists and three steals.
– UNLV made 50% (11 of 22) of its shots during the second half.
– UNLV recorded 11 steals, which marked the 13th time this season the Runnin' Rebels have recorded double figures in steals in a game.
– The game featured 10 lead changes and was tied seven times.
– UNLV scored 21 points off of 17 Air Force turnovers, led in fastbreak points 15-0 and its bench outscored the Falcons' 24-7.
– UNLV held a 24-22 halftime lead.
– David Muoka fouled out with four minutes remaining.
– UNLV has made at least one 3-pointer in a NCAA-record 1,192 straight games.
NEXT FOR THE RUNNIN' REBELS: UNLV will face second-seeded Boise State (23-8) in the Mountain West Tournament's quarterfinals on Thursday, March 9 at 6 p.m. The game will be televised on CBS Sports Network. Tickets may be purchased at UNLVtickets.com, by calling 702-739-FANS (3267) or in person at the TMC Box Office.
Summary
Article Name
Runnin' Rebels Advance To MW Quarterfinals With 78-70 Overtime Win Over Air Force
Description
Runnin' Rebels Advance To MW Quarterfinals With 78-70 Overtime Win Over Air Force