RUNNIN' REBELS FALL IN CANADIAN TOUR OPENER

Host University of British Columbia defeated UNLV men's basketball 79-72 in exhibition game Tuesday night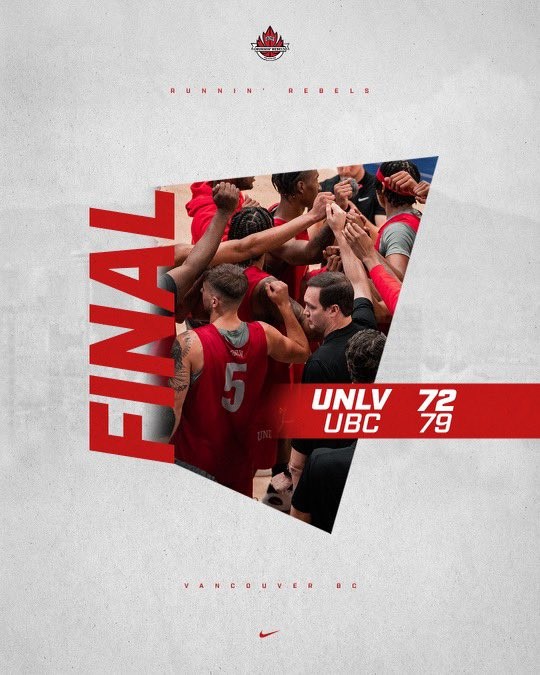 Three Runnin' Rebels scored in double figures but it wasn't enough as the UNLV men's basketball team opened its Canadian tour at the University of British Columbia's War Memorial Gym Tuesday night with a 79-72 exhibition loss.
Jackie Johnson III led UNLV with 16 points, while Justin Webster scored 12 and Luis Rodriguez had 11. David Muoka collected a team-high nine rebounds and Keshon Gilbert dished out a game-high-tying six assists.
The Thunderbirds were led by James Woods' 33 points and Sukhman Sandhu's double-double of 23 points and 12 rebounds. Jamesley Jerome also scored in double figures for UBC with 10 points.
GAME OF RUNS: UNLV led by eight points early in the game (22-14), but trailed by two at the half (42-40). UBC' had its biggest lead of the game halfway through the fourth quarter at 69-60. There were a total of four lead changes and four ties throughout the game.
CUT TO THREE POINTS: UNLV cut its deficit to just three points a couple of times late in the game, including with under 30 seconds to play. Justin Webster missed a potential game-tying 3-pointer and the Runnin' Rebels were not able to get any closer.
QUOTABLE: "We had good stretches and had pieces and parts of the game where we played really well, and then we had pieces and parts where we didn't and it just came back to bite us. We had a lead early and were playing really well, and then kind of took our foot off the gas a little bit, and they took the lead and didn't give it back. But it is a great learning opportunity and lesson that we have to stay consistent, play hard for 40 minutes and play for each other. But UBC played really hard and really well and you have to tip your hat to them."
NOTES:
– UNLV's flight Monday was canceled after multiple delays and the team landed in Vancouver about six hours prior to the start of Tuesday night's game.
– This was the first of three exhibition games for the Runnin' Rebels during this foreign tour.
– Video of the game will be available on the Runnin' Rebels' YouTube channel as soon as possible depending on export and upload speeds.
– UBC has captured the Canada West championship 10 times in its history and is coming off of a 19-5 overall record in 2021-22, including an undefeated 11-0 mark at War Memorial Gym.
– UNLV forced 23 turnovers and turned them into 20 points, while committing just 12 miscues.
– UBC out-rebounded UNLV 47-35.
– UNLV stole the ball 12 times and its bench outscored UBC's 35-12.
– UNLV led in fast-break points 26-7 and in points in the paint 32-22.
NEXT FOR THE RUNNIN' REBELS: UNLV will face the University of Calgary Dinos on Wednesday, Aug. 17, at UBC's War Memorial Gym (7:00 p.m. PT). The game will be broadcast live on ESPN Radio 1100 AM in Las Vegas and the video will be available on the Runnin' Rebels' YouTube channel as soon as possible depending on export and upload speeds.
FOLLOW US: For all things UNLV Runnin' Rebels in Canada, follow our social accounts below as well as on UNLV's official athletics website at UNLVRebels.com/Canada.
Twitter: @TheRunninRebels
Instagram: @RunninRebels
TikTok: @RunninRebels
Facebook: @UNLVRunninRebelBasketball
YouTube: @RunninRebels
2022-23 ROSTER: This season's UNLV men's basketball roster features six returners from last season's team and eight newcomers, including six transfers from the Division I level.
2022-23 SEASON TICKETS: Ticket prices for the 2022-23 season have been adjusted with affordability and family friendly value at the forefront of the changes. Click the links for more information or to purchase.
Summary
Article Name
Runnin' Rebels Fall In Canadian Tour Opener
Description
Runnin' Rebels Fall In Canadian Tour Opener