RUNNIN' REBELS TO OPEN 2023-24 SEASON WEDNESDAY NIGHT AT HOME
UNLV men's basketball to host Southern for 7 p.m. game at Thomas & Mack Center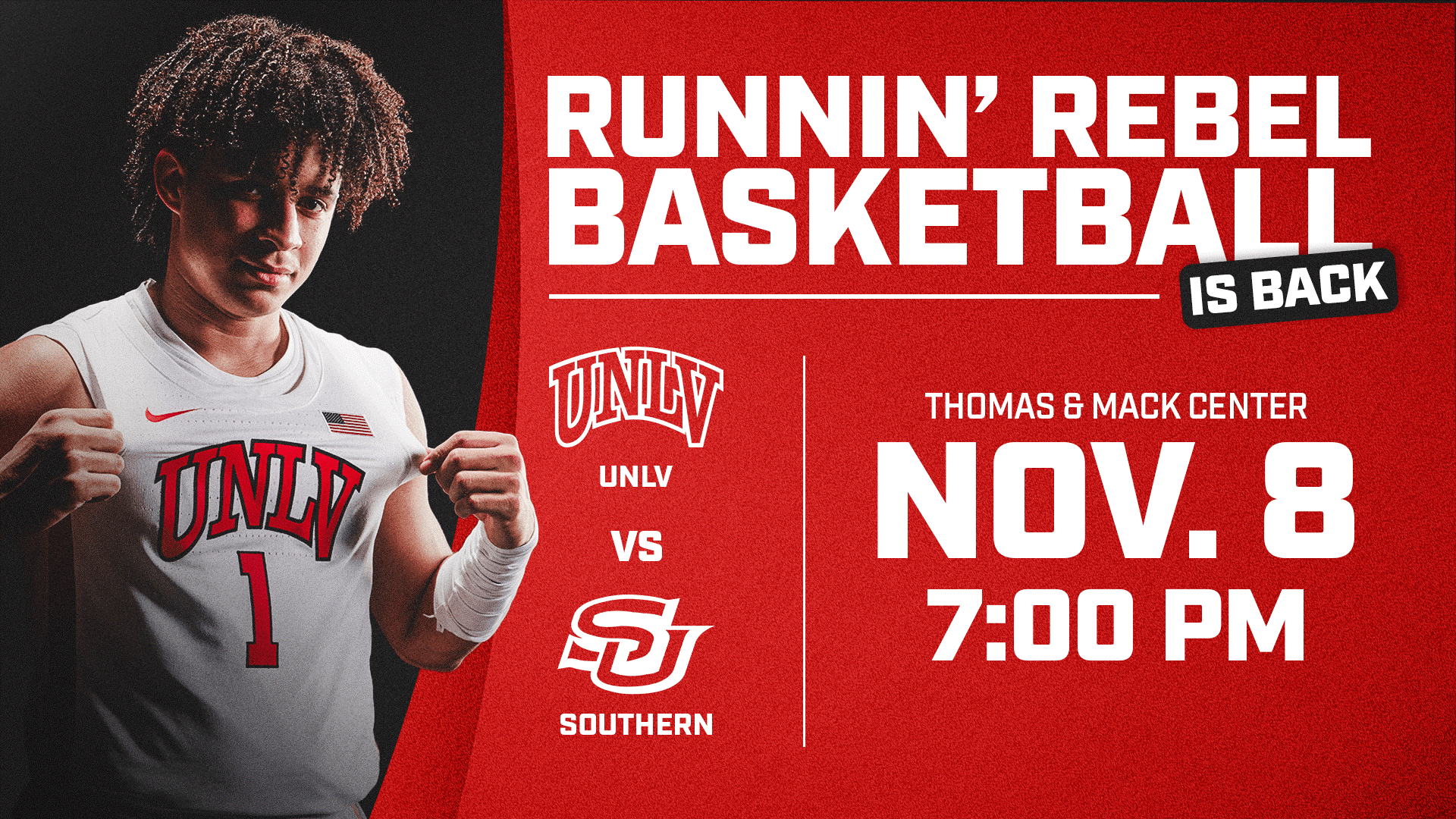 The UNLV men's basketball team will open the 2023-24 season on Wednesday, Nov. 8 at 7 p.m. at the Thomas & Mack Center vs. Southern.
The Runnin' Rebels, who are in their third year under head coach Kevin Kruger, will begin this season's campaign with two games at home before heading out on the road. UNLV will conclude its season-opening two-game homestand on Saturday, Nov. 11 at 4 p.m. vs. Stetson. The program will honor Runnin' Rebel legend Anderson Hunt that day with a jersey retirement.
WEDNESDAY'S PROMOTIONS: Runnin' Rebel Fest, located at Tark Plaza outside the Thomas & Mack Center, returns on Wednesday and will open at 5:30 p.m. with music, games and more. All fans are invited to Runnin' Rebel Fest.
Free Raising Cane's will be given to UNLV students.
The first 3,000 fans inside the arena for the game will be able to pick up a free rally towel featuring the new court design inside the Thomas & Mack Center. Rally towels will be located at the entrance near section 117 and the entrance near Strip View Pavilion.
During halftime, fans will be able to enjoy an entertaining performance from America's Got Talent Season 12 performer Jonathan Rinny.
Wednesday is also $2 Beer Night. Fans 21 and older will be able to enjoy $2 Miller Lite through halftime.
TICKETS: Tickets to UNLV men's basketball home games are on sale now at UNLVtickets.com, by calling 702-739-3267 or by visiting the Thomas & Mack Center Box Office.
ABOUT THE ROSTER: This season's UNLV squad features seven returners from last year's team along with seven newcomers. The newcomers are made up of three Division I transfers, a junior college transfer and three freshmen. UNLV has 10 upperclassmen, including five fifth-year seniors. A total of four players on the roster are playing in their hometown of Las Vegas. The Runnin' Rebels return two starters in Luis Rodriguez and Justin Webster, who averaged 10.7 and 8.2 points per game last season, respectively. Rodriguez led last season's team in rebounding (5.7 rpg).
ABOUT THE OPPONENT: Southern opened the 2023-24 season Monday night, falling at TCU 108-75. The Jaguars were led by Brandon Davis' 20 points, while Tai'Reon Joseph added 15 and JaRonn Wilkens scored 10. SU won its lone exhibition game, 94-60, against Louisiana Christian on Oct. 31. Southern finished last season with an overall record of 15-17, but placed fourth in the Southwestern Athletic Conference with an 11-7 league mark. The Jaguars have been picked to finish fifth in their conference in this year's preseason poll. Led by head coach Kevin Johnson, Southern has 12 upperclassmen on its 16-member roster. SU lost its top six scorers from last season's team. Festus Ndumanya is the team's top returning scorer (5.7 ppg in 2022-23).
LAST SEASON VS SOUTHERN: UNLV also opened the 2022-23 season against Southern, with the Runnin' Rebels winning that contest, 66-56, at the Thomas & Mack Center on Nov. 7, 2022. Among UNLV's returners, Jackie Johnson III scored 10 points and Luis Rodriguez added nine that evening. Notably, UNLV forced the Jaguars into 28 turnovers, including 17 in the first half.
BROADCAST INFO: Wednesday's game will be broadcast on the Mountain West Network and Silver State Sports & Entertainment Network (digital channel 5.2 & 125 on Cox in Las Vegas) with Matt Neverett and Steve Cofield calling the action. Jon Sandler and former Runnin' Rebel Curtis Terry will handle the UNLV radio call, which may be heard live on ESPN Radio 1100 in Las Vegas. All streaming links and live stats are available at UNLVRebels.com and through the UNLV Rebels App.
LAST SEASON: The Runnin' Rebels finished the 2022-23 season with 19 wins. UNLV won two games over ranked teams, which marked the first time the program had won multiple games against top 25 teams in the same season since 2015-16. UNLV raced out to a hot start, going 11-1 in non-conference play after winning its first 10 games. The non-conference record was its best in 32 years and the 10-0 start was its best in 34 seasons. When the team was 10-0 it was receiving votes in both top 25 polls. EJ Harkless was named Second Team All-Mountain West when conference play concluded.
Summary
Article Name
Runnin' Rebels To Open 2023-24 Season Wednesday Night At Home
Description
Runnin' Rebels To Open 2023-24 Season Wednesday Night At Home