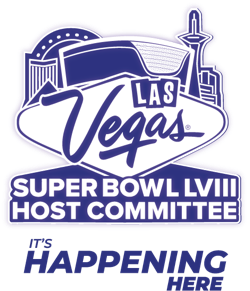 NFL SURPRISES LOCAL HIGH SCHOOL STANDOUT WITH TICKETS TO SUPER BOWL LVIII THROUGH #SUPERBOWLSURPRISE PROGRAM
The National Football League, in collaboration with the Las Vegas Super Bowl LVIII Host Committee and Las Vegas Raiders, gifted local high school student Luis Ortiz and his family with four tickets to Super Bowl LVIII
Photo credit belongs to the Las Vegas Super Bowl LVIII Host Committee and Las Vegas Raiders
The NFL, with support from the Las Vegas Super Bowl LVIII Host Committee and Las Vegas Raiders, surprised local high school student Luis Ortiz and his family with four tickets to Super Bowl LVIII during the Las Vegas Raiders vs. New York Giants game on Sunday, Nov. 5 through the #SuperBowlSurprise program.
Luis, who is regarded as a leader by his teachers and peers, is a devoted high school student who has faced adversity in his life, though that has not deterred his dedication to achieving his educational goals. Recently, Luis transferred to a magnet school in search of a better environment and more opportunities. At his previous school, Luis served as team captain of his soccer, football and basketball team. Luis would lend his time to assist other students with behavioral issues through sports, teaching them about the value of sportsmanship. Luis was also pivotal in de-escalating situations with other students in his previous school.
The National Football League's Super Bowl Ticket Giveaway Program, #SuperBowlSurprise, thanks the league's most passionate and dedicated fans by offering tickets to the NFL's biggest event of the season, the Super Bowl. In its seventh year, the program has provided thousands of fans with the opportunity to attend the league's biggest event of the season, while also highlighting their dedication to their local communities and clubs.
Luis and his family were given the ultimate fan experience where they were recognized for Luis' courageous actions during the pre-game of the Raiders vs. Giants matchup and then enjoyed premium seating to watch the game, courtesy of the Las Vegas Raiders.
To see more of the #SuperBowlSurprise on social media, visit @lvsuperbowlhc on Instagram, Facebook, X and LinkedIn.
About the Las Vegas Super Bowl LVIII Host Committee
The Las Vegas Super Bowl Host Committee is a 501(c)(6) non-profit organization whose mission is to provide a premier Super Bowl LVIII Experience in 2024. Serving as the liaison between the National Football League and the City of Las Vegas, Clark County, and State of Nevada, the Las Vegas Super Bowl LVIII Host Committee unites local and national stakeholders to maximize opportunities surrounding the Super Bowl to drive lasting social, cultural, and economic impact across the region. For more information, visit www.lvsuperbowlhc.com and follow @lvsuperbowlhc on Instagram, Facebook, Twitter, and LinkedIn.
Summary
Article Name
NFL SURPRISES LOCAL HIGH SCHOOL STANDOUT WITH TICKETS TO SUPER BOWL LVIII THROUGH #SUPERBOWL SURPRISE PROGRAM
Description
NFL SURPRISES LOCAL HIGH SCHOOL STANDOUT WITH TICKETS TO SUPER BOWL LVIII THROUGH #SUPERBOWL SURPRISE PROGRAM