RUNNIN' REBELS TO PLAY AT PEPPERDINE FRIDAY NIGHT
UNLV men's basketball set for first road game of the season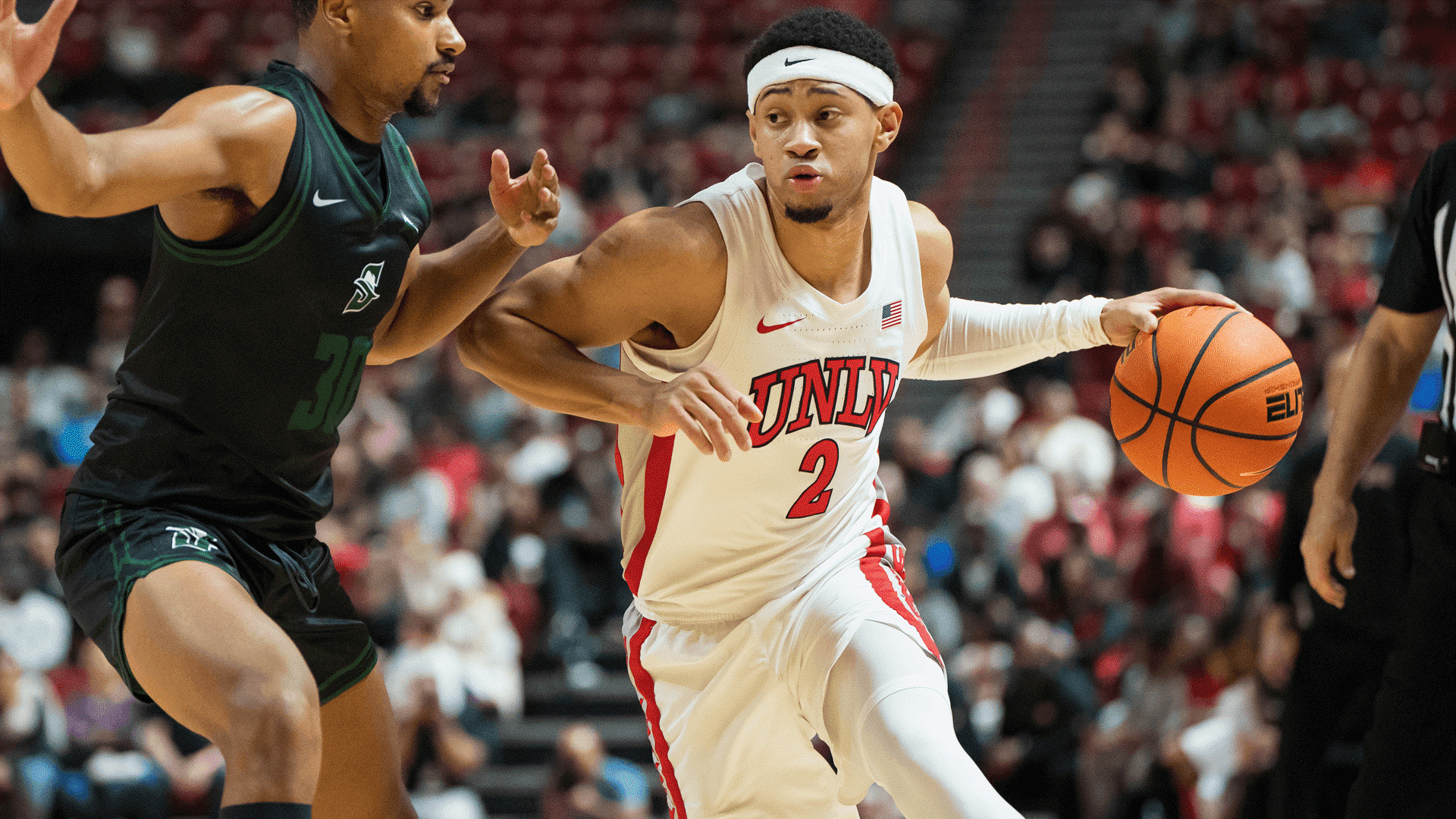 The UNLV men's basketball team (1-1) will hit the road for the first time this season to play at Pepperdine on Friday, Nov. 17 at 7 p.m. This will be the Runnin' Rebels' first trip to Malibu for a game since 2004.
ABOUT THE ROSTER: This season's UNLV squad features seven returners from last year's team along with seven newcomers. The newcomers are made up of three Division I transfers, a junior college transfer and three freshmen. UNLV has 10 upperclassmen, including five fifth-year seniors. A total of four players on the roster are playing in their hometown of Las Vegas. The Runnin' Rebels return two starters in Luis Rodriguez and Justin Webster, who averaged 10.7 and 8.2 points per game last season, respectively. Rodriguez led last season's team in rebounding (5.7 rpg).
EARLY SEASON RUNNIN' REBEL LEADERS: After two games, three UNLV players are averaging double figures in scoring in Luis Rodriguez (15.0 ppg), Jalen Hill (12.5 rpg) and Isaiah Cottrell (11.0 ppg). Hill leads the team in rebounds (9.5 rpg), while Dedan Thomas Jr. is the assists leader (7.0 apg).
LAST TIME OUT: UNLV defeated Stetson 71-55 in its last game, which occurred on Saturday, Nov. 11. It was a special day at the Thomas & Mack Center as Anderson Hunt was honored with his jersey being raised to the rafters during a halftime ceremony. In the contest, Jalen Hill recorded a double-double with 14 points and 13 rebounds (one shy of his career high), while Luis Rodriguez was the team's leading scorer with 15 points and Dedan Thomas Jr. had a game-high nine assists with no turnovers.
ABOUT THE OPPONENT: Pepperdine has started the 2023-24 season with a 3-1 record, which includes home wins over Concordia Irvine (76-64), Lafayette (76-53) and LIU (88-53). The Waves' lone loss this year was on the road at UC Davis by a point (79-78). Houston Mallette leads the team in scoring with 19.5 points per game, while Michael Ajayi is at 13.8 ppg and Malik Moore is at 13.0 ppg. Ajayi is averaging 11.0 rebounds per contest, while Moore is averaging 3.3 assists per game. Pepperdine finished last season with an overall record of 9-22, placing 10th in the West Coast Conference with a 2-14 league mark. The Waves were picked to finish seventh in their conference in this year's preseason coaches poll. Mallette and Jevon Porter, who hasn't played yet this season, were both selected to the Preseason All-WCC Team. Led by head coach Lorenzo Romar, Pepperdine has just four upperclassmen on its 15-member roster.
BROADCAST INFO: Friday's game will be broadcast on ESPN+ Al Epstein and John Impelman calling the action. Jon Sandler and former Runnin' Rebel Curtis Terry will handle the UNLV radio call, which may be heard live on ESPN Radio 1100 in Las Vegas. All streaming links and live stats are available at UNLVRebels.com and through the UNLV Rebels App.
LAST SEASON: The Runnin' Rebels finished the 2022-23 season with 19 wins. UNLV won two games over ranked teams, which marked the first time the program had won multiple games against top 25 teams in the same season since 2015-16. UNLV raced out to a hot start, going 11-1 in non-conference play after winning its first 10 games. The non-conference record was its best in 32 years and the 10-0 start was its best in 34 seasons. When the team was 10-0 it was receiving votes in both top 25 polls. EJ Harkless was named Second Team All-Mountain West when conference play concluded.
Summary
Article Name
Runnin' Rebels To Play At Pepperdine Friday Night
Description
Runnin' Rebels To Play At Pepperdine Friday Night