SANDS NAMED MOUNTAIN WEST FRESHMAN OF THE WEEK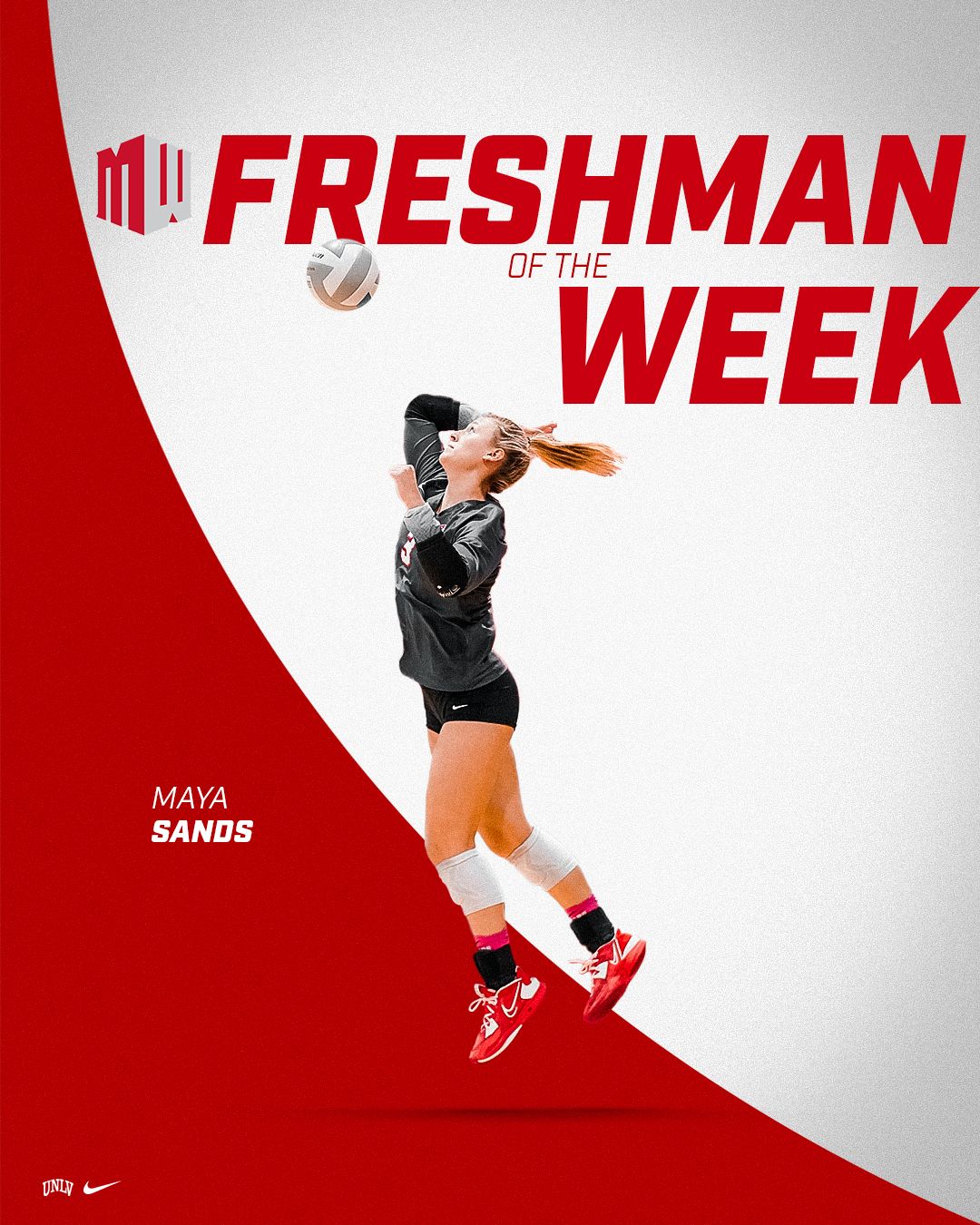 @UNLVvball | MW Release | Schedule | Tickets
After helping the Rebels to its third consecutive 2-0 weekend in conference play, UNLV volleyball's freshman Maya Sands was named the Mountain West Freshman of the Week for the second time this season, the league announced Monday.
Sands, a 5-7 libero from Rock Falls, Illinois, earned the weekly honors for the second time this season after helping the Scarlet & Gray to a 2-0 record in conference play over the weekend with 36 digs, six assists and one reception.
During Thursday night's 3-2 win over Utah State, the Rock Falls High School graduate recorded a career-high and match-high 22 digs, five assists and one reception. Maya was also a key player for UNLV during Saturday afternoon's sweep over Boise State with her 14 digs and one assist.
UP NEXT: The Rebels take on San Jose State Thursday, October 20 at 6:30 p.m. in Cox Pavilion, before hitting the road to Reno to play against UNR Saturday, October 22 at 1 p.m.
OTHER NEWS & NOTES
– Dating back to 2019, UNLV has gone 73-15 in its last 88 matches. The Rebels have won 16 of 19 matches this season and 42 of its last 51.
– UNLV returned eight letterwinners this season. Also returning to the squad from last season were Gabrielle Arretche-Ramos, Arien Fafard, Jordyn Freeman, Chloe Thomas, Isha Knight, Keyana Cruse, Dakota Quinlan, Livvy Setla, Isabel Martin and Thea Sweder. There are eight newcomers, which include three freshmen, a trio of transfers and a pair of graduate transfers.
– UNLV is led by fifth-year head coach Dawn Sullivan, who looks to guide her squad to the postseason for the fifth straight season.
– Junior Arien Fafard had her 1,000th career assist during the opening weekend of the Rebels' 2022 campaign at UNT.
– The Rebels defeated No. 19 Kansas on September 10, 2022, making that the second win over a ranked team since 2016. The first being then No. 25 Washington State during the fall 2021 season at the Rebel Challenge (Sept. 4, 2021).
Summary
Article Name
Sands Named Mountain West Freshman Of The Week
Description
Sands Named Mountain West Freshman Of The Week