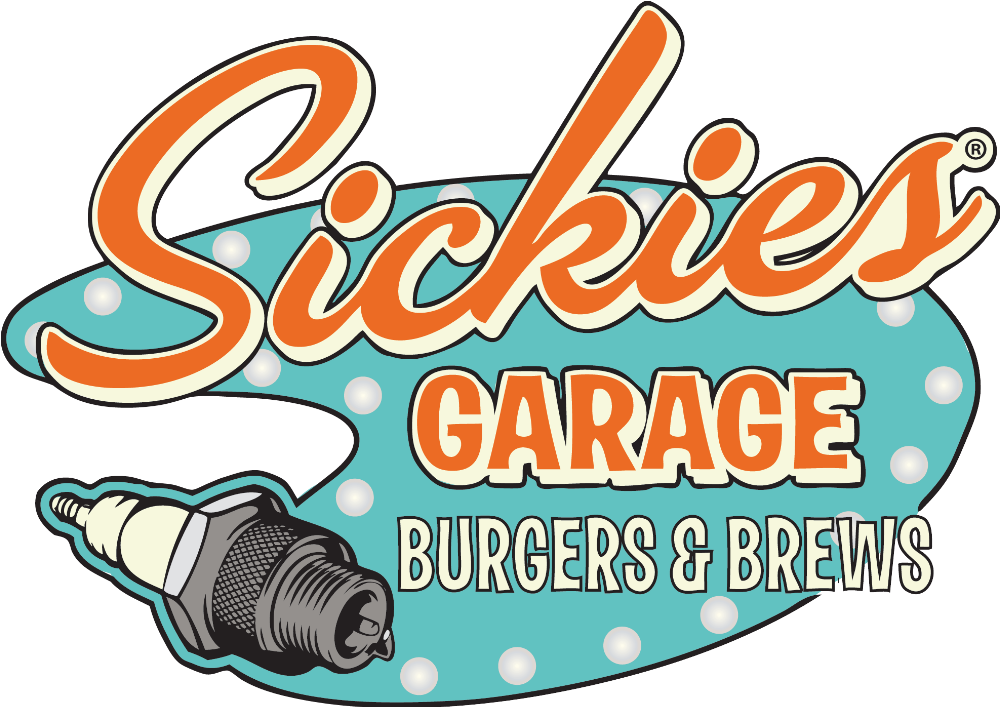 Sickies Garage at Town Square Hosts Big Game Viewing Party with Special Game Day Menu
Reservations for the Big Game are available now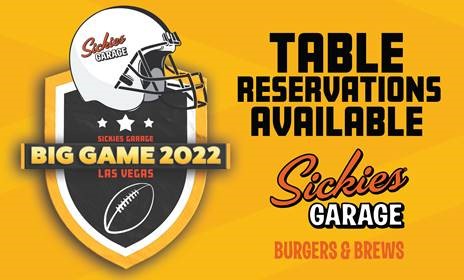 WHO:
Sickies Garage Burgers & Brews, located in Town Square Las Vegas.
WHAT:
Sickies Garage Burgers & Brews is known for their selection of 50 burgers and 50 brews, and of course, they are known as a great central spot to meet friends for the ultimate sports viewing afternoon. This year, for the Big Game, sports fans can grab a table with their group and settle in to watch Cincinnati take on Los Angeles on Sickies' 30 televisions located throughout the restaurant and patio.
Seating begins 30 minutes before game time and there is a $50 per person minimum for food & beverage. Reservations can be made by calling (725) 735-5400.
A special Game Day menu of shareable platters includes:
The Pit Boss BBQ Emporium – House Smoked St. Louis Rib Tips, Pulled Pork, Smoked Beef Brisket, Pepper Bacon, Six Cheese Mac "n" Cheese, Slaw, Texas Toast and Pickles
What Happens in Vegas Platter – Pulled Pork Sliders, Mini Beef Sliders, Mini Hot Chicken Sliders, Boneless Wings served with your choice of three sauces, chips, and salsa
Sickies Street Taco Platter – Chicken Adobo, Seasoned Beef & Pork Carnitas, Chips and Salsas, Cabbage Slaw, Pickled Vegetables
Crispy Shrimp Taco Platter – Crispy Shrimp, Pink Chili Mayo, Chips and Salsas, Pineapple – Cilantro Slaw
Thai Sticks – Chicken and Shrimp Thai Style Skewers with Thai Peanut, Teriyaki, and Sweet Chili Dipping Sauces
Seasonal Sliced Fruits & Berries Platter
Guac & Chips Platter – Crispy Corn Tortilla Chips, Guacamole and Salsa
And of course, the everyday Sickies Garage Burgers & Brews menu featuring 50 burgers, sandwiches, wings, malts & shakes, and more will also be available.
WHEN:
Sunday, Feb. 13
Reserved seating beginning at 3 p.m.
Game kicks off at 3:30 p.m.
WHERE:
Town Square (next to Town Square Park)
6629 S Las Vegas Blvd., Building J, Suite B-120
Las Vegas, NV 89119
ABOUT SICKIES GARAGE BURGERS & BREWS:
In the early 2000s, a group of like-minded friends would meet up to tinker on their projects – motorcycles, cars, or to just talk shop. Grilling at the garage sparked a new avenue for creativity, crafting experimental burgers with unusual toppings that family and friends were excited to try. Testing the newest burgers at the garage, which quickly became known as "Sickies Garage," was often the reason to play hooky from work by calling in "sick." These friends just wanted to spend more time together on their projects at the garage than they did at work. All who met at the garage were eager to have their own special burger and quickly the offering grew into an arms-length-list. Something truly for everyone, by everyone. So, in 2012 these friends opened their first full-service restaurant in Fargo, ND and Sickies Garage Burgers & Brews was officially born.
Sickies Garage Burgers & Brews is a family-friendly garage-themed restaurant and bar known nationally for their robust and innovative menu featuring 50 over-the-top burgers and 50 delicious brews. Surrounded by décor from classic cars, trucks and motorcycles, diners always have something fun to check out while enjoying the extensive menu featuring items like the Twin Cam (burger topped with peppered bacon and nacho cheese, dialed in between two grilled cheese sandwiches for buns!), the Glazed Doughnut Burger (with a glazed doughnut as a bun!), regular and boneless wings with 25 different sauces, delicious shareable appetizers, specialty Limited Time Only items throughout the year, hand-spun boozy and non-alcoholic shakes and malts, and a revved up bar menu.
Following the Fargo opening in 2012, new locations opened in Bismarck, ND, and Sioux Falls and Rapid City, SD. In 2020, Sickies Garage rolled even further down the highway, to Bellevue, NE and Las Vegas, NV, and in 2021, Kissimmee, FL. In 2022, Fargo welcomed a second location, and additional locations are coming soon.
Summary
Article Name
Sickies Garage Burgers & Brews Boasts Special Game Day Menu and Opens Table Reservations for the Big Game
Description
Sickies Garage Burgers & Brews Boasts Special Game Day Menu and Opens Table Reservations for the Big Game