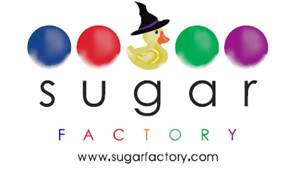 SUGAR FACTORY, NEVADA CHILDHOOD CANCER FOUNDATION TEAM UP TO "TRICK OR TREAT"
Third Annual Event on Sunday, October 30, at Paris Las Vegas Flagship Store
Sugar Factory will sweeten up Halloween for children fighting cancer, as the brand partners with the Nevada Childhood Cancer Foundation, for the third annual year, to hold a special "Trick or Treat" event on Sunday, Oct. 30, at their flagship location inside Paris Las Vegas.
The famed treat shop will open its doors and candy bins to NCCF children, who will be dressed in their spooky or sweet costumes, from 10 a.m. until 2 p.m. The children will be invited to have a magical afternoon inside the confection emporium, filling their Sugar Factory candy bags with all of the Halloween candy they could want. The event is sponsored on behalf of the Davidovici family and held in honor of Linda Leff.
Sugar Factory isn't your average sweet spot. The brand has made confections part of popular culture and has turned sweets into the latest designer accessory. Sugar Factory's signature Couture Pop collections have already hit the red carpets in the hands of celebrities at major events in Miami, Los Angeles, New York City and Las Vegas. Kim Kardashian, the Pussycat Dolls and Britney Spears are now endorsing their very own Couture Pops, and are just part of the buzz that has made Sugar Factory a staple in such national media as People, OK!, Us Weekly, In Touch Weekly, NBC's "Today Show" and more.
The Sugar Factory brand has become an instant hit across the country – offering everyone a sweet escape. Sugar Factory currently has stores located at The Mirage Resort and Casino, and Miracle Mile Shops inside Planet Hollywood Resort & Casino. Sugar Factory's flagship location and biggest store can be found at Paris Las Vegas. For more information please visit www.SugarFactory.com, follow on Twitter at www.twitter.com/SugarFactory and friend on Facebook at facebook.sugarfactory.com.
Paris Las Vegas brings the romance and excitement of the European City of Lights to the heart of the Las Vegas Strip. The passion and sophistication of Paris Las Vegas transports guests to Europe's most romantic city. From its dramatic 50-story replica of the Eiffel Tower to authentic architectural reproductions, Paris Las Vegas is a romantic, exciting destination for anyone looking to get away. The resort features elegant décor, European-inspired boutiques and a distinctive array of fine cuisine. Singer-songwriter and entertainment icon Barry Manilow performs in the Paris Théâtre as the resort's headliner. The property boasts 181,000 square feet of convention space, 2,900 hotel rooms/suites, and an 85,000 square feet casino. For more information visit www.parislasvegas.com. Find Paris Las Vegas on Facebook www.facebook.com/parisvegas and follow on Twitter www.twitter.com/parisvegas.