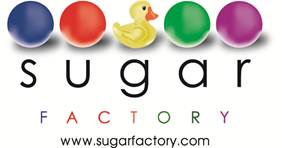 SUGAR FACTORY OFFERS SWEET DEAL FOR BLACK FRIDAY
Shoppers Spend $100 in Sweet Store Retail, Receive Free Dessert
Sugar Factory will be offering a "Sweet Friday" deal for the infamous after-Thanksgiving shopping day, Black Friday. The frenzy will start on Friday, Nov. 25, and will last all day.
Shoppers who spend $100 or more to kick start their holiday shopping at any Sugar Factory retail location—at The Mirage, Miracle Mile Shops inside Planet Hollywood & Casino, and Paris Las Vegas— may bring their receipt in that day to Sugar Factory American Brasserie, inside Paris Las Vegas, to receive a complimentary dessert for their table with the purchase of an entrée.
Sugar Factory isn't your average sweet spot. The brand has made confections part of popular culture and has turned sweets into the latest designer accessory. Sugar Factory's signature Couture Pop collections have already hit the red carpets in the hands of celebrities at major events in Miami, Los Angeles, New York City and Las Vegas. Kim Kardashian, the Pussycat Dolls and Britney Spears are now endorsing their very own Couture Pops, and are just part of the buzz that has made Sugar Factory a staple in such national media as People, OK!, Us Weekly, In Touch Weekly, NBC's "Today Show" and more.
The Sugar Factory brand has become an instant hit across the country – offering everyone a sweet escape. Sugar Factory currently has stores located at The Mirage Resort and Casino, and Miracle Mile Shops inside Planet Hollywood Resort & Casino. Sugar Factory's flagship location and biggest store can be found at Paris Las Vegas. For more information please visit SugarFactory.com, follow on Twitter at twitter.com/SugarFactory and friend on Facebook at facebook.sugarfactory.com.