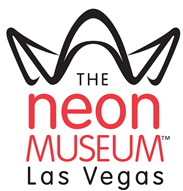 The Neon Museum welcomes 2021 Artist in Residence Gabriel Barcia-Colombo for online Artist Talk, Dec. 16
The Neon Museum will welcome its 2021 Artist in Residence, acclaimed mixed media artist, Gabriel Barcia-Colombo during an online Artist Talk on Thursday, Dec. 16 at noon. Attendees of the virtual discussion via Zoom will learn about the artist's previous projects and his plans for new work inspired by The Neon Museum's collection. Attendees can register for the online discussion at https://www.neonmuseum.org/events/air-2021-artist-talk.
The Neon Museum's Artist in Residence (AIR) program seeks to expand the interpretive potential of the museum collection. Now in its sixth year, the program invites artists to interpret the collection in unique and new ways, supporting the museum's mission to cultivate the arts and further cultural enrichment.
Barcia-Colombo's work focuses on collections, memorialization, and the act of leaving one's digital imprint for the next generation. His work takes the form of video sculptures, immersive performances, large-scale projections, and vending machines that sell human DNA. His work has been featured in the Volta, Scope, and Art Mrkt art fairs, Victoria & Albert Museum as well as Grand Central Terminal and the New York Public Library. In 2016, he created "The Hereafter Institute," an immersive installation at Los Angeles County Museum of Art, now part of the museum's permanent collection.
During his residency at The Neon Museum, Barcia-Colombo plans to investigate how technology and light influences and impacts memory by creating a series of sculptures inspired by the signs in the Neon Boneyard. His residency will begin Dec. 16 and culminate with an exhibition in February 2022.
"A significant element of The Neon Museum's Artist in Residence program is community engagement," said Aaron Berger, executive director of The Neon Museum. "Our Artist Talks provide a behind-the-scenes perspective of how artists are inspired by our collection and hopefully will create excitement and anticipation for his exhibition next year."
The Neon Museum Artist in Residence program is made possible by presenting sponsor Cosmopolitan of Las Vegas with additional support provided by the Juhl and by the Nevada Arts Council, a state agency, which receives support from the National Endowment for the Arts, a federal agency, and the state of Nevada.
About The Neon Museum
The Neon Museum is a non-profit 501(c)3 organization dedicated to collecting, preserving, studying, and exhibiting iconic Las Vegas signs for educational, historic, arts and cultural enrichment. It has been ranked No. 1 in Las Vegas Weekly's list of "Twenty Greatest Attractions in Las Vegas History," Nevada's "Best Museum" by MSN, one of the 10 best museums in Las Vegas by USA Today's 10best.com, "One of the Top 10 Coolest Things You Didn't Know You Could Do" by Forbes.com, one of the "Top 10 Historic Spots in Las Vegas" by Vegas.com; one of "15 Most Fascinating Museums in the U.S." by VacationIdea.com; and earns a consistent 4.5 out of 5 rating on TripAdvisor. On its 2.27-acre campus, The Neon Museum has an outdoor exhibition space known as the Neon Boneyard ("boneyard" is traditionally the name for an area where items no longer in use are stored); the North Gallery, home to the immersive audiovisual experience "Brilliant!" which uses technology to re-illuminate more than 40 non-operational signs; the Boulevard Gallery outdoor exhibit and event space; and its visitors' center inside the former La Concha Motel lobby. The museum collection also includes nine restored signs installed as public art in downtown Las Vegas. Public education, outreach, research, and arts preservation represent a selection of the museum's ongoing projects. For more information, including tour schedules and tickets, visit www.neonmuseum.org. Also follow @NeonMuseum on Facebook and Twitter and @theneonmuseumlasvegas on Instagram.
Summary
Article Name
Neon Museum welcomes 2021 Artist in Residence Gabriel Barcia-Colombo for online Artist Talk, Dec. 16
Description
Neon Museum welcomes 2021 Artist in Residence Gabriel Barcia-Colombo for online Artist Talk, Dec. 16