Tickets Now on Sale for Illuminarium Las Vegas
New tech-driven entertainment experience opens Friday, April 15 at AREA15, Illuminarium enables visitors to see, hear, feel and smell experiences they only dream about through state-of-the-art technologies
Illuminarium Las Vegas tickets can be purchased at illuminarium.com/lasvegas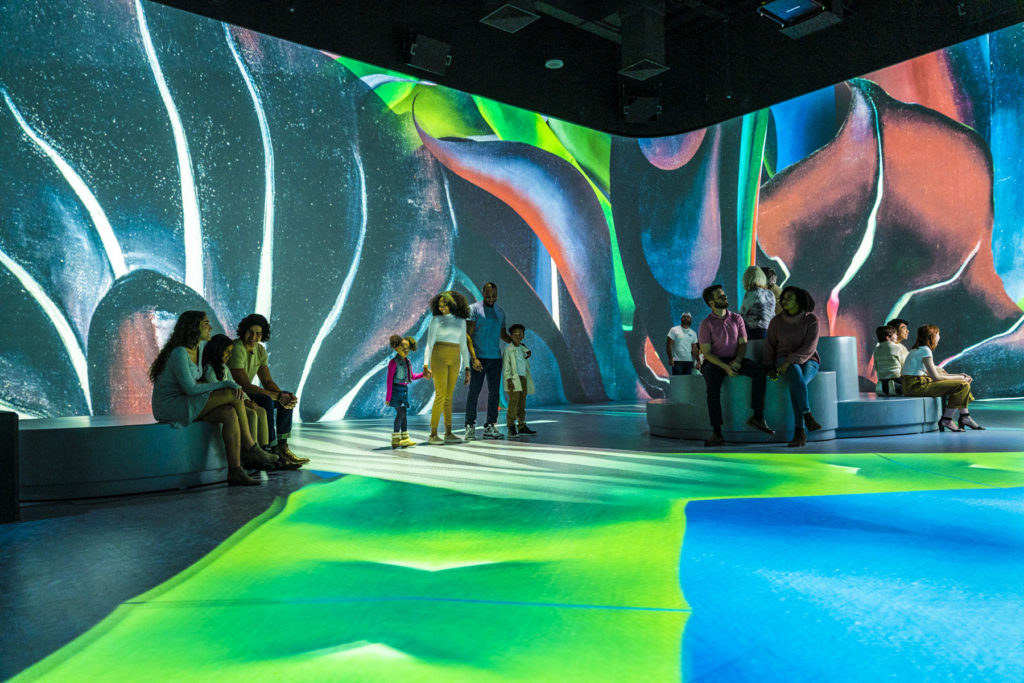 On Friday, April 15, Illuminarium Experiences, a breakthrough global experiential entertainment company created by worldwide leaders in cinematic and interactive content, architecture, and theatrical design will open its flagship Illuminarium in Las Vegas at AREA15. Early bird tickets are now on sale and start at $36 for adults and $32 for youth with premium packages available.
"We're thrilled to open our second location and introduce Illuminarium to the Entertainment Capital of the World," said Alan Greenberg, CEO of Illuminarium Experiences. "We look forward to showcasing unparalleled entertainment offerings that combine world-class hospitality, exclusive content pieces illustrated through advanced technologies and a unique, programmable space customizable for special events."
From exhilarating natural wonders to enriching cultural moments and beyond, guests will be immersed in the world's most extraordinary experiences. Whether that's on safari, at the bottom of the ocean, in the celestial universe, on top of the world's highest peaks or inside a visual art exhibition, Illuminarium places visitors inside the story as it unfolds around them. Illuminarium exemplifies a "VR, without the glasses" cinematic experience.
"Through the combination of state-of-the-art technology, including the world's most advanced laser projection, 3D beamformed audio, LIDAR-based interactivity, in-floor vibrations and scent systems, Illuminarium will transport guests to places they have only dreamed about. Illuminarium is a place that can take you anyplace," said Calum Pearson, Executive Vice President and General Manager of Illuminarium Las Vegas.
The 36,000-square-foot entertainment complex will open with three epic experiences including WILD: A Safari Experience, SPACE: A Journey to the Moon & Beyond and O'KEEFFE: One Hundred Flowers. Illuminarium will also offer an immersive nightlife experience, Illuminarium After Dark, for adults 21+, as well as a café.
WILD: A Safari Experiencewill transport adventure seekers to Africa through on-location cinematic content. From the "Big Five" game animals to the rare silverback mountain gorillas, WILD showcases the beauty and splendor of majestic animals in their native habitats across South Africa, Kenya, Rwanda and Tanzania. Complementing the exotic sights of a safari, visitors will be fully immersed in authentic sounds and scents like never before.
SPACE: A Journey to the Moon & Beyondwill take guests on an exhilarating journey across the universe. SPACE is a giant leap into the unknown, touring guests throughout the solar system, including a technicolor flight through the nebula, an opportunity to personally kick up dust on the moon, observe a futuristic space colony, see planets at an extraordinary scale and weave through an asteroid belt close to Saturn's rings.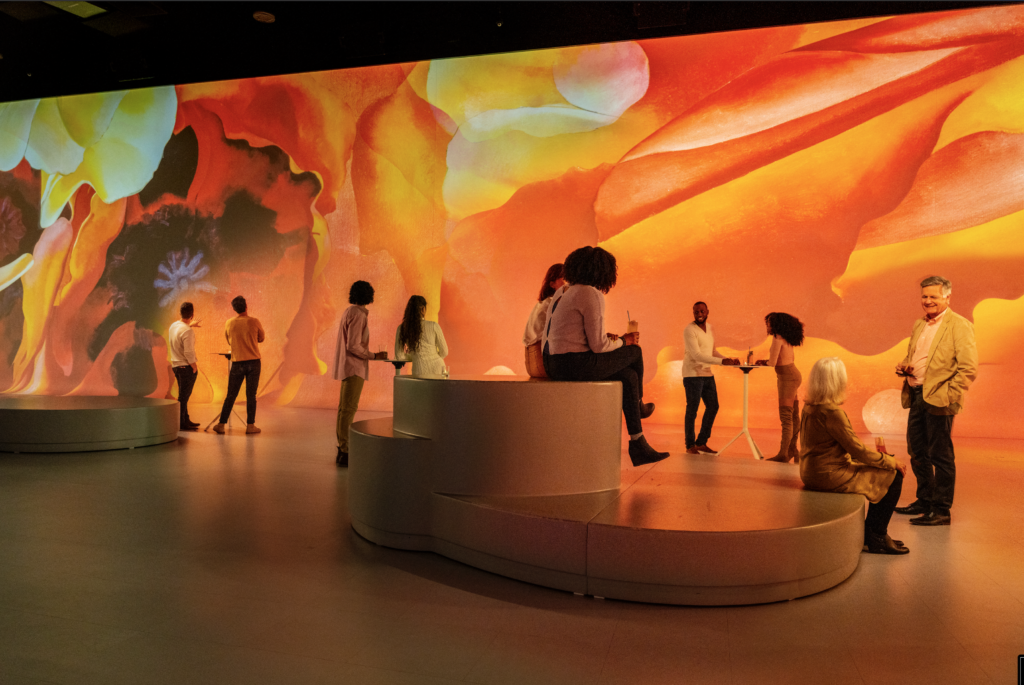 O'KEEFFE: One Hundred Flowerswill take guests on an immersive experience of color, texture, scent and interactivity through the iconic floral paintings of Georgia O'Keeffe, who is known as the 'Mother of American Modernism.' Inspired by the best-selling art book, the show brings the beauty of these works to life by amplifying the images on an unprecedented scale, to create a stimulating art experience that transports audiences directly into living paintings.
Illuminarium After Dark: Nightlife Reimagined will transform into a 21+ immersive nightlife experience each night after dark where the beauty of Illuminarium's daytime experience transforms into an adults-only escape. After Dark will feature a full bar with a selection of specialty cocktails and curated eats. Guests can enjoy cocktails in ever-changing, magically immersive settings from the night markets of Tokyo to the beautiful floral gardens of France, to a mysterious crystal cavern and beyond.
Illuminarium Las Vegas will be open daily at 11 a.m. with last entry at 7 p.m. for daytime admission. Evening programming at Illuminarium begins nightly at 8 p.m. for adults 21+. For more information and to purchase tickets, guests may visit illuminarium.com/lasvegas. Visitors may join the conversation on Facebook, Instagram and TikTok.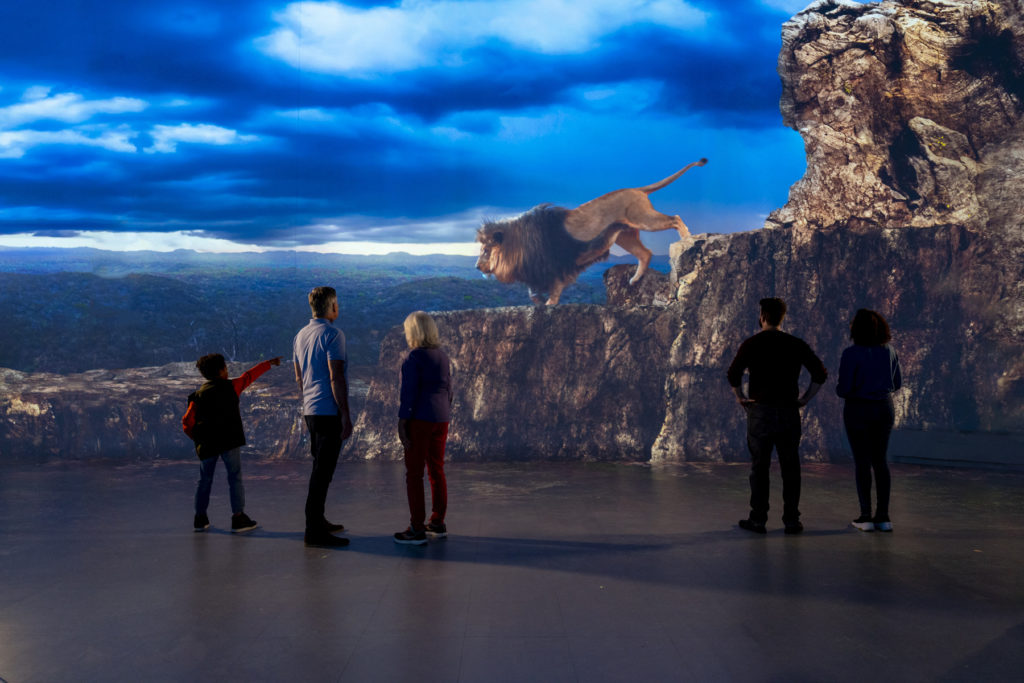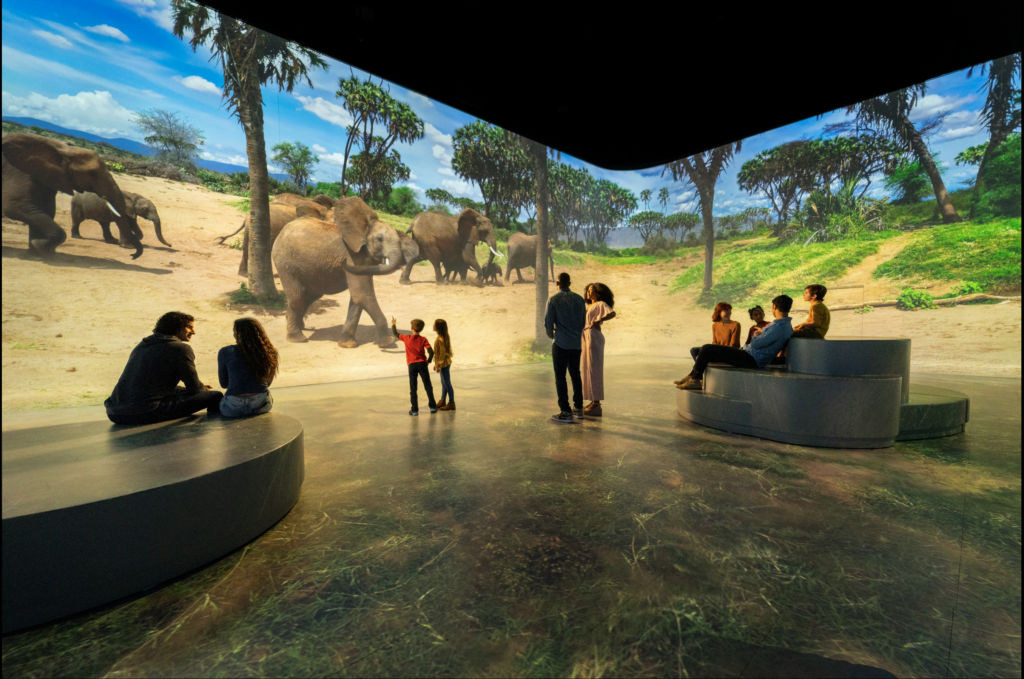 About Illuminarium Experiences
Illuminarium Experiences is a global experiential company offering breakthrough immersive 360-degree cinematic entertainment in expansive, projected spaces. Presented in custom-designed venues, Illuminarium surrounds visitors in a sensory space of sight, sound and scale unlike any other, providing boundless experiences and a personal connection to the world around them. With a fully customizable canvas, Illuminarium is the ideal location for special events, group outings, and viewing parties. Created by Alan Greenberg, RadicalMedia and Rockwell Group, Illuminarium Experiences brings together best-in-class partners in content creation, theatrical design, interactive technologies and venue operations. Illuminarium has locations in Atlanta, Las Vegas, with additional markets to be announced soon. For more information and to purchase tickets, guests may visit illuminarium.com.
About AREA15 Las Vegas
AREA15, located minutes from the Las Vegas Strip, represents the world's first purpose-built immersive entertainment district offering live events, distinctive attractions, interactive art installations, extraordinary design elements, unique retail, ground-breaking technology, bars and eateries and much more. AREA15's curated mix of dynamic destinations—including Meow Wolf's Omega Mart, Lost Spirits Distillery, Illuminarium, Dueling Axes, Five Iron Golf, The Beast by Todd English, Wink World: Portals Into the Infinite, Museum Fiasco, Virtualis VR, Emporium Arcade Bar and many more—represents what's next in experiential entertainment. With a robust, ever-changing roster of concerts, events, immersive art exhibitions, out-of-this-world nightlife and boundary-pushing production shows, AREA15 attracts visitors of all ages.
AREA15 has received numerous accolades, including being named "Best Immersive Art Experience" by USA Today 10Best Readers' Choice Travel Awards, one of "The 10 Most Innovative Urban Development and Real Estate Companies of 2020" by Fast Company, "Reader's Choice—Best Attraction" by Las Vegas Weekly, "Best Arts Hub" by Vegas Magazine, claiming the No. 1 spot in Blooloop's "World's Top 11 Immersive Art Experiences" and being included in Las Vegas Magazine's Hall of Fame.
Follow on Instagram and Twitter: @AREA15Official; Facebook: AREA15LasVegas and YouTube: AREA15. Hashtag: #AREA15.
Summary
Article Name
Tickets Now on Sale for Illuminarium Las Vegas
Description
Tickets Now on Sale for Illuminarium Las Vegas