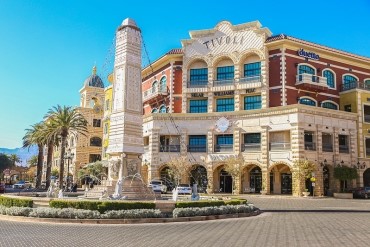 Tivoli Village's Alta Drive entrance.
(Photo Courtesy of Tivoli Village)
TIVOLI VILLAGE ANNOUNCES MOVIE DATE NIGHTS
AT THE PIAZZA THIS SUMMER
WHAT:
Tivoli Village, Las Vegas's premier destination for dining, retail, office and health and wellness amenities, invites guests to enjoy Movie Date Nights at The Piazza in partnership with Mix 94.1 this summer. With an array of gourmet eateries and world-renowned restaurants, attendees are invited to book an early dinner reservation prior to showtime and complete date night enjoying an action-packed film at the open-air Piazza. Guests are also encouraged to arrive early and bring blankets or folding chairs for seating.
This summer's movie schedule follows:
Friday, July 29: "THE 355"
Friday, August 12: "No Time To Die"
Friday, August 19: "Belfast"
WHEN:
Live broadcast with Mix 94.1 from 6 to 8 p.m.; Seating opens at 8 p.m.; showtime begins at 8:30 p.m.
WHERE:
The Piazza at Tivoli Village next to Restoration Hardware
400 South Rampart Blvd
Las Vegas, NV 89145
COST:
Admission is complimentary but reservations are required. To RSVP, click the links below:
Friday, July 29: "THE 355"
Friday, August 12: "No Time To Die"
Friday, August 19: "Belfast"
PARKING:
Free Parking
WHO:
From dancing in the streets to yoga on The Piazza, old-world elegance blends seamlessly with today's active lifestyle at Tivoli Village. Anchored by Restoration Hardware's RH Las Vegas, the outdoor center is complemented by a curated collection of retailers ranging from luxury brands to one-of-a-kind boutiques. Enticing restaurants include local favorites such as Echo & Rig Butcher and Steakhouse, Leoné Café and El Dorado Cantina, while Kilo Club serves as an upscale members-only gym beyond traditional options. Located in one of the most affluent sections of Southern Nevada, Tivoli Village is 15 minutes from the Las Vegas Strip, conveniently situated off Summerlin Parkway. The center proudly boasts 370,000 square feet of retail and restaurants and 300,000 square feet of Class A office space. Covered parking and curbside pickup zones are provided. Restaurant and store hours vary. For more information on Tivoli Village visit tivolivillagelv.com or follow along on Instagram or Facebook.
Summary
Article Name
Tivoli Village Announces Movie Date Nights at The Piazza This Summer
Description
Tivoli Village Announces Movie Date Nights at The Piazza This Summer