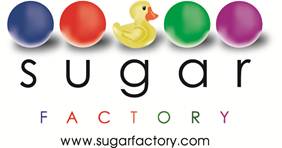 TREAT MOM TO SOMETHING SWEET
THIS MOTHER'S DAY AT SUGAR FACTORY
The best moms in the world deserve the most candy-coated surprises this Mother's Day, Sunday, May 13. Show mama how sweet she really is with one of Sugar Factory's scrumptious gift baskets, laced with Sugar Factory's tastiest treats, sugary surprises and plush accessories.
With baskets such as the "Chocolate Fix Gift Set," priced at $10 and the "Sugar Factory Candy Girl," available for $62, there are a number of gift options available to fit any budget.
Sugar Factory will also exclusively offer 300 limited edition "Mother's Day Heart Charm" Couture Pops, each available for $25.
For the woman with a sweet tooth, try the "Sugar Factory Candy Time Capsule" priced at $15, filled with Razzles, Reese's Peanut Butter Cups, Laffy Taffy, Fruit Stripe gum, candy necklace and more. For the hot mama, try the "Sweet Temptations Bucket" priced at $42, featuring goodies such as Holly Madison's Naughty/Nice necklace, candy bra, pop rocks, pin-up girl chocolate bars and more.
The sweet spot's "Chocolate Fix Bucket" includes a delicious array of Clodhoppers, chocolate-covered Oreo cookies, rice crispy treat and a variety of mouthwatering candy bars in an assortment of flavors including expresso, smores, caramel, milk chocolate and more, priced at $59.95.
Super sweet moms are sure to delight over Sugar Factory's white and dark chocolate dipped Oreo's decorated with roses and "Mother" script icing designs, topped with multi-colored sprinkles, for just $20.
All of Sugar Factory's Mother's Day baskets and treats, as well as the rest of the confection emporium's mega-selection of other delectable delights, can be found at all four retail locations, which include, The Mirage Resort & Casino, Miracle Mile Shops inside Planet Hollywood Resort & Casino, MGM Grand Hotel & Casino and Paris Las Vegas and online at www.SugarFactory.com.
Sugar Factory isn't your average sweet spot. The brand has made confections part of popular culture and has turned sweets into the latest designer accessory. Sugar Factory's signature Couture Pop collections have been continuously showcased on red carpets in the hands of celebrities at major events in Miami, Los Angeles, New York City and Las Vegas. Kim Kardashian, Mel B, Mike "The Situation" Sorrentino, and Britney Spears are just a handful of celebs who endorse their own Couture Pops, and are just part of the buzz that has made Sugar Factory a staple in such national media as People, OK!, Us Weekly, In Touch Weekly, NBC's "Today Show" and more.
The Sugar Factory brand has become an instant hit across the country – offering everyone a sweet escape. Sugar Factory currently has stores located at The Mirage Resort and Casino, Miracle Mile Shops inside Planet Hollywood Resort & Casino and MGM Grand Hotel & Casino. Sugar Factory's flagship location and biggest store can be found at Paris Las Vegas. For more information please visit www.SugarFactory.com, follow on Twitter at www.twitter.com/SugarFactory and friend on Facebook at facebook.sugarfactory.com.