REBELS PICKED SECOND IN MW PRESEASON POLL
UNLV baseball's Edarian Williams, Eric Bigani and Deigo Alarcon selected to Mountain West's Preseason Team.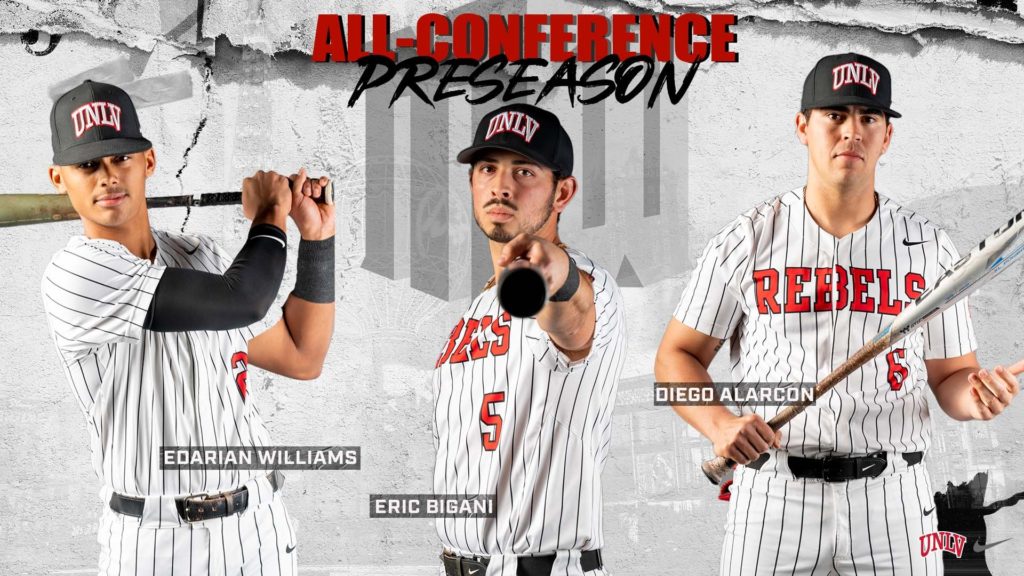 @UNLVBaseball | Schedule | 2022 MW Preseason Poll & Team
The UNLV baseball team was picked to finish second place in the 2022 Mountain West Preseason Poll, which was voted on by the Conference's seven head coaches. Additionally, the coaches tabbed senior catcher Eric Bigani, junior second baseman Edarian Williams and senior third baseman Diego Alarcon to the MW's Preseason Team.
UNR's Wolf Pack secured six first-place votes and accumulated a total of 36 points to finish atop the preseason rankings. The Rebels claimed the seventh first-place vote and amassed 29 points for second place. The San Diego State Aztecs took third this season with 25 points, Fresno State (23 points), Air Force (16 points), New Mexico (11 points) and San Jose State (nine) rounded out fourth through seventh, respectively.
Williams was named to the MW Preseason All-Conference Team for the second consecutive year and was selected to the All-MW Second Team at the end of the 2021 season. Williams was also ranked 19th in the D1Baseball Preseason Power Rankings: Top 50 Second Basemen, which was announced earlier this month. The Las Vegas native finished the season ranked in two NCAA statistical categories: 35th in hits per game (1.50) and 115th in batting average (.360). The junior batted .370 in league play last season with 37 hits, 22 runs and 19 RBI. Nine of his base hits went for extra bases, with four home runs, four doubles and one triple, which resulted in 55 total bases and a .550 slugging percentage. He also notched five walks for a .396 on-base percentage, and had two stolen bases. He added 11 multiple-hit games and six multiple-RBI games.
Bigani was also named to the MW Preseason All-Conference Team for the second consecutive year, after starting in 30 games last season and being selected as a semifinalist for the 2021 Buster Poset National Collegiate Catcher of the Year Award. Bigani was also ranked 49th for D1Baseball Preseason Power Rankings: Top 50 Catchers, announced earlier this month. A native of Anaheim, California, Bigani concluded the year ranked in three NCAA statistical categories: 40th in triples per game (0.09), 101st in triples (3) and 148th in doubles per game (0.31). He led the Rebels last season in triples (3), was third in both doubles (10), total bases (67) and tied for third for RBI (24).
Alarcon earned his first Preseason All-Conference Team honors after concluding the 2021 season ranked in four NCAA statistical categories: eighth in doubles per game (0.45), 77th in toughest to strikeout (9.1), 93rd in hits per game (1.39) and 127th in doubles (15). The California native had some hot hits last season, including the first home game against UNR where he led the Scarlet & Gray in hits (five) and runs (three), while hitting .357 with two extra-base hits (one double and one triple) and one RBI. Alarcon rounded out the previous season with a .336 batting average, started in all 33 games of the 33 played, 24 RBIs, had a .504 slugging percentage and a .409 on-base percentage.
2022 SEASON: UNLV Baseball will play a total of 56 regular-season games in 2022, with 30 of those against Mountain West competition and 26 versus 11 non-conference squads. In all, the Rebels will play 34 home contests in Las Vegas with 33 of those on campus at Earl E. Wilson Stadium and one more – a March 29 affair against Arizona State – at the Las Vegas Ballpark in Downtown Summerlin.
The Scarlet & Gray will play 10 three-game series against each MW squad with five at home (Air Force, Fresno, San Jose State, New Mexico and San Diego State) and five on the road (San Diego State, San Jose State, New Mexico, Air Force and Fresno State). Eight of the 10 conference series will take place on weekends (Friday night-Sunday) except for two home contests against San Jose State on April 14-16 (Thursday-Saturday) and San Diego state May 19-21 (Thursday-Saturday).
UNLV will kick off the 2022 season with a four-game series versus Michigan State (Feb. 18-20) before hitting the road for a single game at Dixie State (Feb. 22) and three at Fowler Park & Cunningham Field against San Diego and Hawaii (Feb. 25-27).
Summary
Article Name
UNLV BASEBALL NEWS: Rebels Picked Second In MW Preseason Poll
Description
UNLV BASEBALL NEWS: Rebels Picked Second In MW Preseason Poll