REBELS TAKE SERIES OVER BULLDOGS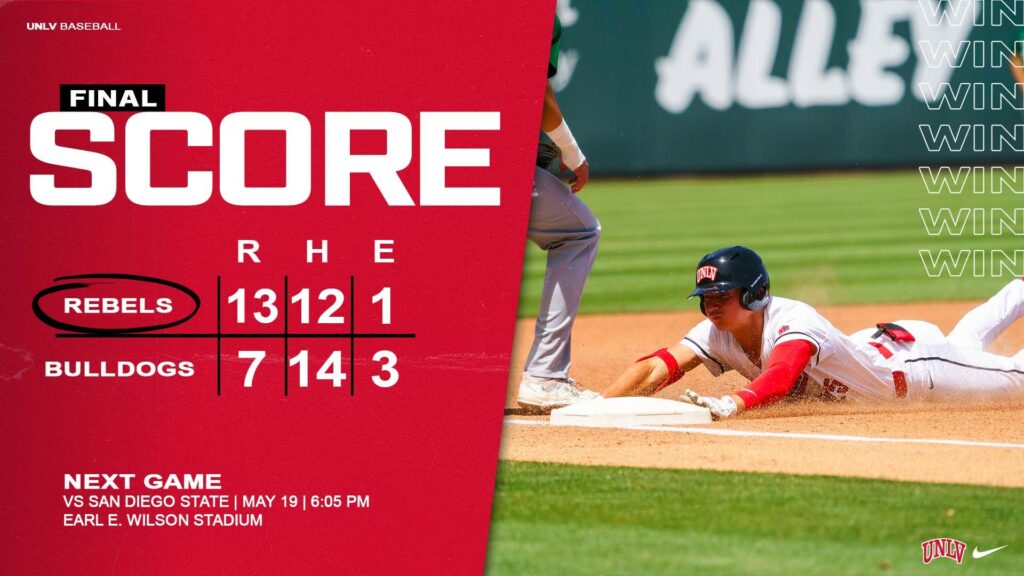 @UNLVBaseball | Schedule | Final Stats
The UNLV baseball team took the series over Fresno State, 2-1, after the series finale, 13-7, Sunday afternoon at Bob Bennett Stadium.
The Rebels saw their record improve to 34-19 (19-8 MW), while the Bulldogs dropped to 25-27 (13-14 MW).
REBELS OF THE GAME: Diego Alarcon went 3-for-5 at the plate with two homers, three runs scored and knocked in four RBI for the Rebels.
Noah Beal pitched 5.0 frames for UNLV allowing only three runs on six hits and recorded five strikeouts.
TURNING POINT: The Scarlet & Gray had a five-run lead going into the top of the sixth inning, only to further the lead after scoring seven runs on three hits and one error in the frame.
Noah Beal (7-1) earned the win after allowing three runs on six hits with five strikeouts after 5.0 frames.
Nikoh Mitchell (3-3) was saddled with the loss after pitching 5.0 innings, allowing five runs on seven hits and recorded seven strikeouts.
UP NEXT: The Hustlin' Rebels head back home to Earl E. Wilson for the final three-game series of the season against MW foes San Diego State. Game one is scheduled for Thursday at 6:05 p.m.
GAME NOTES
-The UNLV baseball team has now punched their ticket to the 2022 Mountain West Tournament held May 25-29 at Tony Gwynn Stadium, in San Diego, California.
– UNLV currently stands atop the conference with a 19-8 conference record. This is the best start in conference play in program history.
– The series played previously at New Mexico, April 1-3, was the highest scoring conference series in program history for the Rebels, with 57 runs scored (18-3, 12-4, 27-6).
– During the series finale of a three-game series at New Mexico, the Rebels defeated the Lobos 27-6. This is the second largest winning margin in program history since UNLV played NMSU in May of 1992 (23-2), this is also the third most runs scored in a single-game by the Rebels since they played BYU in March of 1999 with 27 runs.
– The all-time highest scoring series for the Scarlet & Gray was a non-conference series in 1985 against Nebraska, scoring a total of 62 runs (23-22 (10 inn.), 21-19, 18-15).
– The Rebels scored six home runs during a single-game contest against Dixie State at Earl E. Wilson April 12, the most out of any game played this season.
– Austin Kryszczuk is the only Rebel this season to hit three home runs in one game, including two in one inning during April 19th's affair against Loyola Marymount.
– Joey Walls was named to the 2022 Bobby Bragan Collegiate Slugger of the Year Award midseason watch list on April 21.
PURCHASE TICKETS
Single-game ticket prices this season are $10 for adults, $8 for seniors, faculty and staff, and $5 to groups of 15 or more. Fans that purchase tickets online before game day can get them for an advanced single-game price of $6.
All high school, middle school and elementary students are free under UNLV's new admission policy. To receive free admission, high school students must present valid Nevada are school I.D. at the box office on gameday for one (1) complimentary ticket. Current UNLV students will receive free admission with a valid school I.D. All other students will receive a complimentary ticket at the box office (no I.D. required). Kids not yet elementary school age will continue to receive free admission for all UNLV Olympic sports.
Summary
Article Name
UNLV BASEBALL NEWS: Rebels Take Series Over Bulldogs
Description
UNLV BASEBALL NEWS: Rebels Take Series Over Bulldogs