RUNNIN' REBEL PROMOTIONS ANNOUNCED FOR 2023-24 SEASON

UNLV Athletics unveils fan incentives including Runnin' Rebel Fest, Family 4 Pack, $2 Beer Nights and giveaways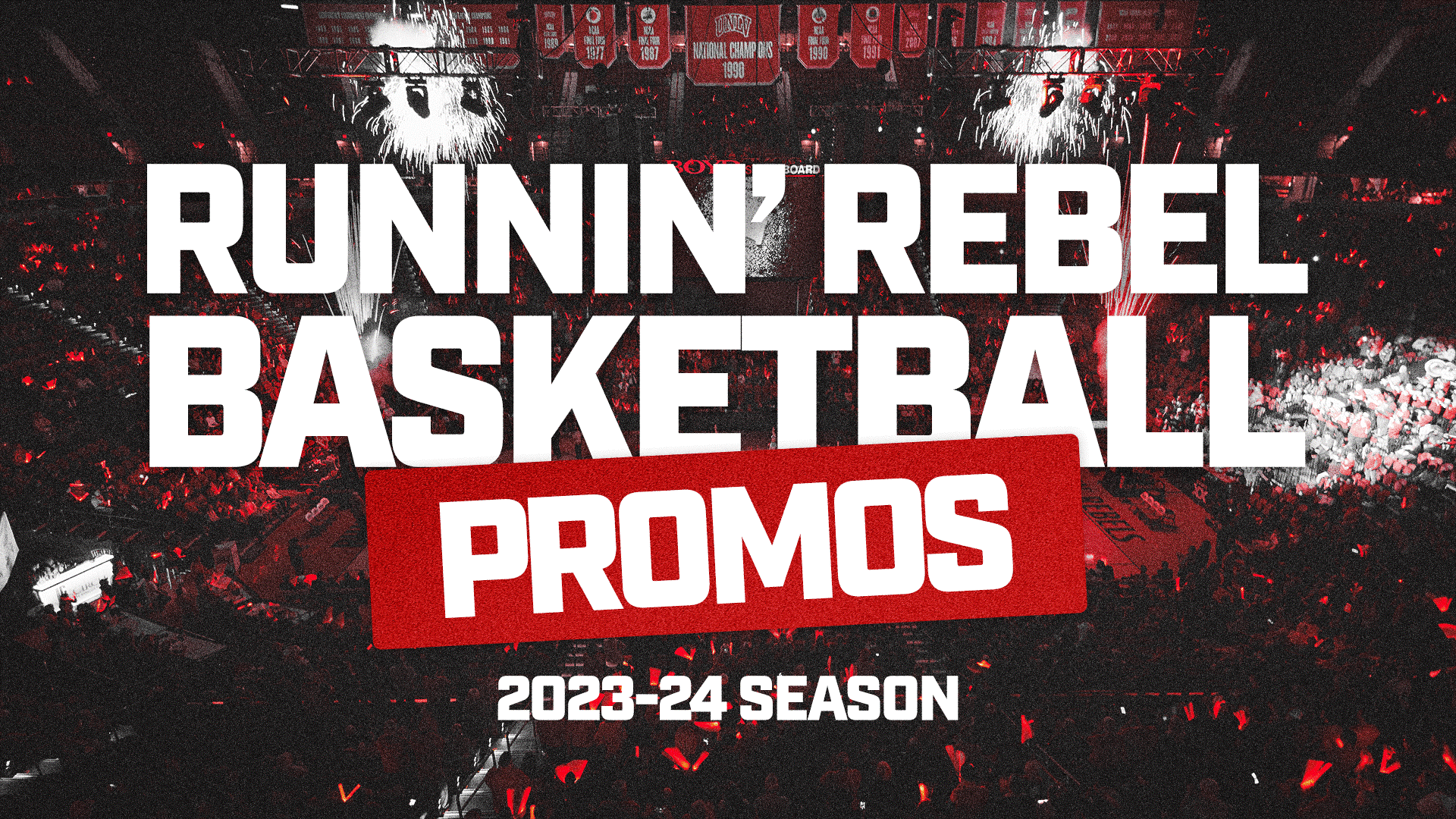 @UNLVAthletics | @TheRunninRebels | Buy UNLVtickets
UNLV Athletics has announced a dynamic lineup of promotions for Runnin' Rebel fans for the 2023-24 men's basketball season, which begins Wednesday, Nov. 8 vs. Southern at 7 p.m. at the Thomas & Mack Center.
Runnin' Rebel Fest: UNLV is set to host Runnin' Rebel Fest on the plaza outside the Thomas & Mack Center for 10 games this season. The festivities begin on Nov. 8 and will include free Raising Cane's for students, along with music and UNLV inflatables. Additional Runnin' Rebel Fest dates may be found on the UNLVRebels.com men's basketball schedule page.
Family 4 Pack: Available at four Saturday games this season, starting with the Nov. 11 matchup against Stetson, this package includes four game tickets and four chicken finger baskets, starting at just $52. Family 4 Packs can be purchased through UNLVtickets.com.
$2 Beer Nights: Returning for games taking place on Monday through Thursday, thanks to a partnership with Miller Lite, discounted beers are available at the Fast Break concession stand for weeknight games through halftime, while supplies last.
Anderson Hunt Day: On Nov. 11, the Runnin' Rebels will honor UNLV legend Anderson Hunt, by hanging his jersey in the rafters of the Thomas & Mack Center. Join the Runnin' Rebels and multiple legends at the game, which will be themed 90's Night.
Giveaways: UNLV will have a variety of giveaways for the 2023-24 season, beginning on Nov. 8 with 3,000 rally towels featuring a design fans won't want to miss. On Nov. 11, the first 2,000 fans can walk away with an Anderson Hunt commemorative T-Shirt. Additional giveaways will be announced at a later date.
OPEN PRACTICE – SATURDAY, NOV. 4: All fans are invited to attend the Runnin' Rebels' practice this Saturday, Nov. 4 from 11:15 a.m. – 12 p.m. at the Thomas & Mack Center. In addition to being able to get a first look at the new basketball court design inside the TMC, fans will be able to meet the team, get autographs and take pictures when practice concludes. KEVIN KRUGER RADIO SHOW: The Kevin Kruger Radio Show will have a new broadcast location for the 2023-24 season at the PKWY Tavern District in Green Valley, with the first show scheduled for Tuesday, Nov. 7 at 6 p.m. Fans in attendance can enjoy $2 Miller Lites during the show. The remaining schedule (all shows are 6-7 p.m.): Nov. 14, Nov. 29, Dec. 12, Dec. 20, Jan. 3, Jan. 10, Jan. 24, Jan. 31, Feb. 7, Feb. 15, Feb. 22, Feb. 28, March 6. TICKETS: Purchase your UNLV men's basketball tickets today at UNLVtickets.com, by calling 702-739-3267 or by visiting the Thomas & Mack Center Box Office.
Summary
Article Name
UNLV MEN'S BASKETBALL NEWS: Promotions Announced For 2023-24 Season
Description
UNLV MEN'S BASKETBALL NEWS: Promotions Announced For 2023-24 Season