UNLV'S HAYDEN NAMED NCAA WOMAN OF THE YEAR NOMINEE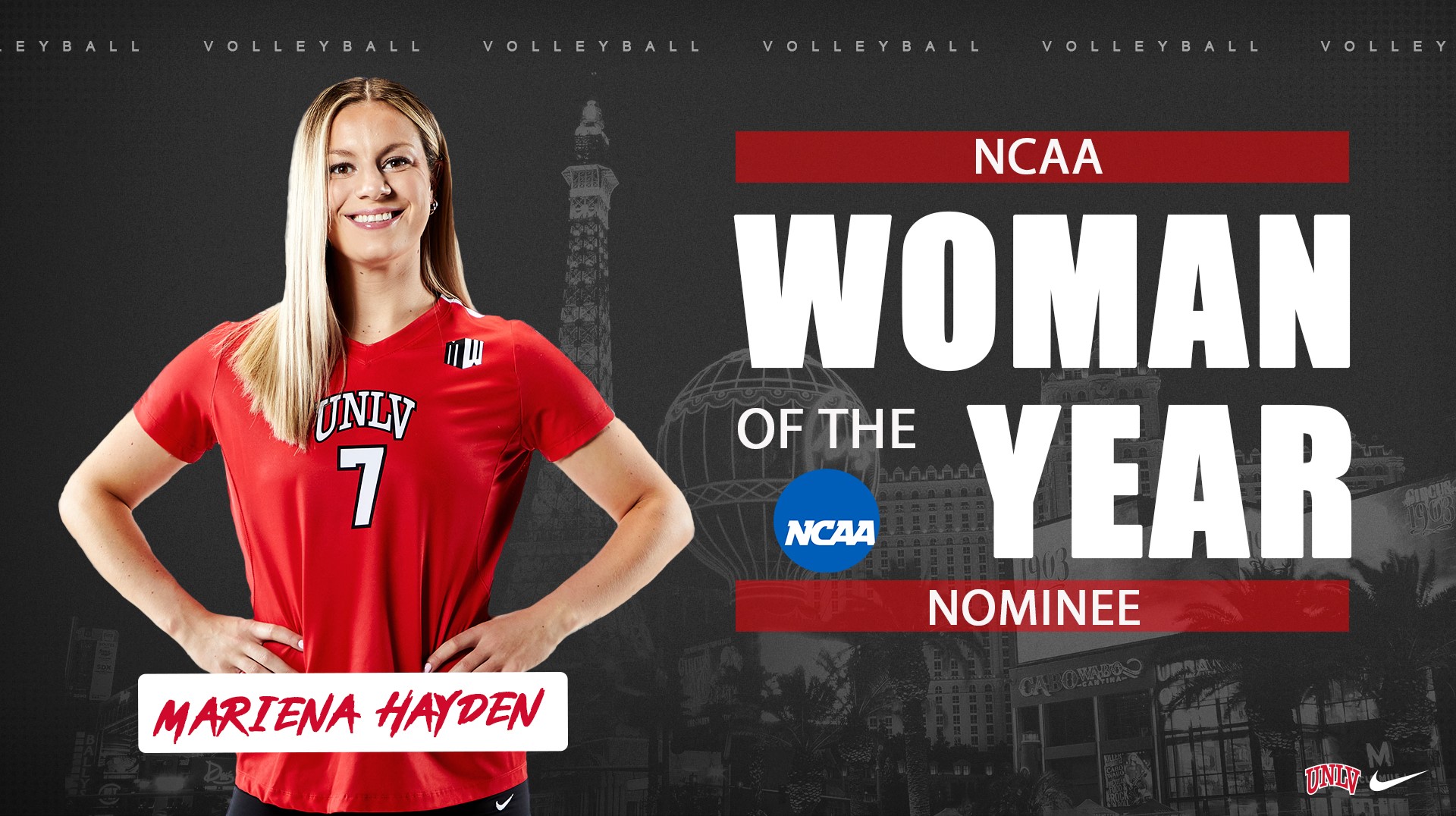 @UNLVvball | Official Release | Schedule
UNLV Volleyball's Mariena Hayden is the athletics department's nominee for the 2022 NCAA Woman of the Year Award, the national office announced Thursday.
To be eligible, the nominee must have competed and earned a varsity letter in an NCAA-sponsored sport and must have earned her undergraduate degree by Summer 2022.
Fewer than 600 scholar-athletes were nominated from a pool of 220,000 female participants across all levels of collegiate athletics.
Hayden is a two-time Mountain West Player of the Year (Spring 2021 and Fall 2021) in her sport, who helped UNLV win the Fall 2021 National Invitational Volleyball Championship and Spring 2021 Mountain West Regular-Season Championship titles.
During the Fall 2021 season, Mariena led the NCAA in aces per set (.65) and service aces (83). In addition, she was the MW's leader in points (661/5.01 avg/s), service aces (83/0.65 avg/s) and in kills (534/4.05 avg/s). She holds the program's single-season records in service aces, kills and in total attempts (1,247).
Hayden was named AVCA Honorable Mention All-America in each of the 2021 seasons and was also named AVCA Pacific South All-Region in back-to-back seasons (Spring 2021 and Fall 2021). Her extensive accolades include being honored as the 2021 NIVC MVP, selected to the 2021 NIVC and MW All-Tournament Team for Fall 2021, selected to MW All-Conference First Team four times (Fall 2018, Fall 2019, Spring 2021, Fall 2021) and being named the MW's Player of the Week eight times (three in 2018, three in Spring 2021, two in Fall 2021).
Hayden graduated from UNLV in December with a degree in criminal justice and a 3.46 cumulative grade point average. She was selected to the 2021 CoSIDA Academic All-District Volleyball First Team, helped UNLV Volleyball to four straight AVCA Team Academic Awards (2017-2021) and also earned Academic All-MW Team status for four consecutive years (2017-2021).
The Belle Plaines, Minnesota native's volunteering efforts include participating in a bed build for community members who are bedless with Sleep In Heavenly Peace, promoting literacy by reading to classrooms in the local school district for Nevada Reading Week, writing cards as part of an initiative for senior community members who are isolated away from family, participating in National Girls and Women in Sports Day Clinics, working with Las Vegas Rotary for the annual Santa Clothes Event and partnering with Team Impact for the 2020-21 season. She also volunteered her time as a clinician for Little Spikers Coaching Clinics and Rising Stars Sports Ranch.
ABOUT THE NCAA WOMAN OF THE YEAR AWARD:
The NCAA Woman of the Year program was established in 1991 and honors the academic achievements, athletics excellence, community service and leadership of graduating female college athletes.
Following university nominations, conference offices will then select their nominees for NCAA Woman of the Year. Each conference nominee will be notified by the NCAA, and all conference-round nominees will be announced on ncaa.org in August.
Conference nominations are forwarded to the NCAA Woman of the Year Selection Committee, which Identifies the top 10 honorees in each of the three NCAA divisions. From those 30 honorees, the selection committee then determines the three finalists in each division for a total of nine finalists. The Committee on Women's Athletics will select the 2022 NCAA Woman of the Year from the nine finalists to be announced later this fall.
Summary
Article Name
UNLV VOLLEYBALL NEWS: Hayden Named NCAA Woman Of The Year Nominee
Description
UNLV VOLLEYBALL NEWS: Hayden Named NCAA Woman Of The Year Nominee