Fundraiser happening tomorrow (Nov. 1) at Shake Shack supporting the USO, but also a great time to check out the new holiday shakes that also start tomorrow (fundraiser not connected to the shakes, but both happening on the same day)!

FOR THE LOVE OF SPORT & COMMUNITY!
SHAKE SHACK TO HOST DONATION DAY TUESDAY IN SUPPORT OF
USO NEVADA WITH A LITTLE HELP FROM THEIR FRIENDS
Support Your Favorite Local Hockey Fan Group by Helping Them Raise the Most Funds at Their Respective Shake Shack Location
WHAT:
For the second year in a row, Shake Shack has teamed up with popular VGK Fan Groups "VGK Ladies," "Vegas Knights Click," and the "Vegas Golden Knights Misfits Fan Group" to see who can get the most fans and support out to their respective Shake Shack locations on Tuesday, Nov. 1 all for the cause of raising money for USO Nevada.
Everyone is invited to come out and support just by mentioning "donation day" at the following Shake Shack locations or supporters can even order via the Shack App or order.shakeshack.com and use code "DONATION25" when checking out. Shake Shack will then donate 25 percent of the total purchase to USO Nevada and the fan group that gets the most support wins bragging rights, and those who fall short must throw on a chicken costume and wear it to a future Knights game! The "Vegas Golden Knights Misfits Fan Group" will also match the total donation for all three locations.
WHEN:
Tuesday, Nov. 1, 2022
11 a.m. to 10 p.m.
WHERE:
Shake Shack at Downtown Summerlin™ – Supports "VGK Ladies"
Shake Shack at The District at Green Valley Ranch – Supports "Vegas Knights Click"
Shake Shack at North Premium Outlets – Supports "Vegas Golden Knights Misfits Fan Group"
About USO Nevada:
The USO strengthens America's military service members by keeping them connected to family, home, and country, throughout their service to the nation. At hundreds of locations worldwide, we are united in our commitment to connect our service members and their families through countless acts of caring, comfort, and support. At USO Nevada we provide morale-boosting and family-strengthening programs to active-duty and reserve military service members and their families throughout the state of Nevada. The USO is a private non-profit organization, not a government agency. Our programs, services and entertainment tours are made possible by the American people, the support of our corporate partners, and the dedication of our volunteers and staff. To learn more, donate, volunteer or explore partnership opportunities with USO Nevada, please visit Nevada.USO.org.
About Shake Shack
Shake Shack is a modern day "roadside" burger stand known for its 100% all-natural Angus beef burgers, chicken sandwiches and flat-top Vienna beef dogs (no hormones or antibiotics – ever), spun-fresh frozen custard, crinkle cut fries, craft beer and wine and more. A fun and lively community gathering place with widespread appeal, Shake Shack has earned a cult-like following around the world.
Learn more at: shakeshack.com | facebook.com/shakeshack | @shakeshack | @shakeshack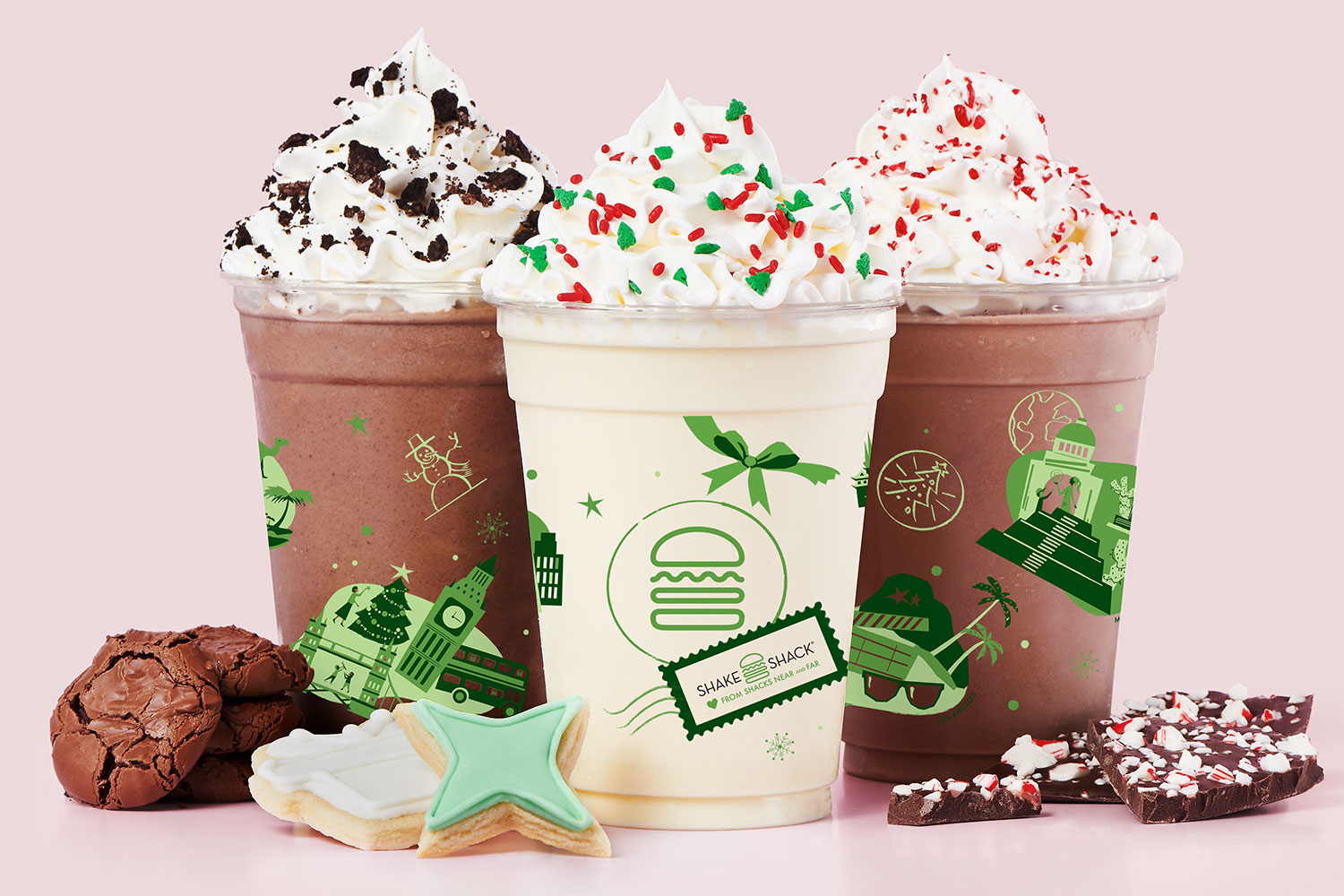 HOLIDAY SHAKES – available beginning Tuesday, Nov. 1 (photos attached!) and available through the season.
Christmas Cookie Shake: Sugar cookie frozen custard topped with whipped cream and holiday sprinkles
Chocolate Milk & Cookies Shake: Chocolate cookies hand-spun with malted chocolate frozen custard, topped with whipped cream and chocolate cookie crumbles
Chocolate Peppermint Shake: Peppermint fudge and chocolate frozen custard hand-spun and topped with whipped cream and candy cane sprinkles
Summary
Article Name
USO Fundraiser at Local Shake Shacks and New Holiday Shakes Launch -'Tis the Season
Description
USO Fundraiser at Local Shake Shacks and New Holiday Shakes Launch -'Tis the Season