VOLUNTEER FOR THE 2023 SHRINERS CHILDREN'S OPEN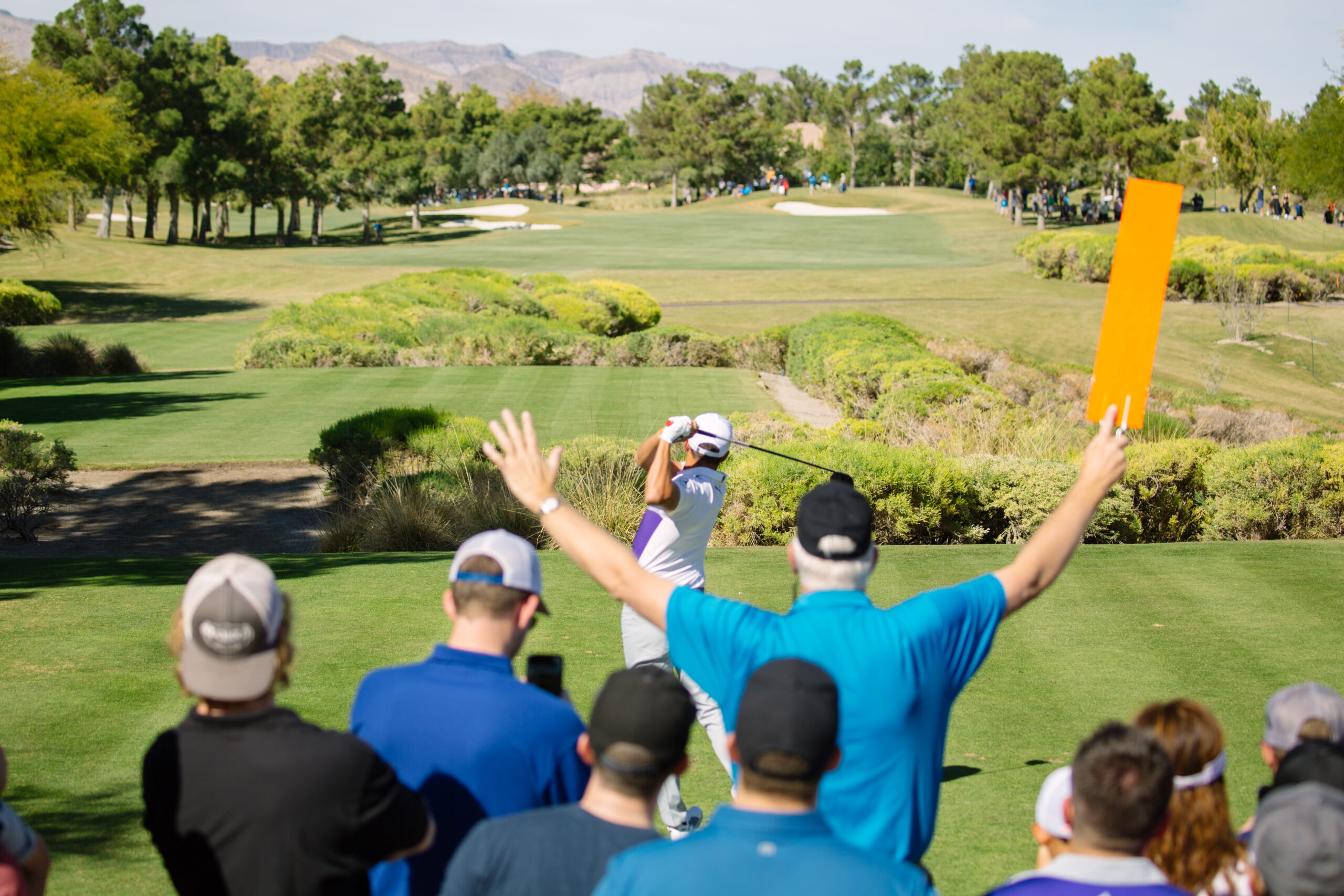 (credit: Shriners Children's Open)
The 2023 Shriners Children's Open is seeking volunteers for the 40th annual PGA TOUR tournament in Las Vegas, Oct. 9 – 15, 2023 at TPC Summerlin. Volunteer registration is now open online at shrinerschildrensopen.com/volunteer.
"We encourage dedicated, passionate individuals to join us as we tee off for the 40th annual Shriners Children's Open," said Patrick Lindsey, executive director of Shriners Children's Open. "Our volunteers play a vital role in ensuring the success of Las Vegas' only PGA TOUR event and the mission of Shriners Children's."
No knowledge of golf is necessary to volunteer. Each volunteer is required to work a minimum of three shifts throughout the tournament week. Volunteers will be assigned committees and volunteer opportunities are available throughout the tournament including ShotLink, marshals, practice range, volunteer hospitality and more. Each volunteer is required to purchase a volunteer uniform. All volunteers will receive a meal during their shift, a volunteer tournament badge, a commemorative pin, a tournament uniform that includes a polo, jacket and a hat or visor, access to the volunteer appreciation party and more. All volunteers must follow health and safety measures implemented by the PGA TOUR and the Shriners Children's Open. The event is operated as a 501©3 charity and every available dollar is dedicated to our mission of raising awareness and money for Shriners Children's.
To learn more about the annual Shriners Children's Open, please visit shrinerschildrensopen.com.
About Shriners Children's Open:
The 2023 Shriners Children's Open brings the FedExCup to TPC Summerlin as the PGA TOUR weeklong charitable tournament celebrates 40 years in Las Vegas. Defending champion, Tom Kim will be one of the many top golfers in the world that will participate in the competition and help support the mission of Shriners Children's from Oct. 9 – 15 at TPC Summerlin. For more information, visit www.shrinerschildrensopen.com.
Follow the Shriners Children's Open on Facebook, Twitter and Instagram.
About Shriners Children's:
Shriners Children's is a leader in providing care for orthopedic conditions, burn injuries, spinal cord injuries and other spine disorders, rehabilitation, sports injuries and craniofacial conditions. We also offer specialized services, including orthotics and prosthetics and motion analysis. We strive to provide the care and support our patients need to reach their goals and discover their full potential. In addition, our healthcare system conducts research to improve our patients' quality of life and offers outstanding educational programs for medical professionals. All care and services are provided regardless of the families' ability to pay or insurance status.
Shriners Children's is a nonprofit organization and relies on the generosity of donors. All donations are tax deductible to the fullest extent permitted by law. For more information, including the full range of care disciplines, please visit shrinerschildrens.org.
About PGA TOUR
By showcasing golf's greatest players, the PGA TOUR engages, inspires and positively impacts our fans, partners and communities worldwide.
The PGA TOUR, headquartered in Ponte Vedra Beach, Florida, co-sanctions tournaments on the PGA TOUR, PGA TOUR Champions, Korn Ferry Tour, PGA TOUR Latinoamérica, PGA TOUR Canada and administers PGA TOUR Q-School presented by Korn Ferry and PGA TOUR University. TOUR members represent the world's best players, hailing from 24 countries and territories. Showcasing the biggest moments in the sport with history and legacy on the line, the PGA TOUR has long-term domestic distribution partnerships for broadcast coverage on CBS, NBC and Golf Channel and video streaming service on ESPN+. Internationally, PGA TOUR coverage is available across 200+ countries and territories in 26 languages via 44 broadcast and digital partners. Virtually all tournaments are organized as non-profit organizations to maximize charitable giving, and to date, tournaments across all Tours have generated more than $3.64 billion.
Fans can follow the PGA TOUR on the new PGA TOUR app and PGATOUR.COM, and on social media channels, including Facebook, Instagram (in Spanish, Korean and Japanese), LinkedIn, TikTok, Twitter (in English and Spanish), WeChat, Weibo, Toutiao, Douyin and LINE.
Summary
Article Name
Volunteer for the 2023 Shriners Children's Open
Description
Volunteer for the 2023 Shriners Children's Open