Bellagio Conservatory & Botanical Gardens Transforms into Animal Kingdom for New Summer Display 'Jungle of Dreams'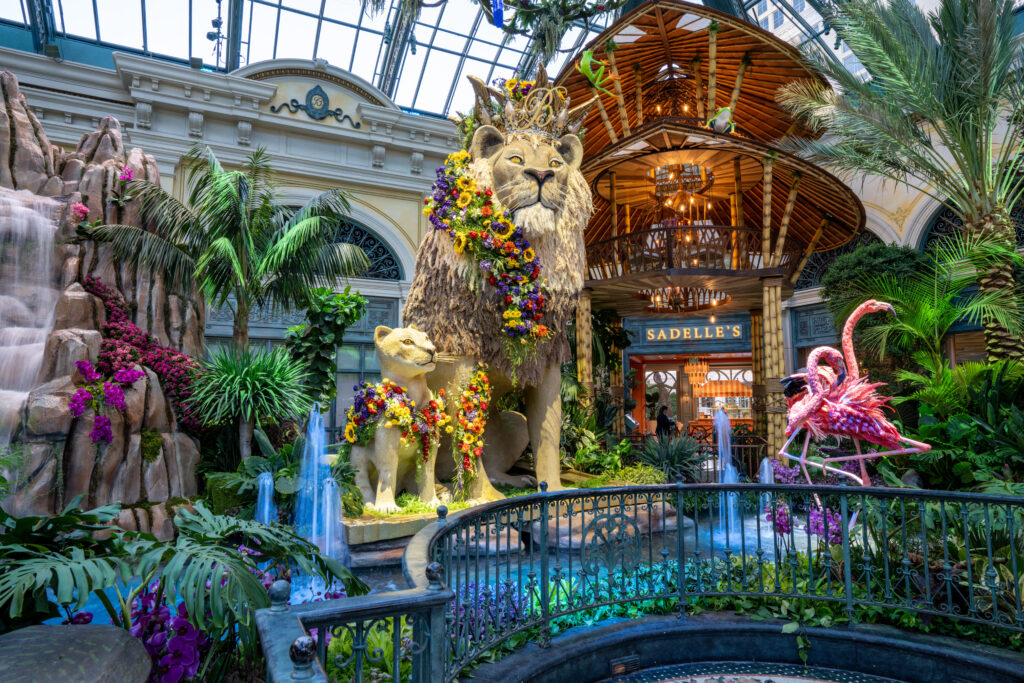 Bellagio's Conservatory & Botanical Gardens welcomes summer with the debut of its spectacular new display "Jungle of Dreams." Paying homage to the animal kingdom with 28 animal sculptures and close to 10,000 plants and flowers, Jungle of Dreams takes guests on a journey through a magical place with moments of discovery and whimsy around every corner, as majestic animals gather to celebrate the coronation of the king of the jungle.
"Reimagining the Conservatory for this new summer display was a dream come true for me. Working with the talented Bellagio horticulture team, we took a scene that is captivating, visual and dramatic and brought it to life as only Bellagio can," said designer Ed Libby. "New elements, including LED screens, along with tropical plants, foliage and flowers from around the world provide a feast for the eyes to all who visit, transporting them to this very special space we created."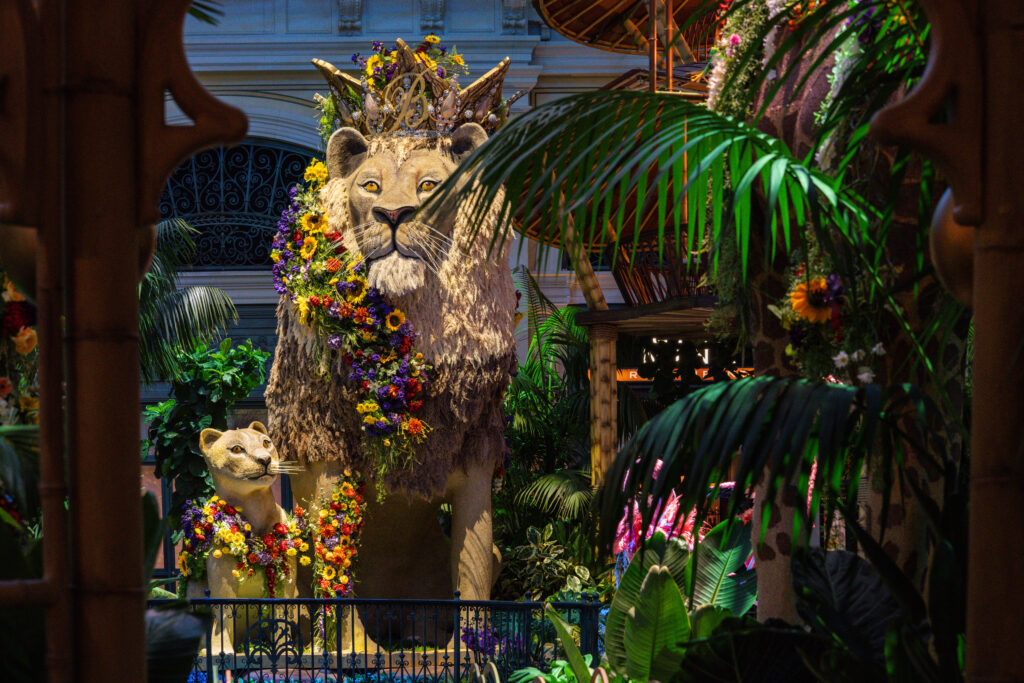 West Bed
The West Bed pays tribute to the "King of the Jungle," where a Lion standing over 20 feet tall commands the space while his nine-foot-tall cub poses atop a giant gold frame. The lion, made from grass seeds, cut oat, wheat and barley seeds, wears a gilded crown adorned with the iconic Bellagio 'B' above a mane made of 2,500 preserved pampas grass plumes. Nearby, fanciful pink flamingos, ornate blue parrots and a toucan play while a majestic waterfall and a bamboo tree house round out the scene.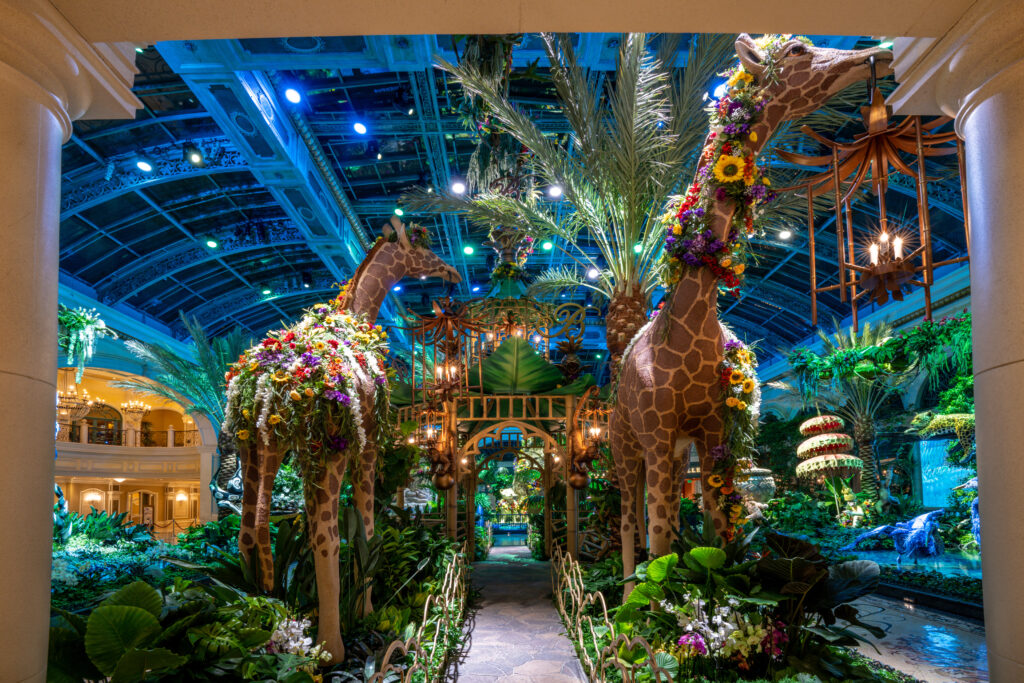 East Bed
The East Bed showcases four giraffes made of brown and golden flax seeds and lavishly draped in fresh floral garlands, welcoming guests to the conservatory. As they enter through a bamboo gazebo decorated with gilded pineapples, a symbol of hospitality in international cultures, visitors walk upon a giraffe print-patterned floor.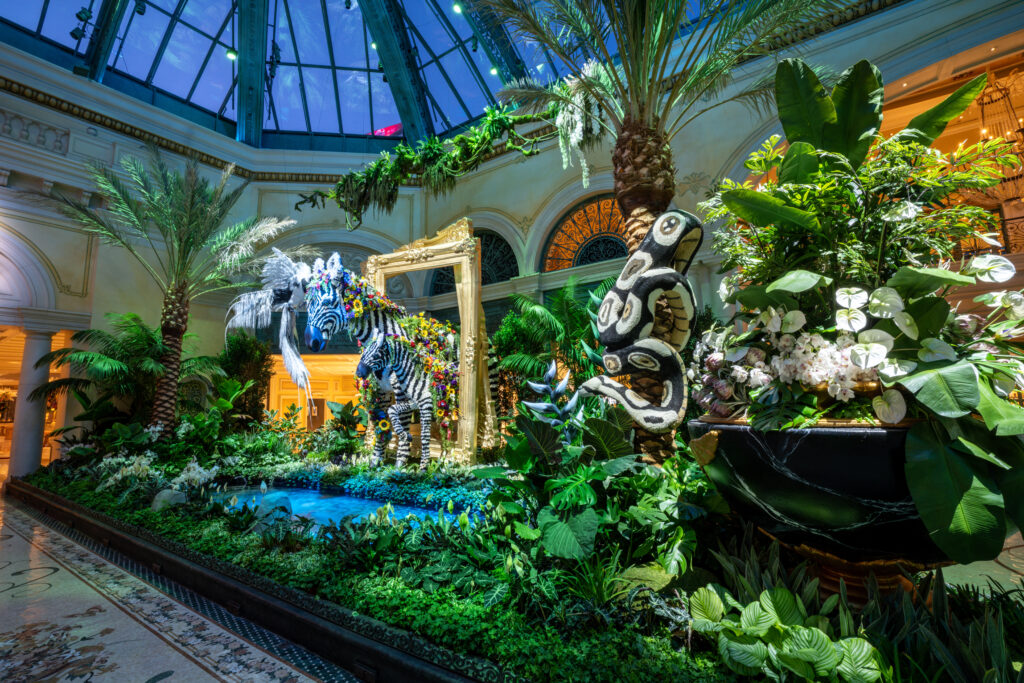 South Bed
The South Bed is decorated in a striking palette of black, white and gold as a Zebra made of rose petals takes center stage, with its child greeting guests behind intricate ormolu frames. A graceful black and white Raggiana bird-of-paradise soars above the bed while a giant boa constrictor lounges on a date palm tree overlooking a pond.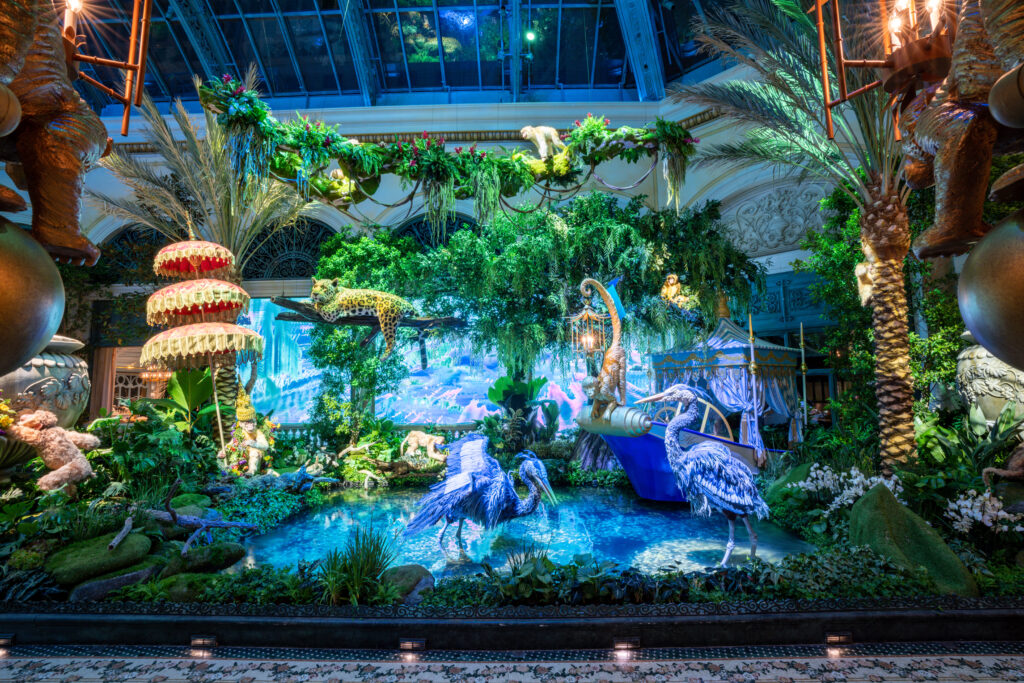 North Bed
The North Bed is transformed into an Amazon landscape where monkeys in floral pageantry swing from vines high above and a jungle boat begins its journey. Cooling himself by the water is the monkey king, holding a hand-painted 18-inch parasol and wearing a handcrafted traditional Thai crown. Blue herons made from botanical materials drink from the "river" as a majestic jaguar perches nearby. Furthering the sense of wonder and discovery, state-of-the-art LED screens take guests on an immersive expedition through the jungle.
In the background, birds chirp, crickets sing, the wind softly blows and a lion roars as a grand and theatrical soundtrack featuring the sounds of the jungle adds a soothing layer to the display.
"Jungle of Dreams" is on display through September 10, 2022. Bellagio's Conservatory & Botanical Gardens is open 24 hours a day, seven days a week and is complimentary to the public.
"Jungle of Dreams" Display by The Numbers
120,000 individually placed rose petals on the zebras
10,000 working hours to create this spectacular show
9,275 plants in the display
2,500 preserved pampas plumes on the lion's mane.
900 pounds of brown and golden flax seeds used to create the giraffes' coats
360 feet of palm tree trunks throughout the display – the length of a football field
50 palm trees
28 animals
9 golden pineapples, the international symbol of hospitality
5 species of birds represented
1 jungle boat
BELLAGIO
Inspired by the beautiful villages of Europe, the AAA Five Diamond Bellagio Resort & Casino overlooks a Mediterranean-blue, 8 ½-acre lake in which fountains perform a magnificent aquatic ballet. Award-winning dining including its newest addition The Mayfair Supper Club, a world-class art gallery, the exquisite Conservatory & Botanical Gardens, the stunning performance of "O" by Cirque du Soleil, a sumptuous spa and salon and exclusive luxury shopping all work together to compose the symphony that is Bellagio. Bellagio is operated by MGM Resorts International (NYSE: MGM). For more information and reservations, visit bellagio.com, call toll free at (888) 987-6667 or find us on Instagram, Facebook and Twitter.
Summary
Article Name
Bellagio Conservatory & Botanical Gardens Transforms into Animal Kingdom for New Summer Display 'Jungle of Dreams'
Description
Bellagio Conservatory & Botanical Gardens Transforms into Animal Kingdom for New Summer Display 'Jungle of Dreams'