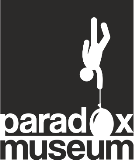 Paradox Museum's Art and Science Gift Bundle for 2023.
(Photos Courtesy of Paradox Museum)
CELEBRATE THE HOLIDAYS WITH ART, SCIENCE, RETAIL GIFTS
FROM PARADOX MUSEUM
Signature Items Include Plasma Ball, Coloring Mug, Kaleidoscope
This holiday season, Paradox Museum Las Vegas is offering one-of-a-kind holiday gifts sure to bring a sense of enchantment and wonder to every recipient. Notable items are the Paradox Museum Art & Science Gift Bundle, including a plasma ball, coloring mug and kaleidoscope, as well as a variety of wooden games, puzzles, tote bags, water bottles and more.
The list of signature gift store items available exclusively in-person at Paradox Museum Las Vegas follows:
Paradox Museum Art & Science Gift Bundle
Ideal for both art and science lovers, the holiday bundle is available for $44.99. It includes a plasma ball featuring mesmerizing technology that places the power of electricity at users' fingertips. With a touch, recipients can control and manipulate dazzling streams of electric energy, creating an interactive experience that is as captivating as it is illuminating.
Also included is the coloring mug, which invites users to unleash their inner artist. Serving as a canvas for creativity, it allows users to draw and design using the included markers. When inspiration strikes anew, a simple wash resets the canvas, providing endless opportunities to personalize their daily beverage rituals.
Lastly, the bundle includes kaleidoscope – a symphony of colors and reflections. Step into a world of ever-changing patterns with this classic Kaleidoscope. This beautifully crafted tube, filled with mirrors and vibrant pieces of colored paper, creates a visual symphony of reflections and hues with each turn. The result is a hypnotic display that energizes the imagination.
Wooden Games/Puzzles
Paradox Museum offers a plethora of stimulating wooden games and puzzles ideal for a wide range of ages. In celebration of Black Friday, shoppers can enjoy 25% off all wooden games and puzzles Friday, Nov. 24 through Monday, Nov. 27. Travelers visiting Las Vegas in December can also take advantage of the 25% off sale the week before Christmas starting on Sunday, Dec. 17.
Retail Items and Water Bottles
Shoppers searching for a selection of retail gift items are invited to discover branded tote bags, Bleecker bags, water bottles and tumblers on sale. Discounts vary from item to item and are on sale Friday, Nov. 24 through Monday, Nov. 27 as well as the week before Christmas starting on Sunday, Dec. 17.
ABOUT PARADOX MUSEUM LAS VEGAS
Paradox Museum Las Vegas is not just another entertainment venue. The destination features more than 90 paradox-based, exhilarating exhibits and offers more mind-twisting, eye-tricking experiences than any other destination in the world. Guests will learn everything about the exciting science behind paradoxes and discover new perspectives. In addition, visitors will have the opportunity to defy reality and live their own experiences – all while taking unbelievably cool photos and videos. Founded by the Paradox Group, the Paradox Museum is the most innovative and fastest growing company in the "edutainment" industry. Paradox Museum Las Vegas is a must-see and must-share destination for all ages. It touches the hearts and minds of all visitors and offers new perspectives and reality-defying experiences. For more information, visit paradoxmuseumlasvegas.com or follow along on Facebook, Instagram and TikTok.
Summary
Article Name
Celebrate The Holidays with Art, Science, Retail Gifts From Paradox Museum
Description
Celebrate The Holidays with Art, Science, Retail Gifts From Paradox Museum