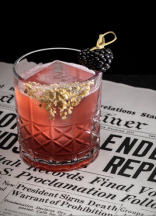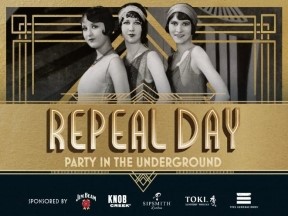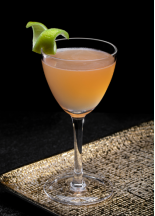 L to R: Doctor's Orders; Repeal Day Party in The Underground; The Man in the Green Hat.
(Photos courtesy of The Mob Museum)
THE UNDERGROUND SPEAKEASY AT THE MOB MUSEUM TO CELEBRATE
90th ANNIVERSARY OF REPEAL OF PROHIBITION, SATURDAY, DEC. 2
Annual Repeal Day Soirée to Include Cocktails, Live Music, More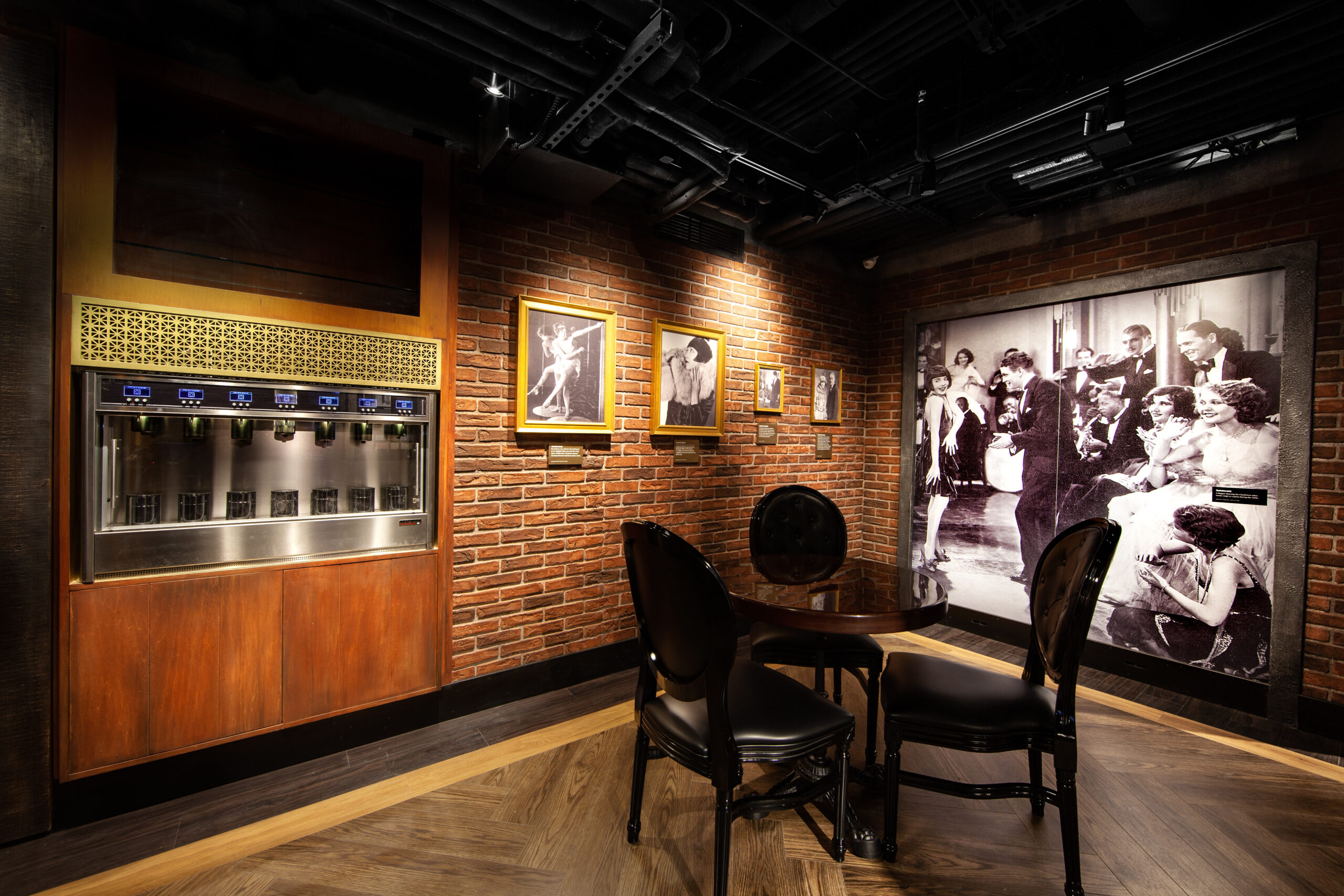 The Underground speakeasy and distillery inside The Mob Museum will celebrate the momentous 90th anniversary of the repeal of Prohibition on Saturday, Dec. 2 from 8 p.m. to midnight. The annual Repeal Day soirée will include live music, specialty cocktails, house-made bites and the launch of a brand-new flavored moonshine crafted in the Museum's distillery.
Revelers are encouraged to dress in their best Prohibition-era attire, party like it's 1933 and raise a glass to the repeal of Prohibition, which occurred on Dec. 5 of that year. New Orleans-style jazz band Flamingo will also ignite the evening with a rousing live performance.
A selection of specialty Repeal Day cocktails will be available for $15 each. These limited-time libations will also be offered in The Underground from Friday, Dec. 1 through Tuesday, Dec. 5. The roster of Repeal Day cocktails follows:
Doctor's Orders – A loophole in the Volstead Act was a doctor's ability to prescribe medicinal alcohol. This prevented alcohol from disappearing from American life as bourbon was one of those medicinal spirits that could be found on a pharmacy's shelf during the 1920s. Celebrating its everlasting home in American culture, the Doctor's Orders combines Knob Creek Bourbon, dry curaçao, amaretto, blackberry and lime juice.
Strawberry Collins – A true cocktail classic, the Tom Collins preceded Prohibition by decades. The ever-popular mixed drink was first featured in Jerry Thomas' 1876 rendition of "The Bartender's Guide." Further withstanding the test of time 90 years after Prohibition's repeal, The Underground's Repeal Day version incorporates Sipsmith Strawberry Smash Gin for a contemporary take to celebrate the historic anniversary.
The Man in the Green Hat – Prohibition was so disliked by most Americans that even congress had its own bootlegger – the Man in the Green Hat. This man, known for his emerald-colored hat, was eventually identified as George Cassidy when he was busted by a capitol police officer for delivering six quarts of whiskey to a U.S. house member in February of 1930. Combining two whiskies, this cocktail features Suntory Whisky Toki, Maker's Mark 46, orgeat and bitters.
The 3 Dons – The importation of coffee more than tripled in the 1920s, cementing its popularity in America. A riff on an espresso martini, The 3 Dons combines Tres Generaciones Añejo Tequila, espresso, walnut bitters and bar sugar for a tequila-based take on the ever-popular espresso martini.
Guests can enjoy free entry with secret password "DRY NO MORE." Must be 21 or older to attend. For more information, click here.
ABOUT THE UNDERGROUND
The Underground is an immersive Prohibition history exhibition featuring a speakeasy, distillery and private VIP room in the basement of The Mob Museum, the National Museum of Organized Crime and Law Enforcement. Artifacts from the 1920s and 1930s tell the intriguing story of the Prohibition era, which not only saw a proliferation of bootlegged booze and the meteoric growth of organized crime outfits but also had a profound, lasting impact on society, specifically making way for modern cocktail culture. A seasonal cocktail menu gives guests the opportunity to try contemporary takes on classic Prohibition-era cocktails. The menu and atmosphere have landed the speakeasy on several "best cocktail bars in Las Vegas" lists. Distillery tours allow participants to learn about Prohibition and its impact on a variety of spirits and drinking habits while tasting a few of the Museum's moonshines. The distilling program has received various accolades, including Best Moonshine at the 2020 International Whiskey Competition. Complimentary entrance to The Underground is granted at the secret side door to visitors who know the password, which is published daily on Instagram Stories @MobMuseum_Underground.
SOCIAL MEDIA LINKS:
www.Facebook.com/TheUndergroundAtTheMobMuseum
www.Instagram.com/mobmuseum_underground
ABOUT THE MOB MUSEUM
The Mob Museum, the National Museum of Organized Crime and Law Enforcement, a 501(c)3 non-profit organization, provides a world-class journey through true stories—from the birth of the Mob to today's headlines. The Mob Museum offers a provocative, contemporary look at these topics through hundreds of artifacts and immersive storylines. Numerous interactive exhibits include a Crime Lab, Firearm Training Simulator and Organized Crime Today exhibit. The Museum is also home to The Underground, a Prohibition history exhibition featuring a speakeasy and distillery. The Mob Museum has accumulated numerous accolades, including being named one of TripAdvisor's "Top 25 U.S. Museums;" one of Las Vegas Weekly's "Twenty Greatest Attractions in Las Vegas History" and "Best Museum" by its 2021 Readers' Choice Awards; one of National Geographic's "Top 10 Things to Do in Las Vegas;" USA Today's "Best Museum in Nevada," 10Best Readers' Choice travel awards for "Best Las Vegas Attraction" in 2021, "Top Five Best History Museums in the United States" in 2021 and one of its "12 Can't Miss U.S. Museum Exhibits;" named "A Must for Travelers" by The New York Times and one of "20 Places Every American Should See" by FOX News. The Museum is a two-time winner of the Mayor's Urban Design Award for Historic Preservation and Adaptive Reuse and is accredited by the American Alliance of Museums. The Museum is open daily; visit the website for admission rates and operating hours. For more information, call (702) 229-2734, visit themobmuseum.org, or download the Museum's free mobile app.
SOCIAL MEDIA LINKS:
www.Facebook.com/themobmuseum
www.Twitter.com/themobmuseum
www.Instagram.com/themobmuseum
Summary
Article Name
The Underground Speakeasy and Distillery to Celebrate Repeal Day, Dec. 2
Description
The Underground Speakeasy and Distillery to Celebrate Repeal Day, Dec. 2