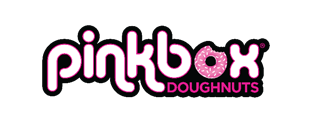 CELEBRATE THE START OF FOOTBALL SEASON WITH LAS VEGAS RAIDERS-THEMED TREATS AT PINKBOX DOUGHNUTS®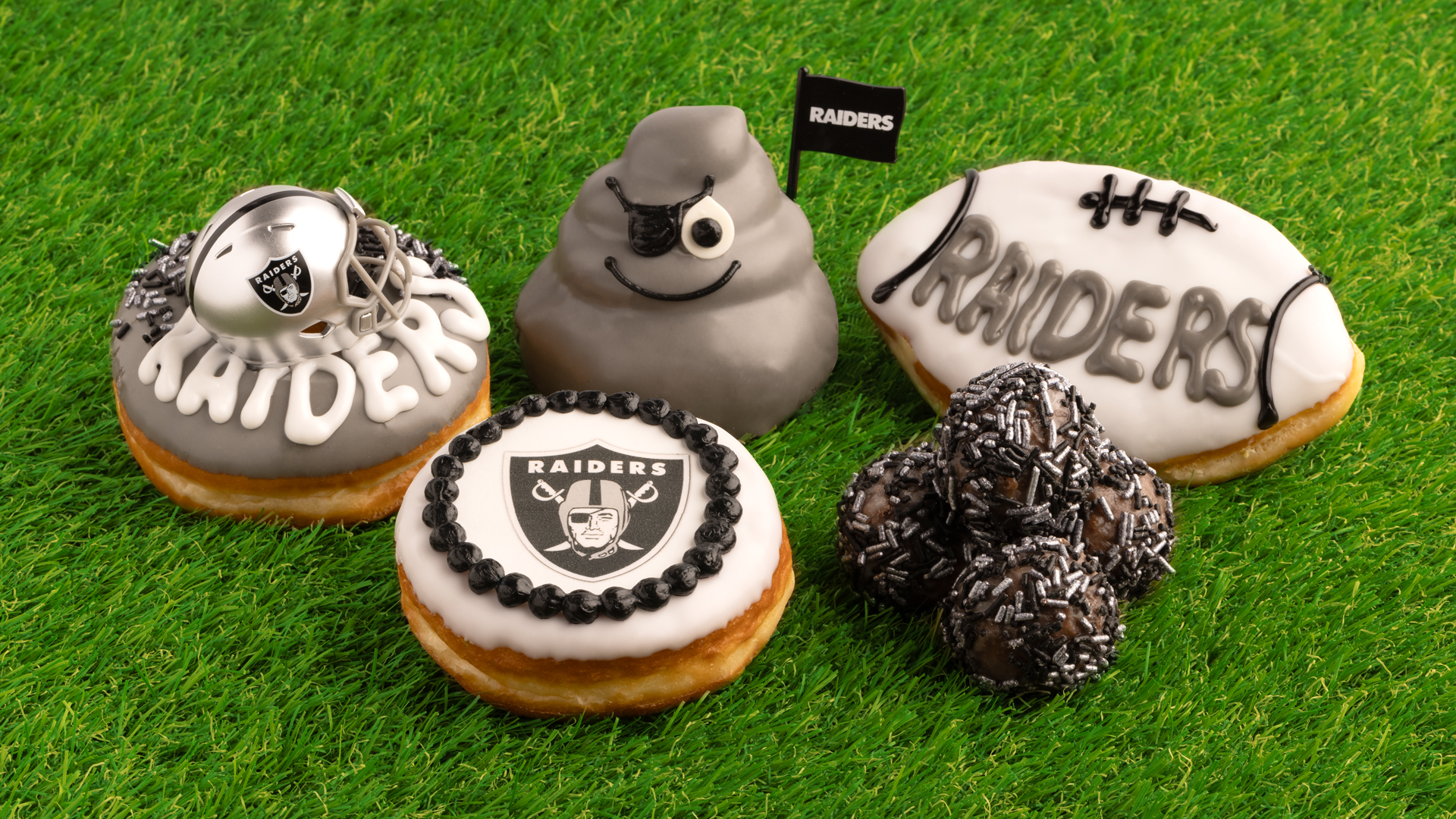 With the start of NFL football season only days away, Pinkbox Doughnuts® is rooting for its hometown Las Vegas Raiders with a lineup of Raiders-themed doughnuts beginning August 11 through the 2023-24 football season.
"As the official doughnut partner of the Las Vegas Raiders, we offer the ultimate sweet treat for Raiders fans," said Judith Perez Siegel, owner of Pinkbox Doughnuts. "Our gameday themed collection gives our guests the opportunity to enjoy delicious treats while cheering on their hometown team."
Guests can enjoy the themed lineup of sweet treats at every Raiders game at Allegiant Stadium as well as at select Pinkbox Doughnuts locations every day.
Available at Allegiant Stadium Only
Raider Nation – Silver frosted raised ring topped with RAIDERS décor, black and silver sprinkles, and a collectible mini helmet
Raiders Baby – White frosted raised shell topped with official RAIDERS logo décor
Available at all Pinkbox Locations and Allegiant Stadium
The Raider – Chocolate cake topped with cookies n cream buttercream, covered with silver icing, candy décor, a pirate patch and official RAIDERS flag
Raiders Football – White frosted raised football shell filled with Bavarian cream and topped with RAIDERS football décor
Raiders PEE-WEEZ® – Glazed chocolate cake PEE-WEEZ® topped with black and silver sprinkles
Fans looking for a sweet treat can visit the Pinkbox Doughnut Kiosk in Section 128 at Allegiant Stadium.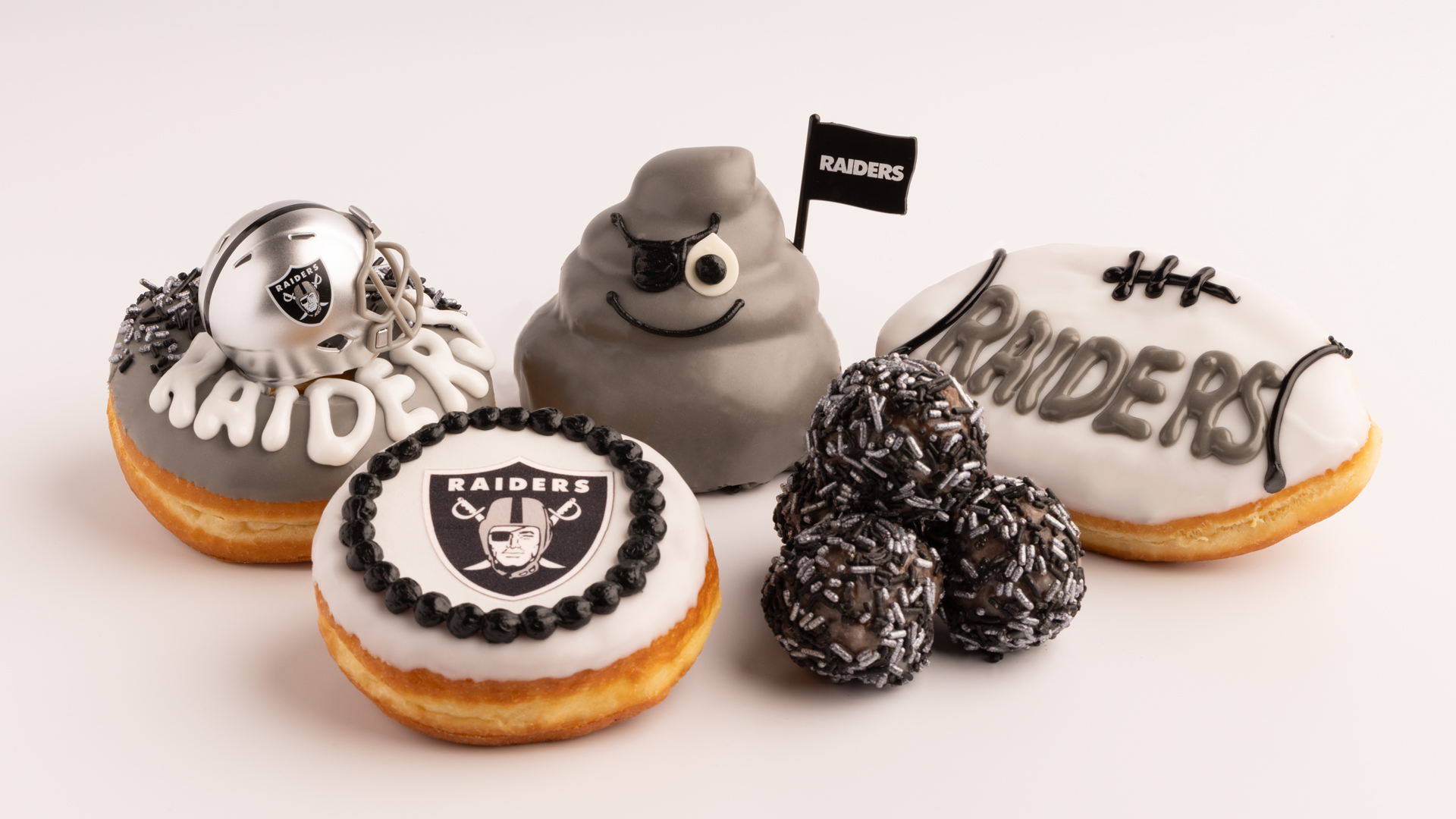 For more information on Pinkbox Doughnuts, store locations, hours, and doughnut varieties, please visit www.pinkboxdoughnuts.com.
ABOUT PINKBOX DOUGHNUTS®
Awarded "All-Time Best Doughnuts" by Las Vegas Weekly, and "Best Doughnuts" in the Las Vegas Review-Journal "Best of Las Vegas" Awards, Pinkbox Doughnuts has eight locations across the metropolitan Las Vegas Valley as well as at the Nevada/California border in Primm, Nevada, the Nevada/Arizona border in Laughlin, Nevada, and in St. George, Utah. Established in 2012, Pinkbox Doughnuts offers a fun modern-day twist on the classic doughnut shop with a whimsical pink interior where more than 70 varieties of delicious doughnuts – each with their own creative design and personality – are sold 24 hours a day, 7 days a week at most locations. Perfect for social media memories, Pinkbox Doughnuts is expanding rapidly with plans to open several new stores. It also operates a doughnut food truck that travels to parties and special events. For more information, please visit www.pinkboxdoughnuts.com and follow on Instagram at @pinkboxdoughnuts, Facebook at Pinkbox Doughnuts, TikTok at Pinkbox Doughnuts, and Twitter at @pinkboxdoughnuts.
Summary
Article Name
CELEBRATE THE START OF FOOTBALL SEASON WITH LAS VEGAS RAIDERS-THEMED TREATS AT PINKBOX DOUGHNUTS®
Description
CELEBRATE THE START OF FOOTBALL SEASON WITH LAS VEGAS RAIDERS-THEMED TREATS AT PINKBOX DOUGHNUTS®