Cowabunga Bay Waterpark to hire more than 500 friendly Employees 
Cowabunga Bay waterpark has begun hiring 500 seasonal and  part-time employees for its 2022 season.  Besides being summer's coolest job in  a friendly environment, employment benefits include free park admission,  flexible schedules, leadership positions, and best of all exclusive employee  parties and activities. 
With its opening day on March 26th, roughly two months away, the award winning water park is looking to fill a range of service positions within the areas  of admissions, cashiers, food and beverage, maintenance, and of course  lifeguards.  "This year we are excited to extend some positions to 15-year old's  who have expressed an interest in entering the workforce," said Sage Harper,  HR manager.  "Each year we get so many requests from young teenagers who  want to have a summer job at Cowabunga Bay.  We have created some positions that we will train and prepare them in areas of guest and park services  as well as cashiering." 
Cowabunga Bay will be hosting an interview day on February 19th at Sunset  Station Hotel & Casino. Apply online at  
www.cowabungabayvegas.com/employment to receive an invitation for the  interview day.The hiring event is in hourlong blocks and we will have available  interview times from 10 a.m. to 1 p.m.  Applicants should dress business casual,  bring proper ID and be interview ready. 
For more information on positions available and hiring eligibility please visit  cowabungabayvegas.com. Cowabunga Bay provides lifeguard and attraction  training through StarGuard Elite. Upon successful completion, the attendees  will receive a certification in Lifeguarding/CPR/First Aid/AED and Blood-borne Pathogens.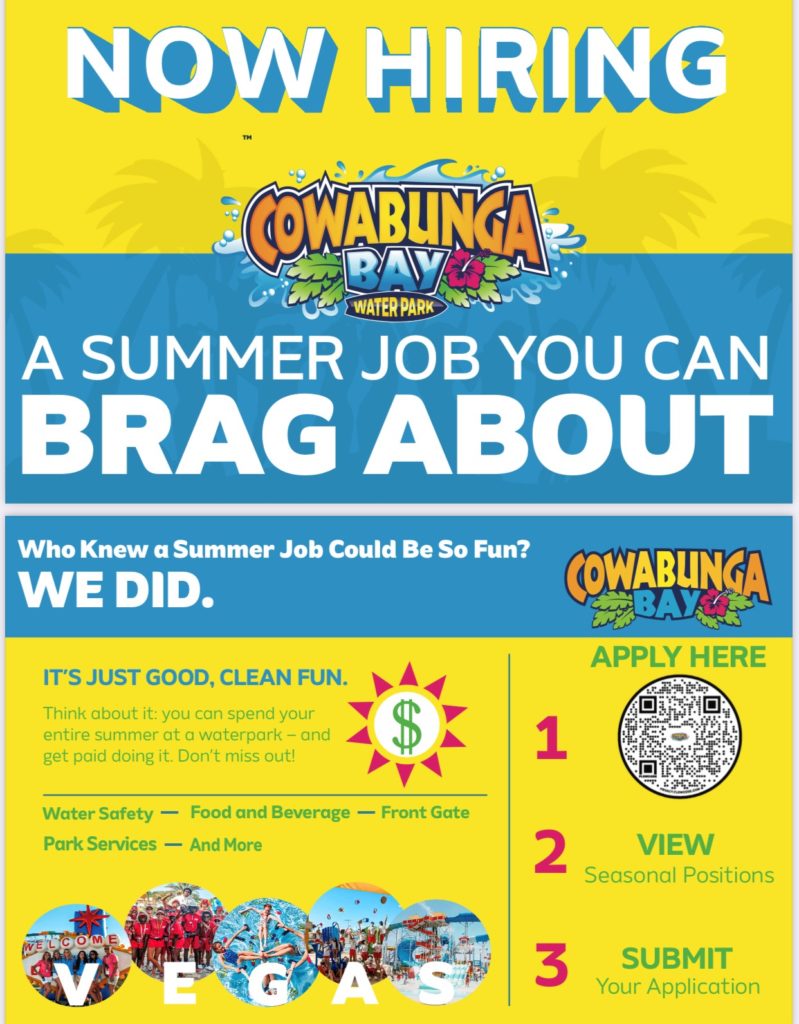 Summary
Article Name
Cowabunga Bay Waterpark Now Hiring 500 Jobs - All Positions
Description
Cowabunga Bay Waterpark Now Hiring 500 Jobs - All Positions