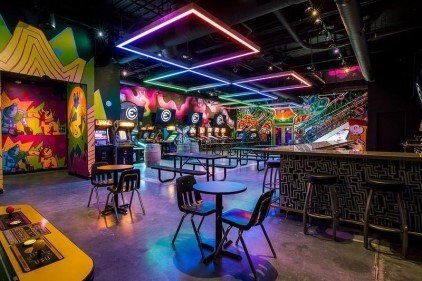 Image of the interior of Emporium Arcade Bar Las Vegas.
(Photo Courtesy of Emporium Arcade Bar)
EMPORIUM ARCADE BAR LAS VEGAS TO HOST CANNABIS MIXER, CBD
NETWORKING EVENT, FRIDAY, JULY 8
Live DJ Performances to Follow Event
WHAT:
Emporium Arcade Bar Las Vegas, the lively bar known for its curated selection of local craft brews, imaginative cocktails, classic arcade games and colorful artistic ambiance, invites guests to an exclusive cannabis mixer and CBD networking event presented by Cross Country Wellness. The event will feature multiple vendors within the cannabis industry educating event attendees about up-and-coming brands and handing out non-infused product samples as well as shirts, lanyards, stickers and hats.
Following the mixer, Emporium will host live performances from DJ TUBBZ, Novae and Mack from All the Above.
WHO:
Established to provide the highest quality CBD products to customers, Cross Country Wellness works with the best suppliers and extraction companies in Nevada and the United States. All products are lab tested, follow strict compliance and are made from U.S.-grown hemp.
WHEN:
Friday, July 8
Cannabis mixer/networking event to be held from 7 to 10 p.m.
Live DJ performances from 10 p.m. to 1 a.m.
WHERE:
Emporium Arcade Bar Las Vegas inside AREA15
3215 S Rancho Dr. Suite105
Las Vegas, NV 89102
COST:
Admission is complimentary but guests must be 21 years or older to enter. Guests are encouraged to use the back door at AREA15 and mention "Emporium" for free entry.
ABOUT EMPORIUM ARCADE BAR LAS VEGAS
Emporium Arcade Bar Las Vegas provides a distinctive entertainment destination inside AREA15, Las Vegas' new art and entertainment district located minutes from the Strip. Emporium first launched in Chicago in 2012 and has become renowned as an unparalleled destination for all types of games, including classic arcade favorites, pool tables, pinball, foosball and many more. Its passionately curated bar purveys the choicest craft beer selections, an innovative cocktail program and expansive liquor list. In addition, Emporium Arcade Bar showcases vibrant murals by local artists and an ongoing, robust calendar of live shows, DJs and game tournaments. Emporium Arcade Bar is free to enter and open daily for guests 21 years or older. For hours of operation and information, visit www.emporiumarcadebar.com, as well as its Facebook and Instagram pages.
ABOUT CROSS COUNTRY WELLNESS
Cross Country Wellness is an online health and wellness website providing high-quality CBD Products from the best suppliers and extraction companies in Nevada and across the United States. All products are lab-tested, under strict compliance and all CBD is made from USA-gown hemp. For more information, visit their website at www.crosscountrywellness.com as well as its Facebook and Instagram pages.
ABOUT AREA15 LAS VEGAS
AREA15, located minutes from the Las Vegas Strip, represents the world's first purpose-built immersive entertainment district offering live events, distinctive attractions, interactive art installations, extraordinary design elements, unique retail, ground-breaking technology, bars and eateries and much more. AREA15's curated mix of dynamic destinations—including Meow Wolf's Omega Mart, Lost Spirits Distillery, Illuminarium, Dueling Axes, Five Iron Golf, The Beast by Todd English, Wink World: Portals Into the Infinite, Museum Fiasco, Virtualis VR, Emporium Arcade Bar and many more—represents what's next in experiential entertainment. With a robust, ever-changing roster of concerts, events, immersive art exhibitions, out-of-this-world nightlife and boundary-pushing production shows, AREA15 attracts visitors of all ages.
AREA15 has received numerous accolades, including being named "Best Immersive Art Experience" by USA Today 10Best Readers' Choice Travel Awards, one of "The 10 Most Innovative Urban Development and Real Estate Companies of 2020" by Fast Company, "Best Place for Your Instagram Shot" as well as "Best Attraction" for two consecutive years by Las Vegas Weekly Readers' Choice Best of Vegas Awards, "Best Arts Hub" by Vegas Magazine, claiming the No. 1 spot in Blooloop's "World's Top 11 Immersive Art Experiences" and being included in Las Vegas Magazine's Hall of Fame.
Follow on Instagram and Twitter: @AREA15Official; Facebook: AREA15LasVegas and YouTube: AREA15. Hashtag: #AREA15. Click here for directions and here to download high-res images.
SOCIAL MEDIA LINKS
Facebook, Twitter and Instagram
HASHTAG
#EmporiumLV
#EmporiumArcadeBar
Summary
Article Name
Emporium Arcade Bar Las Vegas To Host Cannabis Mixer, CBD Networking Event, Friday, July 8
Description
Emporium Arcade Bar Las Vegas To Host Cannabis Mixer, CBD Networking Event, Friday, July 8