FIORONI NAMED MOUNTAIN WEST GOLFER OF THE YEAR
The San Diego native becomes the first Rebel to win the award since Harry Hall in 2019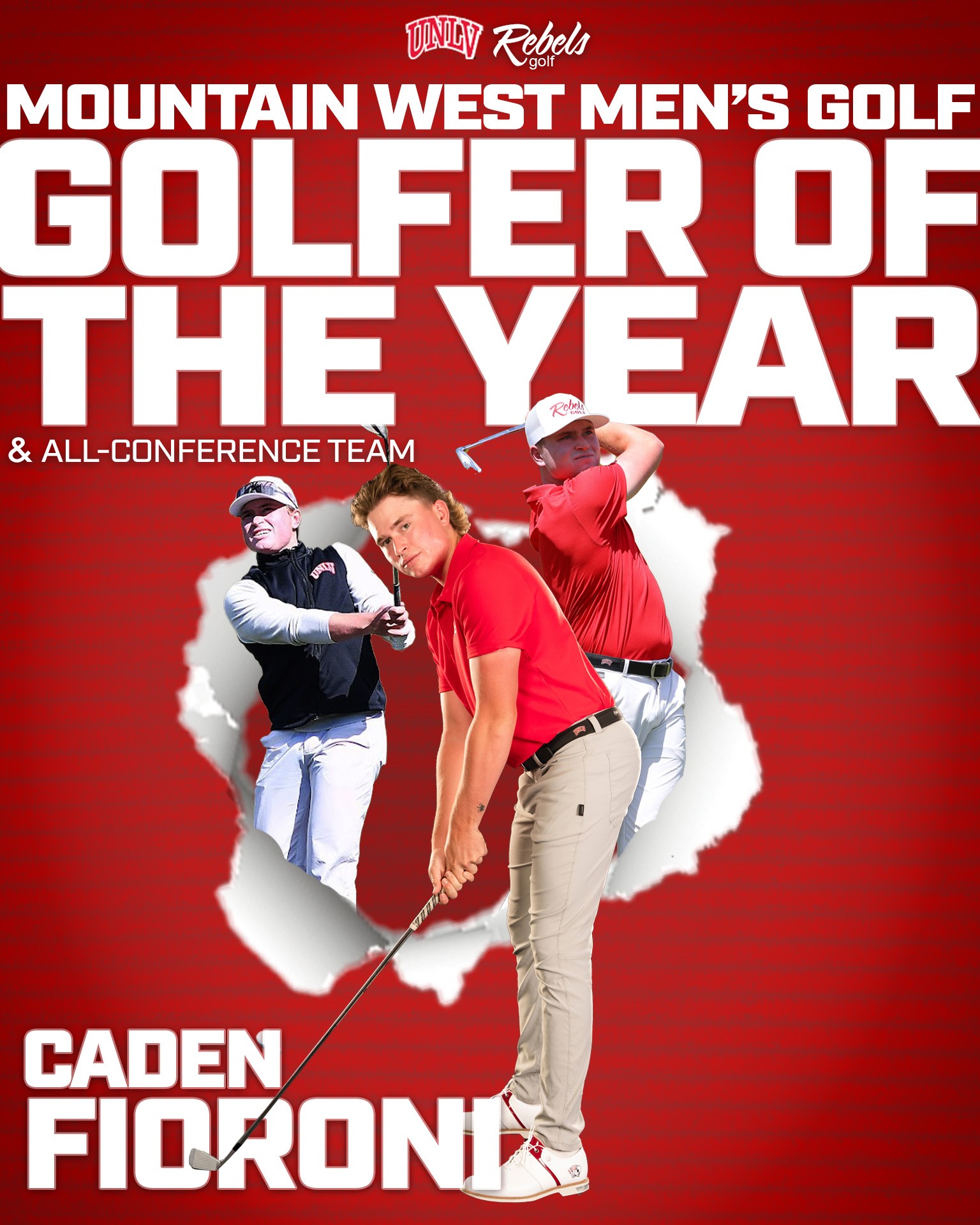 UNLV men's golf junior Caden Fioroni was named the 2023 Mountain West Men's Golfer of the Year and also placed on the MW All-Conference Team, announced by the conference office Wednesday afternoon.
This is the 15th time in program history a Rebel has received a Conference Player of the Year honor. Fioroni, meanwhile, becomes the seventh UNLV golfer to earn the MW accolade and the first since Harry Hall in 2019. Additionally, this marks the second consecutive season he has earned an all-conference team nod.
"Coach McInerney and I are very proud of Caden," said UNLV head coach Jean-Paul Hebert. "His commitment to excellence here in Las Vegas has paid dividends. Since day one, he has truly embodied what it means to be a Rebel."
A native of San Diego, California, Fioroni led the Rebels with a 70.39 scoring average that ranks him as the No. 39 individual in the country. In his second year with the Scarlet & Gray, he notched five top-5 finishes and a conference-leading six top-10 finishes, including a second-place outing (-10) at New Mexico's William H. Tucker Intercollegiate. Fioroni also matched his career-low score of 15-under 201 at the Mountain West Championship en route to placing third.
UP NEXT: Fioroni will be playing as the top-seeded individual participant at the NCAA Las Vegas Regional, which is being hosted by UNLV and the Las Vegas Convention and Visitors Authority at Bear's Best from May 15-17.
2023 Mountain West Men's Golf Honors
Golfer of the Year: Caden Fioroni, UNLV
Freshman of the Year: Dylan Oyama, San Diego State
Coach of the Year: Ryan Donovan, San Diego State
2023 Mountain West All-Conference Team
Christoph Bleier, Colorado State
Davis Bryant, Colorado State
Connor Jones, Colorado State
Matthew Manganello, Fresno State
Matthew Sutherland, Fresno State
Bastien Amat, New Mexico
Albert Boneta, New Mexico
Justin Hastings, San Diego State
Shea Lague, San Diego State
Caden Fioroni, UNLV
Summary
Article Name
Fioroni Named Mountain West Golfer Of The Year
Description
Fioroni Named Mountain West Golfer Of The Year