Tap N Ash Hosts Inaugural Big Smoke Weekend Shoot Out Golf Tournament Benefiting Education Non-Profit CORE – Nov. 2
Tournament proceeds will help CORE provide support and resources for local scholars and families to thrive academically, emotionally, and socially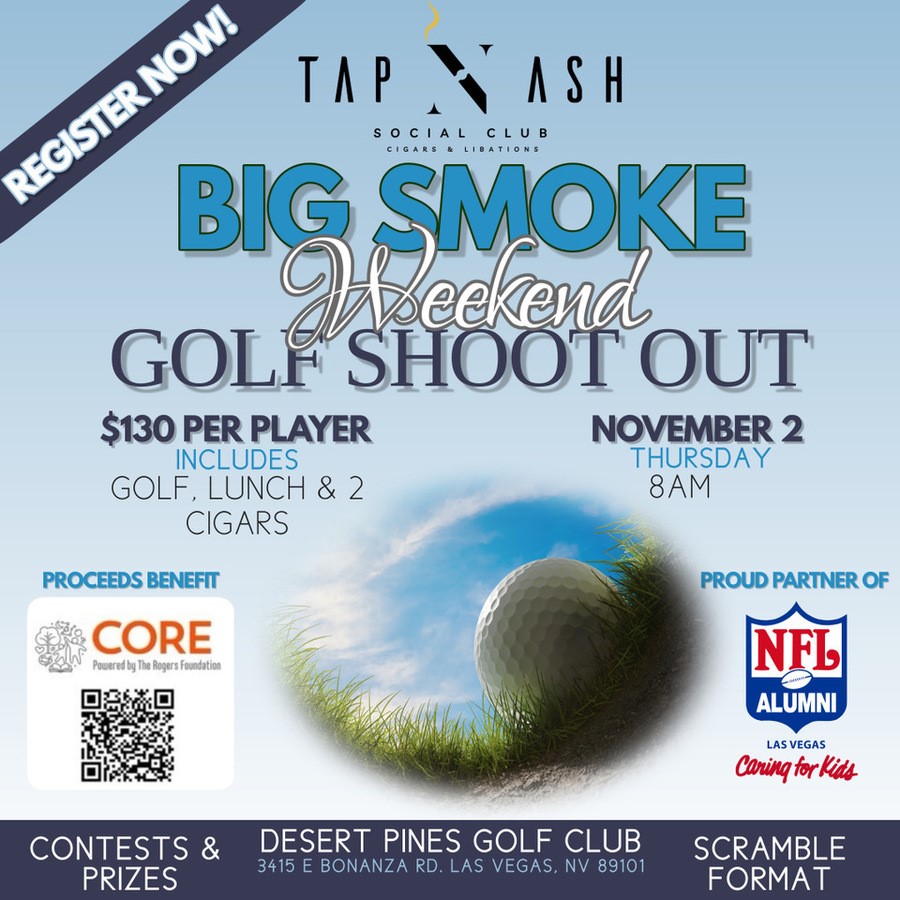 Tap N Ash Social Club is announcing details of its first Big Smoke Weekend Shoot Out Golf Tournament benefiting CORE, set for Thursday, Nov. 2 at Desert Pines Golf Club. Perfectly timed to coincide with the kickoff of Big Smoke Weekend in Las Vegas, one of the premier gatherings of cigar lovers, Tap N Ash welcomes and encourages those interested in playing to gather a four-person team and register here.
The inaugural tournament will follow a Scramble Format, ensuring a fun and inclusive atmosphere for all skill levels to enjoy a day out on the greens. Participants will enjoy a delicious lunch on the course, receive an exclusive swag bag filled with goodies, and participate in a variety of additional contests with exciting prizes up for grabs.
"Like CORE, we are deeply rooted in Las Vegas, and we are proud to play a part in supporting and uplifting the community," said Michelle Runles, owner of Tap N Ash Social Club. "What better way to make a difference for others than by sharing a great day of golf and cigars with friends? And, of course, there's the championship belt prize for the winner and bragging rights!"
Local education non-profit CORE is grounded in the notion that all students deserve an equal opportunity to succeed, regardless of their background or circumstances. CORE empowers student and family success through enrichment and education. Currently, CORE is working with five cohorts of Scholars and families and has a presence at four local schools.
The impact of CORE on the Scholars, families, and community is profound and undeniable, particularly in the North Las Vegas zip codes that CORE serves. CORE Scholars historically achieve a compelling range of positive outcomes including increased GPA, higher rates of promotion to the next grade, higher high school graduation rates, and higher acceptance rates into college/vocational schools. CORE's multi-generational approach also provides support for parents from program staff and community partners allowing families to better meet their fundamental needs, ensuring Scholars stay on track for school.
"We are excited and humbled that Tap N Ash has selected CORE as their benefiting partner charity for this first-ever golf tournament," said CORE Executive Director Jeff Jones. "Like the owners, I'm a native Las Vegan and am committed to helping elevate the opportunities for the Scholars and families CORE serves. Community partnerships like this are invaluable and enable us to dig in and really make a positive impact on the community."
Dedicated to ensuring historically underserved students and their families achieve economic mobility and lead choice-filled lives, the CORE model focuses on a long-term cohort of students/families from 6th grade through 12th grade. Scholars participate in afterschool, weekend, and summer programming to enhance their academic, social-emotional, and leadership skills. Concurrently, their families work with CORE staff to develop support networks, continue their own education, and enhance the skills necessary to be successful in the workplace. After graduation, Scholars are engaged with CORE through an Alumni Network to ensure that they stay on track and reach their full potential. The entire CORE Scholar experience is provided free of charge to participating families.
To learn more about CORE check out our video here or to become a CORE Champion, visit www.corewecan.org.
About CORE
CORE, powered by The Rogers Foundation, believes all children and families have the right to reach their full potential and pursue individual success. With a mission to empower, enrich, and educate underserved children to lead choice-filled lives, the non-profit is a long-term, two-generational after-school and weekend program that focuses on the individual needs of each student scholar and their family. For more information, follow us on Facebook, Twitter , and Instagram, or visit www.corewecan.org.
Summary
Article Name
First-Ever Golf Tourney Benefiting Non-Profit CORE - Nov. 2
Description
First-Ever Golf Tourney Benefiting Non-Profit CORE - Nov. 2