ILLUMINARIUM LAS VEGAS TO LAUNCH NEW IMMERSIVE EXPERIENCE, SPACE: A JOURNEY TO THE MOON AND BEYOND, MEMORIAL DAY WEEKEND
Tickets are now on sale for the magnificent journey at illuminarium.com/lasvegas/space
Today, the all-new immersive cinematic attraction, Illuminarium Las Vegas at AREA15 announces tickets on sale for their highly-anticipated experience SPACE: A Journey to the Moon & Beyond. Officially launching Memorial Day weekend, SPACE will take guests on an exhilarating expedition across the universe, where they can discover and explore the galaxy like never before.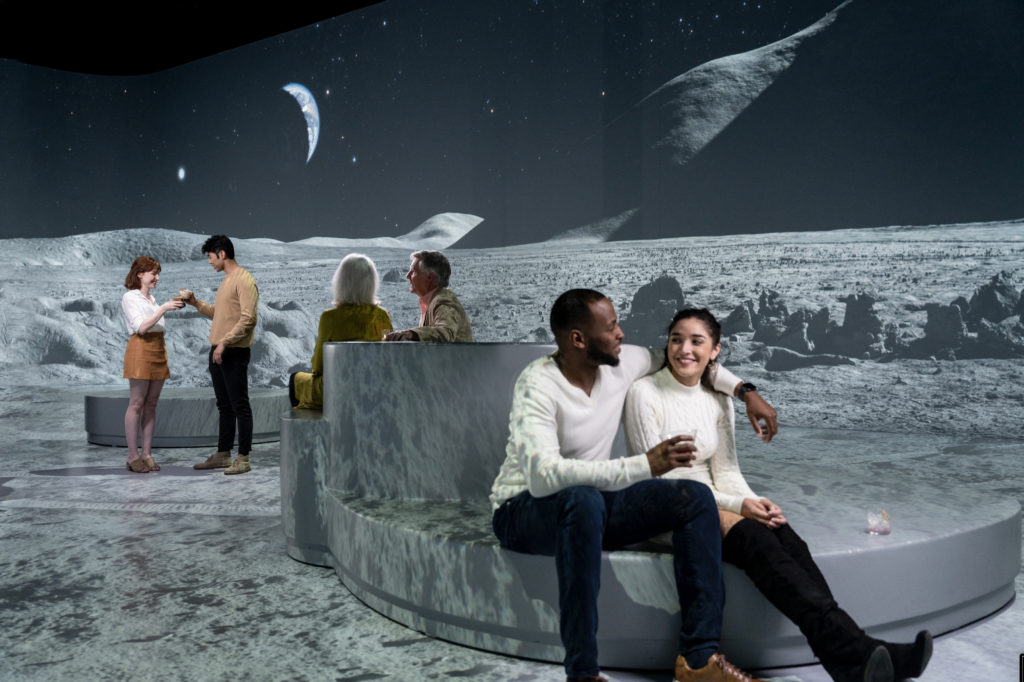 Only 12 people have ever walked on the Moon, visitors are invited to join them at Illuminarium Las Vegas. Guests will have the opportunity to take a giant leap into the unknown as they tour throughout the solar system, including a technicolor flight through the nebula, seeing planets and constellations at an extraordinary scale and weaving through an asteroid belt close to Saturn's rings. Guests will travel through time with a history of the journey to space, then observe a futuristic space colony, listen as astronauts prepare for blast-off and have a chance to personally kick up dust on the surface of the moon. Guests who are 21 and over can also enjoy out-of-this-world cocktails on the moon during SPACE: After Dark Sunday through Thursday starting at 8 p.m.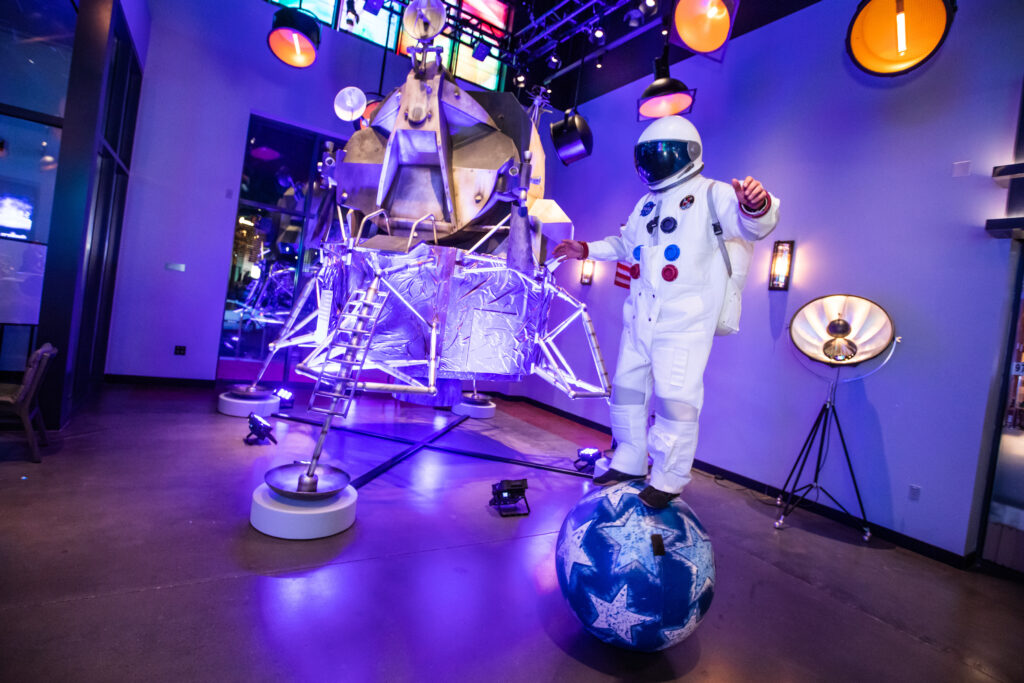 To further enhance the experience, Illuminarium will showcase a 22-foot-tall replica of the iconic NASA/Grumman Apollo Lunar Module that was flown between lunar orbit and the Moon's surface during the United States Apollo Program. Guests will be able to see the module replica first-hand which makes for a one-of-a-kind opportunity.
Illuminarium Las Vegas is open daily at 11 a.m. with the last entry at 7 p.m. for daytime admission. SPACE: A Journey to the Moon & Beyond will run from Memorial Day weekend through Labor Day weekend, May 26 through September 5. Evening programming at Illuminarium begins nightly at 8 p.m. for adults 21+.
For more information and to purchase tickets, guests may visit illuminarium.com/lasvegas/space. Visitors may join the conversation on Facebook, Instagram and TikTok.
About Illuminarium Experiences
Illuminarium Experiences is a global experiential company offering breakthrough immersive 360-degree cinematic entertainment in expansive, projected spaces. Presented in custom-designed venues, Illuminarium surrounds visitors in a sensory space of sight, sound and scale unlike any other, providing boundless experiences and a personal connection to the world around them. With a fully customizable canvas, Illuminarium is the ideal location for special events, group outings, and viewing parties. Created by Alan Greenberg, RadicalMedia and Rockwell Group, Illuminarium Experiences brings together best-in-class partners in content creation, theatrical design, interactive technologies and venue operations. Illuminarium has locations in Atlanta, Las Vegas, with additional markets to be announced soon. For more information and to purchase tickets, guests may visit illuminarium.com.
ABOUT AREA15 LAS VEGAS
AREA15, located minutes from the Las Vegas Strip, represents the world's first purpose-built immersive entertainment district offering live events, distinctive attractions, interactive art installations, extraordinary design elements, unique retail, ground-breaking technology, bars and eateries and much more. AREA15's curated mix of dynamic destinations—including Meow Wolf's Omega Mart, Lost Spirits Distillery, Illuminarium, Dueling Axes, Five Iron Golf, The Beast by Todd English, Wink World: Portals Into the Infinite, Museum Fiasco, Virtualis VR, Emporium Arcade Bar and many more—represents what's next in experiential entertainment. With a robust, ever-changing roster of concerts, events, immersive art exhibitions, out-of-this-world nightlife and boundary-pushing production shows, AREA15 attracts visitors of all ages.
AREA15 has received numerous accolades, including being named "Best Immersive Art Experience" by USA Today 10Best Readers' Choice Travel Awards, one of "The 10 Most Innovative Urban Development and Real Estate Companies of 2020" by Fast Company, "Reader's Choice—Best Attraction" by Las Vegas Weekly, "Best Arts Hub" by Vegas Magazine, claiming the No. 1 spot in Blooloop's "World's Top 11 Immersive Art Experiences" and being included in Las Vegas Magazine's Hall of Fame.
Follow on Instagram and Twitter: @AREA15Official; Facebook: AREA15LasVegas and YouTube: AREA15. Hashtag: #AREA15. Click here for directions and here to download high-res images.
Summary
Article Name
ILLUMINARIUM LAS VEGAS TO LAUNCH NEW IMMERSIVE EXPERIENCE, SPACE: A JOURNEY TO THE MOON AND BEYOND, MEMORIAL DAY WEEKEND
Description
ILLUMINARIUM LAS VEGAS TO LAUNCH NEW IMMERSIVE EXPERIENCE, SPACE: A JOURNEY TO THE MOON AND BEYOND, MEMORIAL DAY WEEKEND