LAS VEGAS BALLPARK® ANNOUNCES SPRING, SUMMER EVENTS
Family-friendly, public events include popular Savannah Bananas, WCC Baseball Tournament, Major League Baseball® Jr. Home Run Derby™, Flicks on The Field, and Battle for Vegas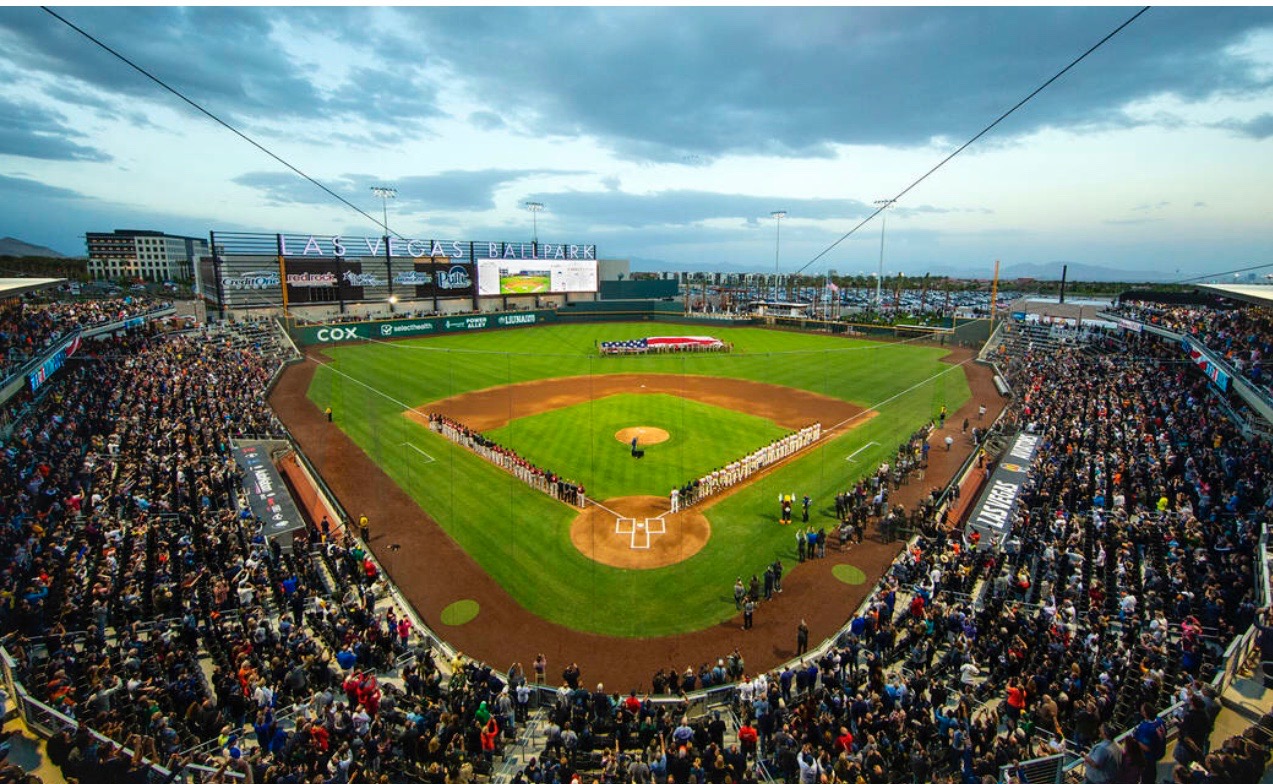 Las Vegas Ballpark® announces several public events to enjoy this spring and summer. New additions include two games from the Savannah Bananas, the popular exhibition baseball team based in Savannah, Georgia, and the West Coast Conference (WCC) Baseball Tournament.
These join returning favorites Major League Baseball® Jr. Home Run Derby™, Flicks on the Field, and Battle for Vegas, for must-attend family fun.
The events kick off on May 19 and May 20 as the Savannah Bananas take on the Party Animals at the Ballpark. The Bananas, known for making baseball fun again, took the standard baseball rules and modified them to better fit their entertaining style of play. Branded as "Banana Ball," these modifications include a two-hour time limit on games, no bunting, batters are not allowed to step out of the batter's box, no pitcher mound visits are allowed, walks are called sprints, and foul balls caught by fans are counted as outs.
This marks the first game in Las Vegas for the Savannah Bananas. Tickets have already sold out, but fans and the public will have the opportunity to purchase merchandise on the plaza of the Ballpark before each game. In addition, fans can watch the event live on YouTube. For details, visit
Next up is the WCC Baseball Tournament May 24-27 at the Ballpark. WCC is nationally recognized in Division I intercollegiate athletics. This marks the first year that the WCC is bringing their tournament to Las Vegas. Tournament packages and individual day tickets are available. Visit www.thelvballpark.com for details.
Back by popular demand is the Major League Baseball® Jr. Home Run Derby™. The event takes place on Saturday, June 10 at 8:00 a.m. Las Vegas Ballpark. The competition is created for regional youth to showcase their talents with the opportunity to compete at the finals during 2023 MLB™All
Star Week®.
Participants are divided into two age divisions – 12U and 14U, with age cut-off set on July 20, 2023 – and will have the chance to advance through three levels of competition. The local champions for both age divisions will advance to the regional level, and regional champs will advance to the finals. Parents of participants must register online.
Las Vegas Ballpark and Las Vegas Aviators Foundation will host, in conjunction with ALS Association Nevada Chapter, Flicks on the Field, on Saturday, June 24 at 7:00 p.m. Gates open at 6:00 p.m. The movie Kicking and Screaming will be shown. Tickets are $7 per person. Children 2 and under free. All ticket sales will benefit the Porrello Project, founded by native Las Vegan Joey Porrello and focused on improving the experience of living with ALS fr those that have been diagnosed and their loved ones. Tickets can be purchased at https://bidpal.net/flicks23. Limited concessions will be available for purchase. Field seating is open, no chairs, no tents, no mats; pillows, blankets, and towels are permitted.
Rounding out July events is the return of the widely popular Battle for Vegas hosted by Reilly Smith. This epic charity softball event returns to Las Vegas Ballpark on Saturday, July 22 at 7:30 p.m.
Fans will get the chance to watch their favorite stars in action as the teams "battle" it out for Las Vegas' ultimate bragging rights, all for a good cause. The softball showdown, now in its fourth year, features two all-star teams of professional athletes, led by Reilly Smith of the Vegas Golden Knights and his teammates against friends from the Las Vegas Raiders. The full roster of players will be announced soon. Tickets are selling fast! Visit www.battleforvegas.com for details.
For additional information and tickets on these and other Las Vegas Ballpark events, visit www.thelvballpark.com.
About Las Vegas Ballpark
Las Vegas Ballpark®, located on eight acres in Downtown Summerlin® just south of City National Arena – practice facility for the Vegas Golden Knights, is the home of the Las Vegas Aviators®, the city's professional Triple-A baseball team of the Pacific Coast League (PCL) and affiliate of the Oakland Athletics. The team is wholly owned by The Howard Hughes Corporation®, developer of the award-winning master-planned community of Summerlin® and developer of Las Vegas Ballpark. With a wide range of seating options including 22 suites, club seats, berm seating, party zones and decks, picnic tables, kids' zone, bars and a pool beyond the outfield wall, Las Vegas Ballpark boasts a capacity of 8,196. Designed to host a variety of events in addition to baseball, the site is landscaped to complement the surrounding master planned community. The site is easily accessed from all regions of the valley via the 215 Beltway. For more on Las Vegas Ballpark, visit www.thelvballpark.com.
Summary
Article Name
LAS VEGAS BALLPARK® ANNOUNCES SPRING, SUMMER EVENTS
Description
LAS VEGAS BALLPARK® ANNOUNCES SPRING, SUMMER EVENTS