LAS VEGAS CITY LEADERS MEET WITH
FLORIDA GOVERNOR DESANTIS ON
RECENT STOP IN THE CITY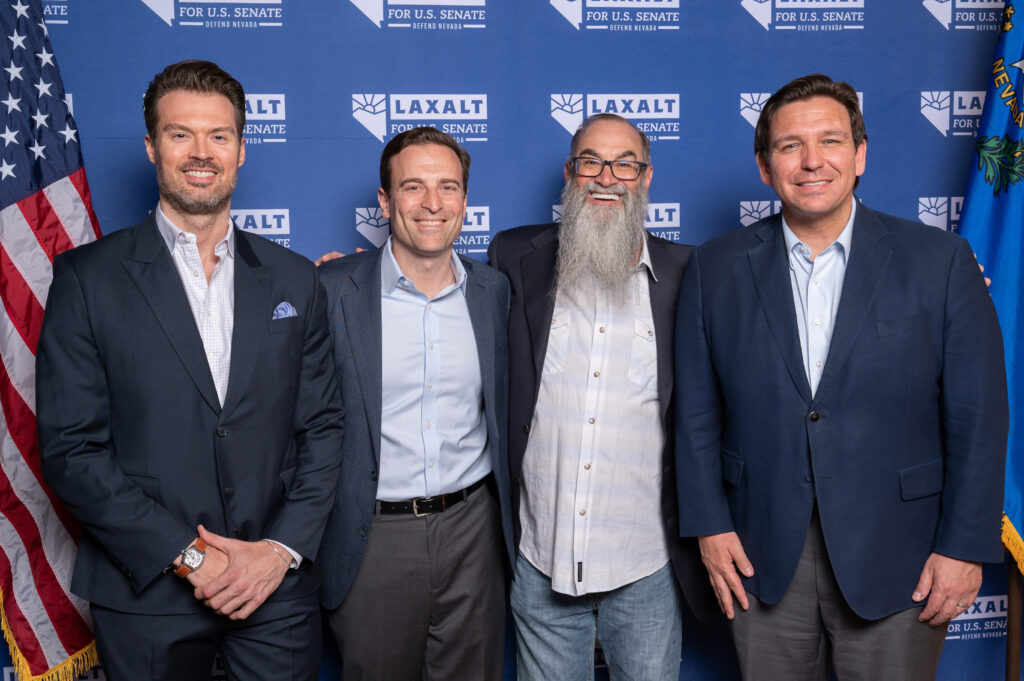 From left to right, Paul Lowden IV, Adam Laxalt, Chris Lowden and Ron DeSantis. On April 27th at Stoney's Rockin' Country in Las Vegas, key city leaders gathered in support of Adam Lexalt with over 1,000 people as Lexalt continues his Senate campaign.
About Stoney's Rockin' Country
Stoney's Rockin' Country is the hottest country nightspot this side of Texas. Located on the world famous Las Vegas strip, Stoney's is located inside Town Square which is just south of the Mandalay Bay Hotel and Casino. Stoney's features a 2,500 sq. ft hardwood dance floor, a state of the art sound system, live bands, and some of the industry's premier DJ's, but thats not all. At Stoney's, we also feature two full service bars, coin operated pool tables, mechanical bull, beer pong, and much more. If a taste of the good life is what you seek then Stoney's is the place for you featuring a full service ultra lounge, and VIP area complete with bottle service, private tables, and couches. Boasting more than 20,000 square feet of Honky Tonkin Country fun with all the amenities it's no wonder Stoney's is home to the HOTTEST cowboys and cowgirls that Las Vegas has to offer.
About Chris Lowden
Chris Lowden is not your average Las Vegas, Nevada businessman who happens to love country music; he's a native entertainment veteran with a pedigree as long as the famed Strip. His homegrown passion and vision for his flagship Stoney's Rockin' Country a landmark venue, where true country music lives is boundless. He is the main attraction for ongoing national touring acts hitting the Vegas Strip. Lowden is the founder of the 2018 and 2019 ACM-nominated "Nightclub of the Year" and holds multiple Gold and Bronze wins, from the Las Vegas Review Journal's annual "Best of Las Vegas" polls, for "Best County Bar." Stoney's enjoys the coveted Gold position as the #1 Nightclub in Las Vegas in their 2018 poll and the 2018 winner as Best Country Bar for the National Nightclub and Bar Association. In 2020, he spread his honky-tonk vision to Idaho with Stoney's Roadhouse. It quickly became a hot spot for locals and tourists alike, having already cemented numerous sold-out shows with major touring acts. Beyond the rowdy roadhouse exterior, his Porchlight Entertainment Group plays home to a jazz club, a recording studio, a popular online radio station "CAFR" and more ventures on the horizon. One of his more passionate new endeavors is his Blue Valor Whiskey that is currently distributed in Nevada and a portion of the proceeds benefit the state's valuable first responders. Lowden, a renowned nightclub owner, casino operations professional, concert promoter, talent buyer, manager and producer is regarded as one of the entertainment industry's more versatile personalities. As CEO of Porchlight, Chris oversees all aspects of the business with offices in both Nashville, TN and Las Vegas, NV.
Stoney's Rockin' Country Official Website
Summary
Article Name
LAS VEGAS CITY LEADERS MEET WITH FL GOV. DESANTIS
Description
LAS VEGAS CITY LEADERS MEET WITH FL GOV. DESANTIS