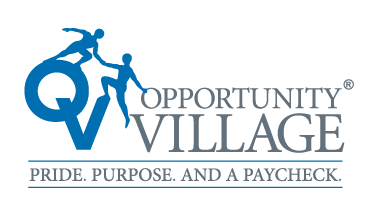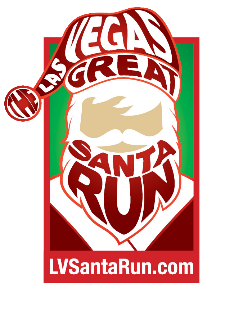 LAS VEGAS GREAT SANTA RUN RETURNS
DOWNTOWN WITH ROUSING CROWD
Nearly 5,000 in attendance for 17th annual Las Vegas Great Santa Run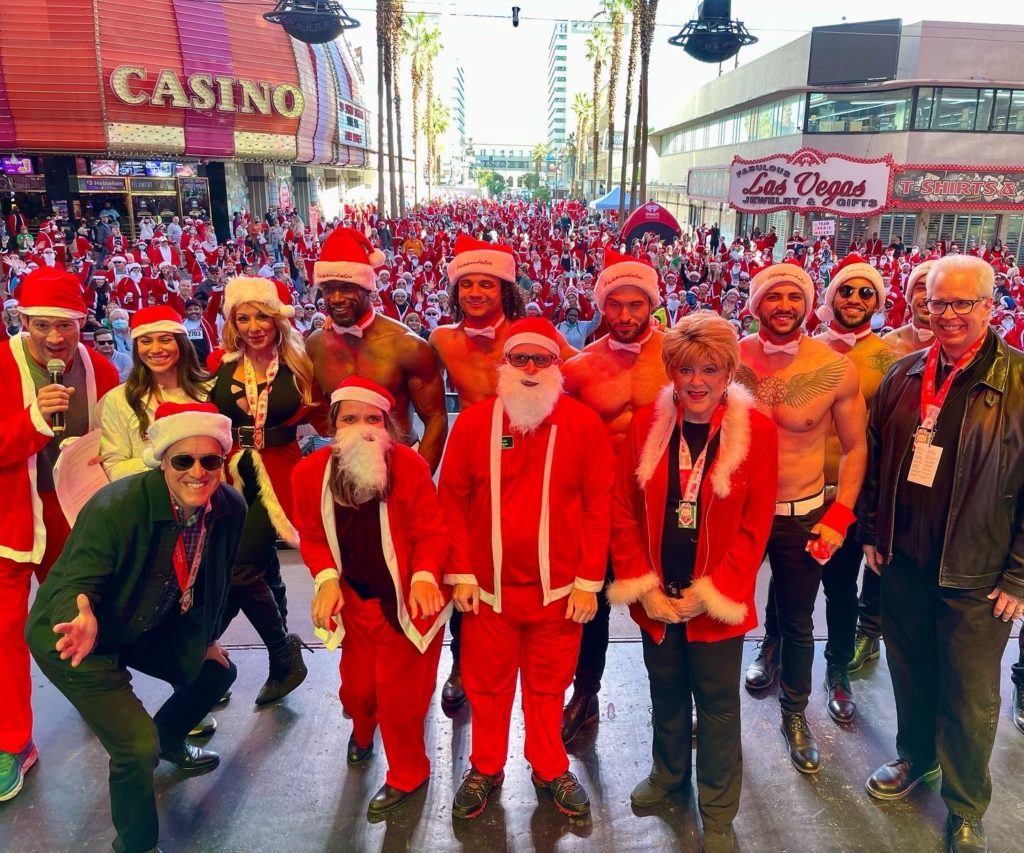 Las Vegas Great Santa Run Grand Marshals, Chippendales, pose with Mayor Carolyn Goodman, Opportunity Village President & CEO Bob Brown and others in front of a sea of Santas at the 17th annual event in Downtown Las Vegas. (Opportunity Village)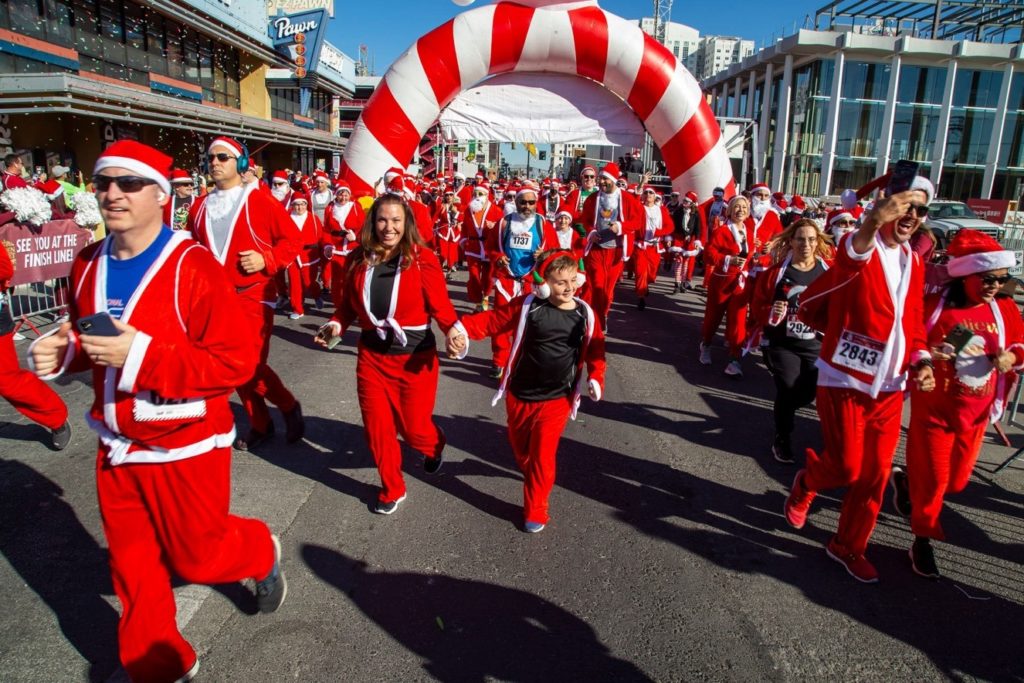 Confetti flies as Santa runners begin their 5k run at the 17th annual Las Vegas Great Santa Run in Downtown Las Vegas. (Opportunity Village)
Ho, Ho, How amazing it was!
The Las Vegas Great Santa Run returned for its 17th season to Downtown Las Vegas on Saturday, Dec. 4th, to a rousing crowd of nearly 5,000 attendees and 200 pets.
Special guests included the official Grand Marshals, Chippendales, Mayor Carolyn Goodman, SEXXY The Show's Gabriella Versace, Lorena Peril and the cast of Fantasy, the OV Elvi, Rialcris from WOW–The Vegas Spectacular, FIT4MOM, Kat and J-John from KATz Fitness Body Blast and more!
"The Las Vegas Great Santa Run was a spectacular event and it couldn't have been put on without so many amazing individuals and groups in this community," said Bob Brown, President & CEO of Opportunity Village. "Our heartfelt thanks go out to all of our sponsors, volunteers, performers and registrants for helping us raise critical dollars and awareness for the people we serve here at Opportunity Village."
Mayor Carolyn Goodman presents Opportunity Village President & CEO Bob Brown a proclamation at the 17th annual Las Vegas Great Santa Run in Downtown Las Vegas. (Opportunity Village)
The Las Vegas Great Santa Run, presented by Circle K, featured entertainment, contests, and both a 5k and 1-mile course allowing festive Santas to run and walk in support of people with intellectual and developmental disabilities at Opportunity Village. Festivities kicked off at the Fremont Street Experience at 8:00 a.m. and concluded in the Llama Lot after-party that featured a variety of food trucks, vendors, and live entertainment!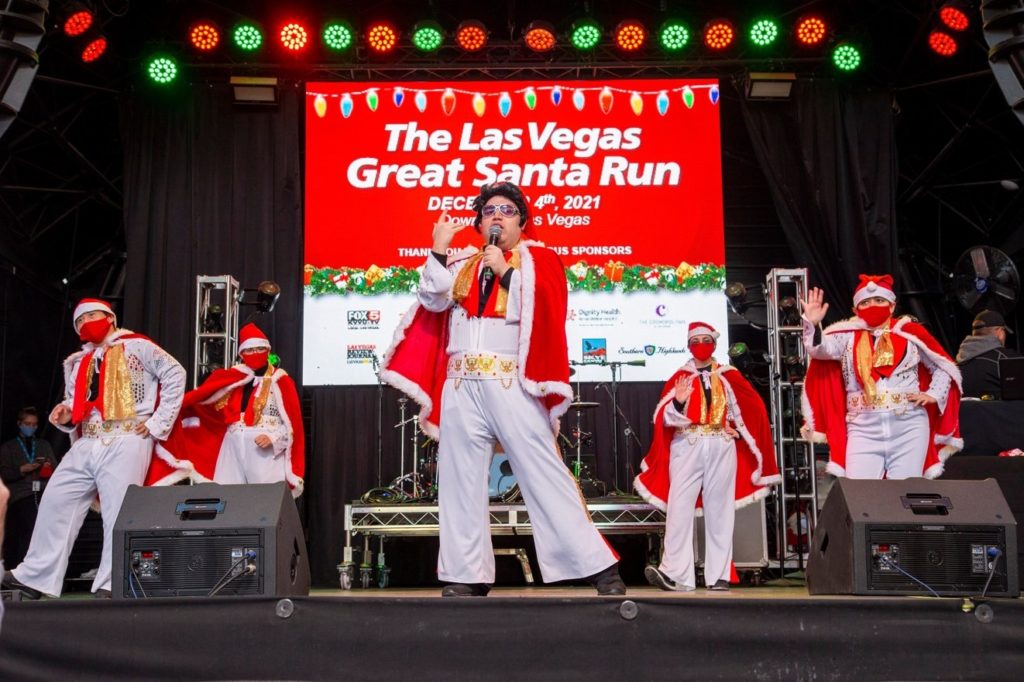 Opportunity Village's very own all-Elvis singing troupe, The OV Elvi, perform on stage at the 17th annual Las Vegas Great Santa Run in Downtown Las Vegas. (Opportunity Village)
Still interested in participating in the Las Vegas Great Santa Run? People are still able to register and complete the race virtually through Sunday, Dec. 26.
And for those extra competitive Santas — or rein-dogs — the Pet Costume and Fundraising contests are still up for grabs, so be sure to enter! Virtual runners or contest participants can share their experience on social media, tagging the Las Vegas Great Santa Run pages and using #LVSantaRun. Registration, packet shipment, and additional contest information can be found at LVSantaRun.com.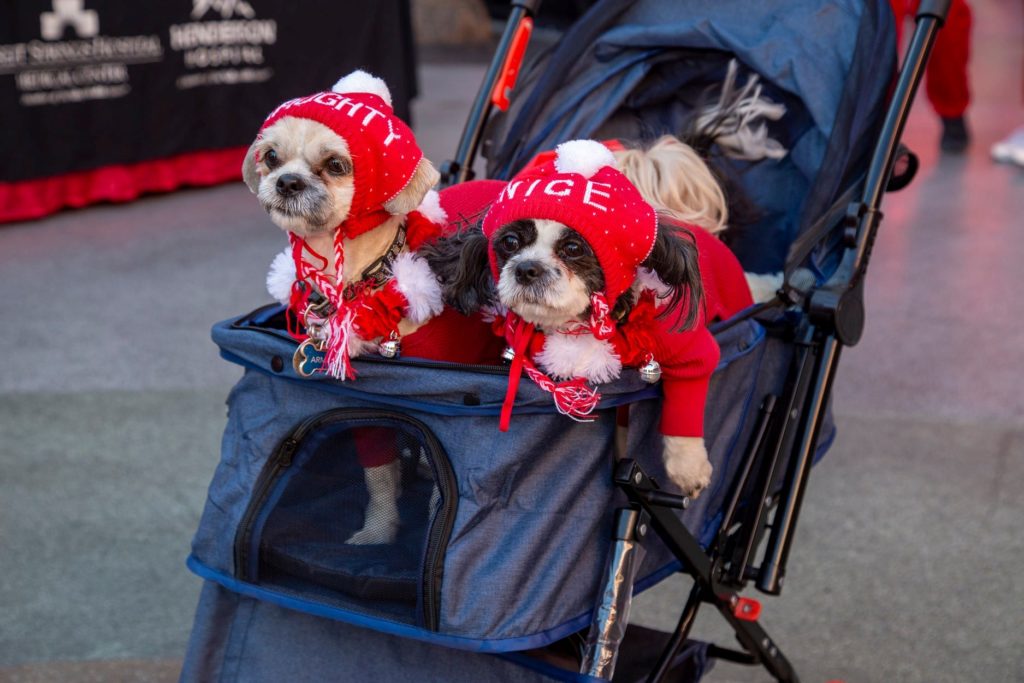 Nearly 200 pets registered for the 17th annual Las Vegas Great Santa Run in Downtown Las Vegas, many of which participated in the nonprofit's Pet Costume Contest (Opportunity Village)
About Opportunity Village
Mission: Opportunity Village is a not-for-profit organization that serves people throughout our community with intellectual disabilities, to enhance their lives and the lives of the families who love them.
Seven families who were determined to give their children with disabilities the best lives possible founded Opportunity Village in 1954. Now, more than six decades later, Opportunity Village is one of the most recognized and respected organizations of its type in the United States.
Nevada's largest employer of people with disabilities, Opportunity Village serves over 3,000 individuals annually, providing vocational training, employment, habilitation and social recreation programs and services that improve their lives.
People supported in Opportunity Village's Prevocational Training Programs and in jobs provided by the organization throughout the community, have collectively earned wages amounting to more than $3.7 million in 2020. They are hardworking and diligent, proudly paying taxes and happily leading fulfilling lives.
Primarily a self-funded organization, Opportunity Village generates the majority of its operational funding through its employment contracts, multiple business lines, fundraising efforts such as the Magical Forest and Great Santa Run, and grants on the federal and state level, saving Nevada taxpayers more than $37 million annually.
Summary
Article Name
LAS VEGAS GREAT SANTA RUN RETURNS DOWNTOWN WITH ROUSING CROWD
Description
LAS VEGAS GREAT SANTA RUN RETURNS DOWNTOWN WITH ROUSING CROWD