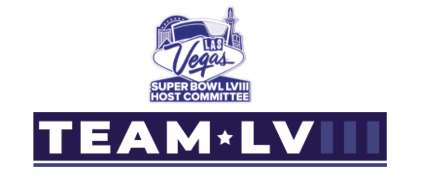 LAS VEGAS SUPER BOWL LVIII HOST COMMITTEE OFFICIALLY LAUNCHES TEAM LV VOLUNTEER PROGRAM, POWERED BY CAESARS ENTERTAINMENT AND INTERMOUNTAIN HEALTH
Host Committee to Recruit 7,000+ Local Ambassadors for Super Bowl LVIII; Registration Now Open

Photo credit belongs to Gina Joy Chong
Today, the Las Vegas Super Bowl LVIII Host Committee announces the official launch of its volunteer program, Team LV (an abbreviation of Team Las Vegas), powered by Caesars Entertainment and Intermountain Health. Between now and Aug. 2023, the Host Committee will recruit more than 7,000 individuals who will proudly serve as ambassadors for Las Vegas leading up to and during the week of Super Bowl LVIII.
Volunteers will play an integral role in shaping and amplifying the Super Bowl experience for countless individuals from across the globe. They will showcase the exceptional hospitality synonymous with Las Vegas and exemplify the utmost service to make every fan and visitor feel like a VIP. From the moment guests arrive until they depart, volunteers will be there every step of the way to guide and enhance the fan experience during Super Bowl Week activities. This includes welcoming visitors, directing fans, supplying event information, providing recommendations, managing volunteer headquarters, and more.
"Becoming a volunteer and member of Team LV provides Southern Nevada residents the opportunity to be part of something historic, playing a significant role in the success of Las Vegas' inaugural Super Bowl," said Trevor Bobb, Senior Vice President of Volunteer Operations at the Las Vegas Super Bowl LVIII Host Committee. "There is no other city as well-equipped to host and create welcoming, memorable experiences than Las Vegas. We are grateful to our community partners, Caesars Entertainment and Intermountain Health, who have stepped up to power this important effort."
"Service is at the heart of everything Caesars Entertainment stands for, whether that's service to our guests at any of our resorts or service to our community through our HERO volunteer program. We are delighted to sponsor Team LV for Super Bowl LVIII," said Sean McBurney, Regional President, Caesars Entertainment. "We know that Las Vegans will come together to deliver a Super Bowl experience worthy of our city's legacy, and we're happy to start the search for the volunteers who will ensure we put our best foot forward on sport's biggest stage."
"Intermountain Health is proud to support the volunteer program, which echoes our steadfast commitment to the community. We encourage all interested to join the volunteer effort and show the world how great this community is," said Anne Robertson, Vice President of Brand and Sponsorships at Intermountain Health.
Applications to join Team LV will be accepted through Aug. 2023, and prospective volunteers can register online. Volunteers must be 18 years of age or older at the time of submission and complete a formal application process, including a background check. Once accepted into the Team LV program, volunteers will receive role-specific training, which will be scheduled in the coming months. Volunteers will not receive tickets to Super Bowl LVIII, and positions will not be needed at Allegiant Stadium on game day.
For further information, please visit the Team LV webpage or contact program organizers directly by emailing [email protected].
About the Las Vegas Super Bowl LVIII Host Committee
The Las Vegas Super Bowl Host Committee is a 501(c)(6) non-profit organization whose mission is to provide a premier Super Bowl LVIII Experience in 2024. Serving as the liaison between the National Football League and the City of Las Vegas, Clark County, and State of Nevada, the Las Vegas Super Bowl LVIII Host Committee unites local and national stakeholders to maximize opportunities surrounding the Super Bowl to drive lasting social, cultural, and economic impact across the region. For more information, visit www.lvsuperbowlhc.com and follow @lvsuperbowlhc on Instagram, Facebook, Twitter, TikTok and LinkedIn.
Summary
Article Name
LAS VEGAS SUPER BOWL LVIII HOST COMMITTEE OFFICIALLY LAUNCHES TEAM LV VOLUNTEER PROGRAM, POWERED BY CAESARS ENTERTAINMENT AND INTERMOUNTAIN HEALTH
Description
LAS VEGAS SUPER BOWL LVIII HOST COMMITTEE OFFICIALLY LAUNCHES TEAM LV VOLUNTEER PROGRAM, POWERED BY CAESARS ENTERTAINMENT AND INTERMOUNTAIN HEALTH