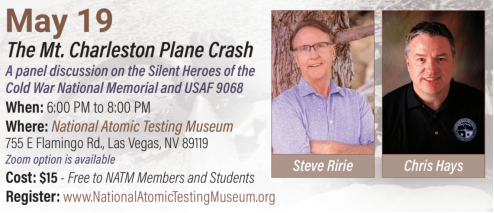 (Graphic Courtesy of the National Atomic Testing Museum)
NATIONAL ATOMIC TESTING MUSEUM ANNOUNCES PANEL DISCUSSION
ON THE MOUNT CHARLESTON PLANE CRASH OF 1955
WHAT
As part of the National Atomic Testing Museum's lecture series, the museum announces their panel discussion on the silent heroes of the Cold War National Memorial and the USAF 9068 plane crash.
On November 17, 1955, a military air transport aircraft departed from the California Lockheed facility. The flight contained members of USAF, CIA, engineers and physicists and deemed a top-secret operation. The original destination was Area 51, but at 8:19 a.m. USAF 9068 collided with the south rim of Mount Charleston.
With a lack of information about the flight and the crash, families of the deceased were denied closure and answers.
WHO:
Steve Ririe visited the crash site at the peak of Mount Charleston in 1998 and began a 17-year effort to discover what truly happened to USAF 9068. His efforts led to the creation of the Silent Heroes of the Cold War National Memorial as well as the USAF 9068.
Ririe along with fellow memorial committee co-chairman Chris Hayes will be panel members for this discussion. They will be joined by member of the Sheriff's Mounted Posse Duane Titus who was on-site of the crash to recover the victims of USAF 9068. Ririe, Hayes and Titus will be ready and willing to answer all questions regarding this tragic incident.
WHERE:
National Atomic Testing Museum
755 East Flamingo Rd.
Las Vegas, NV 89110
(702) 409-7366
Zoom option is available through the registration link.
WHEN:
May 19
6 to 8 p.m.
TICKETS:
Tickets are $15 per person; NATM members and students are free. Guests may register to attend in person or Zoom and purchase tickets here.
ABOUT NATIONAL ATOMIC TESTING MUSEUM
The National Atomic Testing Museum (NATM) is operated and maintained by its parent company, the Nevada Test Site Historical Foundation (NTSHF), an IRS 501(c)3 charitable, non-profit organization chartered in Nevada. NATM is one of 37 museums designated as an Affiliate Partner of the Smithsonian Institution and is a repository for one of the most comprehensive collections of nuclear history in the world. Covering nuclear history beginning with the first test at the Nevada Test Site on January 27, 1951, NATM's exhibitions and programming also address current affairs related to the nuclear industry. For more information, go to www.nationalatomictestingmuseum.org and follow on Facebook, Instagram and Twitter.
Summary
Article Name
National Atomic Testing Museum Announces Panel Discussion on the Mount Charleston Plane Crash of 1955
Description
National Atomic Testing Museum Announces Panel Discussion on the Mount Charleston Plane Crash of 1955