NEVADA FIREFIGHTERS RALLY TO "FILL THE BOOT" FOR MDA: SUPPORTING RESEARCH, CARE, AND FAMILIES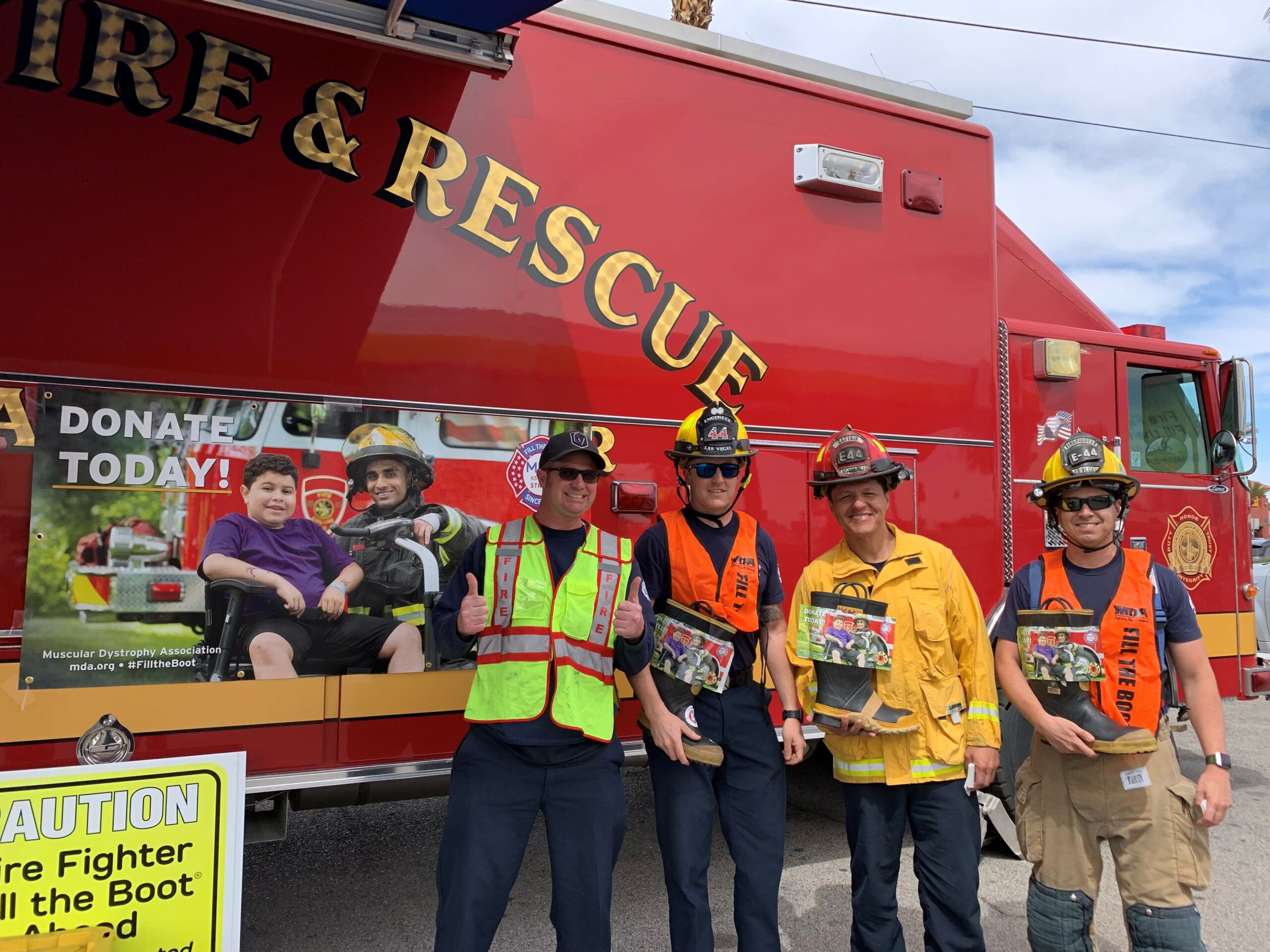 Nevada's brave firefighters are once again joining forces to uphold a cherished tradition and make a significant impact in their community. Fire departments statewide are gearing up to "Fill the Boot" in support of the Muscular Dystrophy Association (MDA).
From September through October, these dedicated firefighters will hit the streets, boots in hand, to collect vital donations that will bolster MDA's mission. These funds will be instrumental in advancing critical research, improving patient care, and advocating for the invaluable support of affected families.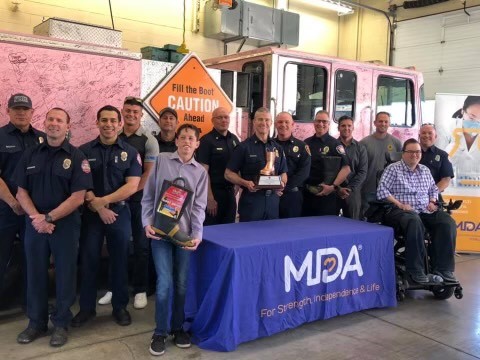 "Fill the Boot" has become synonymous with firefighters' commitment to making a difference beyond their lifesaving duties. Their relentless dedication extends to those battling muscular dystrophy and related diseases. With each donation, firefighters bring hope, care, and closer to a cure. Participating fire departments and professional firefighter associations this year include:
Clark County Fire Department
Dates: 9/16 & 9/23
Locations: The LINQ, near Paris & Planet Hollywood, and near the MGM Grand

Las Vegas Fire & Rescue

Dates: 9/29, 10/13, & 10/27
Locations: Fremont Street and N. Buffalo Drive & W. Lake Mead Blvd.

Reno Firefighters, IAFF Local 731

Dates: 9/9
Location: S McCarran Blvd & S Virginia St in front of Chili's Bar & Grill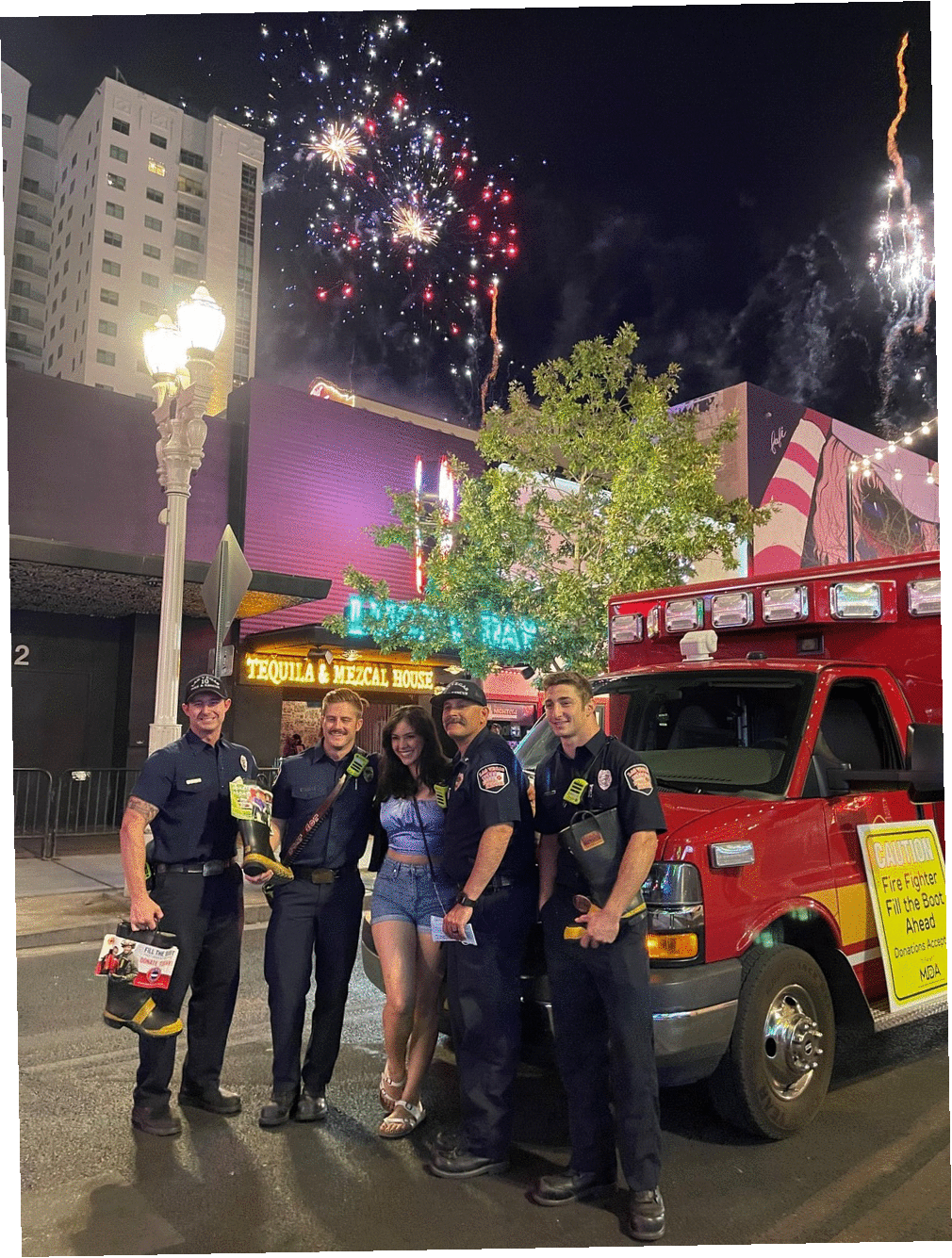 "Nevada firefighters have once again gone above and beyond during this year's Fill the Boot campaign," said Sabrina Allen, Senior Director for the Muscular Dystrophy Association. "We are so grateful for their dedication and for the generosity of those in the state of Nevada who have helped to raise critical funds for research and care. Because of your support, we are seeing a record number of drug approvals from the FDA to treat the diseases that we cover."
Funds raised through Nevada Fill the Boot events go towards groundbreaking research, life-enhancing educational programs, a resource center, and support for multi-disciplinary medical teams at the MDA Care Center at McKinnon Medical Group in Las Vegas. They also help send kids in Nevada to a transformative experience at one of two MDA Summer Camps in Mountain Center, CA at Camp Ronald McDonald for Good Times and in Portola, CA at Grizzly Creek Ranch – Sierra Nevada Journeys – all at no cost to families. "Our mission is to collect $215,000 this year in the state of Nevada and we know we can reach this goal with the help of our community," said Ron Kline, State MDA Coordinator for the Professional Fire Fighters of Nevada and MDA Coordinator with Las Vegas Fire & Rescue.
Individuals and local businesses can support the fire fighters by donating in person or online at: https://filltheboot.donordrive.com/team/PFFN
About the MDA and IAFF Partnership
The partnership between MDA and the IAFF began in 1954 when the IAFF signed a proclamation designating MDA its charity of choice and vowing to continue raising awareness and funds until cures are found. To date, the nearly seven-decade partnership has raised more than $679 million with involvement from over 300,000 fire fighters nationwide. These funds have led in part to over a dozen FDA-approved drugs in as many years for those with neuromuscular disease. Those treatments were created from MDA's vision to open a new field of medicine and push the boundaries of the medical frontier we call genetic medicine.
About the IAFF
The International Association of Fire Fighters represents more than 326,000 professional fire fighters and paramedics who protect more than 85% of the nation's population. More than 3,500 affiliates and their members protect communities in every state in the United States and in Canada. To learn more visit IAFF.org and follow the IAFF at Facebook, Twitter, and Instagram.
About Muscular Dystrophy Association
Muscular Dystrophy Association (MDA) is the #1 voluntary health organization in the United States for people living with muscular dystrophy, ALS, and related neuromuscular diseases. For over 70 years, MDA has led the way in accelerating research, advancing care, and advocating for the support of our families. MDA's mission is to empower the people we serve to live longer, more independent lives. To learn more visit mda.org and follow MDA on Instagram, Facebook, Twitter, TikTok, and LinkedIn.
Summary
Article Name
NEVADA FIREFIGHTERS RALLY TO "FILL THE BOOT" FOR MDA: SUPPORTING RESEARCH, CARE, AND FAMILIES
Description
NEVADA FIREFIGHTERS RALLY TO "FILL THE BOOT" FOR MDA: SUPPORTING RESEARCH, CARE, AND FAMILIES