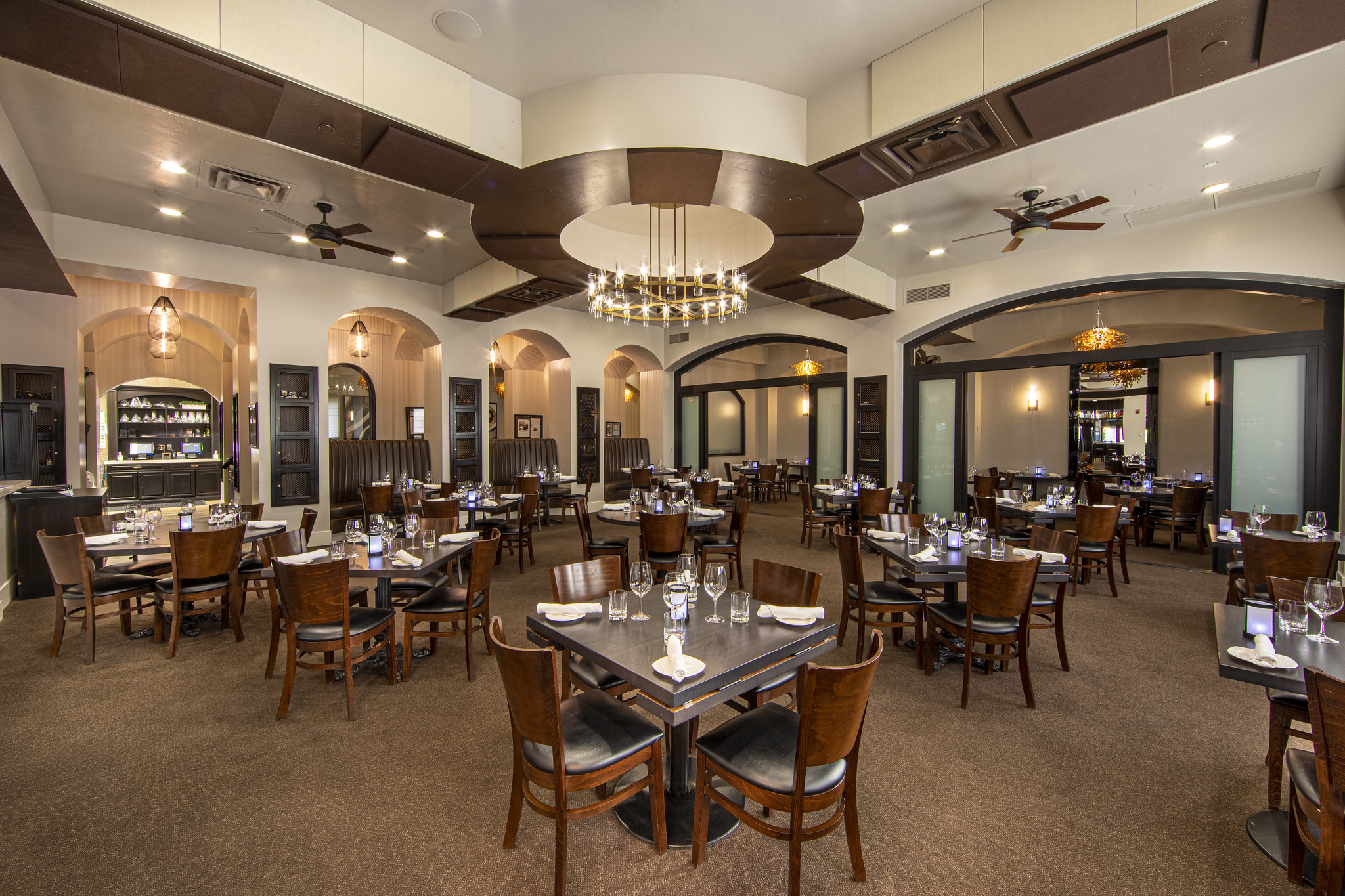 Pictured: Interior of Ferraro's Ristorante.
(Photo courtesy of Ferraro's)
FERRARO'S ANNOUNCES SPECIAL THANKSGIVING DAY MENUS
FOR NOV. 23
Ferraro's Ristorante will feature special Thanksgiving menus on Thursday, Nov. 23, for dine-in and take-out. Both meals include a traditional three-course Thanksgiving menu with Italian flair.
The Thanksgiving dinner dine-in menu is priced at $79 per person and $24 for children under 12. The full menu follows:
First course – Choice of one of the following:
Pasta e Fagioli – pasta and bean soup
Insalata – Mesclun greens, goat cheese, apple, walnuts, butternut squash, croutons, herb citrus vinaigrette
Burrata – served with roasted butternut squash, arugula, pecans
Ravioli di Zucca – butternut squash ravioli, butter, sage, hazelnuts
Risotto Funghi – risotto mixed with mushrooms, porcini, mascarpone
Main Course
Tacchino della Tradizione – free-range turkey, cranberry chutney, sausage stuffing, potato purée, green beans almondine
Choice of Dessert- Choice of one of the following:
Cannoli al Pistachio
Pumpkin Pie
Tiramisu
The Thanksgiving menu above is available for dine-in only. Parties of six to 11 guests will be charged an 18-percent gratuity and parties of 12 or more will be charged a 20-percent gratuity. No substitutions are accepted, and guests may not share meals. Pricing is not valid with other offers.
Ferraro's will also offer a Thanksgiving take-out menu for $375 and serves 12 to 16 people. Guests can pre-order their meal by Monday, November 13. Guests must pick up their meals on Thursday, Nov. 23 between 12 and 9 p.m. The menu follows:
Choice of one "primi piatti":
Gnocchi al Pistachio – Siciliano homemade potato dumplings, pistachio pesto, roasted tomato puree, Parmigiano Reggiano crisp
Bufala Mozzarella e Barbabietole – Bufala mozzarella, beets, frisée, pistachio, apple
Ravioli di Zucca – butternut squash ravioli, butter, sage, hazelnuts
Risotto con Funghi – Risotto, mixed mushrooms, porcini, mascarpone
Main course:
Tacchino della Tradizione – one 14 to 16 pound whole free-range uncooked turkey with baking instructions, turkey gravy, cranberry chutney, sausage stuffing, roasted rosemary potatoes, green beans almondine, focaccia bread rolls and a 10" pumpkin pie.
Ferraro's hours of operation on Thursday, Nov. 23 will be from 12 to 9 p.m. The regular dinner menu will also be available.
Reservations are required with a credit card. Ferraro's is also available for holiday party bookings with private dining rooms accommodating eight to 120 people. To make holiday dinner reservations or to book a holiday party, call (702) 364-5300.
ABOUT FERRARO'S RISTORANTE
Las Vegas, known worldwide as the food mecca for the most discerning palates, houses one of the leading upscale fine dining establishments for Italian cuisine, Ferraro's Ristorante. Featuring a chic and modern ambiance, Ferraro's is synonymous with extraordinary service and unforgettable dining experiences. Guests savor flavorful, uncomplicated dishes utilizing only premium ingredients, all-natural meats and seafood, and fresh, hand-made pasta. A recipient of the internationally acclaimed Gambero Rosso award for wine, the venue's extraordinary list is recognized as one of the top Italian wine collections in the world. Headed by Executive Chef Mimmo Ferraro, classic training, ingenuity, and passion for the Italian kitchen bring authenticity and creativity to the menu, carrying on the tradition and history that made Ferraro's an iconic name in the culinary space.
Whether joining for happy hour, dinner, or late-night fare, in addition to the classic dishes you can order a la carte, guests may request a guided tasting menu that includes exquisite wine pairings. The meticulous care put into each detail makes this a truly unique place. Open daily with a main dining room, private seating, lounge, and patio options, a memorable culinary adventure awaits.
Ferraro's Ristorante is located at 4480 Paradise Rd. Las Vegas, NV 89148. For more information or reservations, call (702) 364-5300 or learn more online at www.ferraroslasvegas.com.
Summary
Article Name
Ferraro's Announces Special Thanksgiving Day Menus For Nov. 23
Description
Ferraro's Announces Special Thanksgiving Day Menus For Nov. 23