REBEL VOLLEYBALL ANNOUNCES 2022-23 SCHEDULE
Rebels will play a total of 29 regular-season matches, 12 of which will take place at home in the Cox Pavilion.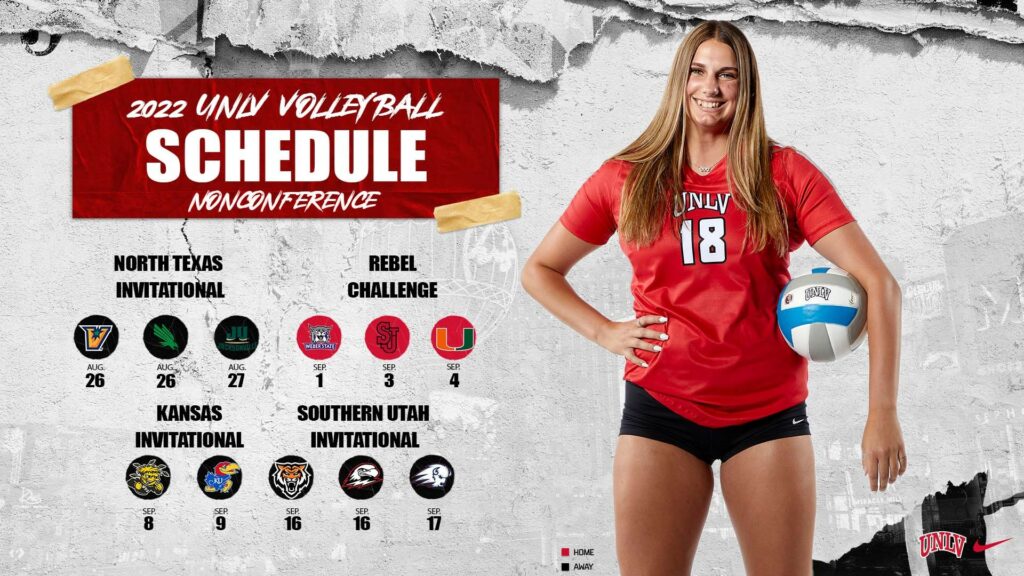 Coming off the most successful campaigns in program history, UNLV volleyball looks to continue their success into the 2022-23 season.
The reigning National Invitational Volleyball champions will play a total of 29 regular-season matches over a four-month span that begins at the end of August and stretches into late November.
The Rebels will participate in four tournaments – three of which will be away from the friendly confines of the Cox Pavilion – during the first four weeks of competition. The Scarlet & Gray will face 11-straight nonconference opponents before playing 18 consecutive matches against Mountain West foes over a nine-week period. Colorado State will host this season's MW conference tournament (Nov. 23-25) at Moby Arena in Fort Collins, Colo.
Under fifth-year head coach Dawn Sullivan, the Spring 2021 MW Coach of the Year, UNLV opens the season with the first match of the year against UTRGV during the first tournament of the year at North Texas. The Rebels will also face North Texas and Jacksonville during that first weekend of competition (Aug. 26-27). The Scarlet & Gray will return home to host the 2022 UNLV Rebel Challenge from the friendly confines of the Cox Pavilion against Weber State, St. Johns and Miami-FL (Sept. 1-4).
UNLV will become road warriors after its own home tournament, as the team will play twice at the tournament hosted by Kansas University (Sept. 8-9), playing one against Wichita State and the other against KU, who made it to the third round of the NCAA Tournament last season. The Rebels will also participate in a tournament hosted by Southern Utah University (Sept. 16), facing Idaho State and SUU, before closing out their road stretch against Utah Tech (Sept. 17), formally known as Dixie State.
MW action will run Sept. 22 through Nov. 19, with the Scarlet & Gray playing home-and-home series against nine conference foes and a single affair against San Jose State (home on Oct. 20).
PRESEASON TUNEUP: Prior to the start of the 2022 season, UNLV will host the annual Scarlet & Gray Scrimmage at the Student Recreation and Wellness Center on campus (Aug. 13), before playing Northern Arizona at the Rolle Activity Center in Flagstaff, Ariz. (Aug. 19).
UNLV SEASON TICKETS: Season tickets for the fall campaign are now on sale and can be purchased through UNLVtickets.com or by calling 702-739-FANS (3267). The Scarlet & Gray will play three home matches in the Rebel Challenge, as well as nine more in Mountain West play.
Season tickets are $50 for adults (13 and older), and $40 for active alumni, seniors, faculty and staff.
RETURNING REBELS: UNLV returns seven letterwinners from last year's squad, Jordyn Freeman, Gabrielle Arretche-Ramos, Arien Fafard, Chloe Thomas, Isha Knight, Keyana Cruse and Livvy Setla. Additionally, the Rebels welcome back Vailin Tagaloa and Isabel Martin.
REBEL NOTES:
– UNLV concluded the Fall 2021 season 28-9 overall after earning the first postseason championship title in program history, 2021 National Invitational Volleyball Champions.
– Dating back to 2019, UNLV has gone 57-12 in its last 69 matches. The Rebels won 28 of 26 last season and 26 of its last 32.
– UNLV finished second in the MW regular-season and in the MW conference tournament last season.
– UNLV earned two spots on the 2021 MW All-Tournament team with Mariena Hayden and Gabrielle Arretche-Ramos.
– UNLV was well represented on the 2021 NIVC All-Tournament team with Mariena Hayden (MVP), Shelby Capllonch and Jordyn Freeman.
– Head Coach Dawn Sullivan signed a new five-year contract after accumulating a total of 83 wins against just 24 losses and having made four straight trips to the postseason, including the NCAA Tournament in 2020 and winning the NIVC title last season.
Summary
Article Name
Rebel Volleyball Announces 2022-23 Schedule
Description
Rebel Volleyball Announces 2022-23 Schedule