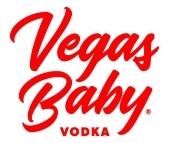 Roxo Brands Acquires Vegas Baby Spirits,
Building on Success of Company's Brand and
Premier Spirit, Vegas Baby Vodka
Leaders in innovation, operations and brand development, Roxo Brands has structured an acquisition with Vegas Baby Spirits founder, Jennifer Higgins, to expand the highly rated vodka nationwide.
The product innovators of Roxo Brands have structured an acquisition of Vegas Baby Spirits with founder, Jennifer Higgins, to expand the highly rated vodka nationwide. Roxo Brands is uniquely positioned to accelerate the growth, value, and intellectual property of Vegas Baby Spirits.
Awarded a Gold Medal with a 92-point rating from the prestigious Beverage Tasting Institute, Vegas Baby Vodka is an ultra-premium vodka crafted with fresh mountain water and non-GMO, gluten-free corn, distilled in Montana using a column still, and filtered through a charcoal filter for a crisp, ultra-smooth finish.
"We look for brands with distinctive appeal, quality, and strong intellectual property; and Vegas Baby Spirits embodies all of these traits," said Todd Fitzgerald, co-founder and CEO of Roxo Brands. "Vegas Baby Vodka is a powerful brand that is poised to elevate the vodka world. This local Vegas Baby Vodka brand experience and taste rivals the usual vodka spirt brands on every shelf." Added JW Wilson, co-founder and president of Roxo Brands, "We see this genuine Las Vegas brand resonating not just throughout Nevada and the United States, but internationally. Vegas Baby Vodka is an exciting brand that celebrates what makes Las Vegas so great from wherever one may be."
A Las Vegas local, Higgins debuted Vegas Baby Spirits in 2019 with its premier spirit, Vegas Baby Vodka, to capture the incomparable spirit of Las Vegas in a bottle. She has since grown the brand throughout Nevada, and it can be found at top resorts, restaurants and bars throughout the Las Vegas Strip, including The Cosmopolitan of Las Vegas and other MGM Resorts International properties, as well as at The Venetian and The Palazzo Resorts. Popular among locals who have embraced their hometown brand, Vegas Baby Vodka is sold at top retailers throughout Nevada, including Liquor World, Total Wine & More, Liquor Library, and Lee's Discount Liquor. In 2022, Vegas Baby Vodka expanded into Texas, where it caught the attention of the Texas-based Roxo Brands team, who recognized the high quality and allure of bringing a taste of Las Vegas to vodka lovers all over the world.
"I've aligned with fantastic ownership and partner in Roxo Brands. Their team provides Vegas Baby Spirits with the resources and expertise to propel Vegas Baby Vodka nationwide," says Higgins. "I'm thrilled for what is an exciting next chapter for my beloved hometown brand."
Vegas Baby Vodka is 80 Proof (40% alc./vol.) Made in America. Retail and wholesale bottles are available in 750 ML, 375 ML and coming soon in 1 L, 1.75 L, and 50 ML.
More information about Vegas Baby Spirits and Vegas Baby Vodka can be found on the website at www.vegasbabyspirits.com, as well as on Facebook at facebook.com/vegasbabyvodka, X, formerly known as Twitter, @vegasbabyvodka and on Instagram at @vegasbabyvodka.
About Vegas Baby Spirits and Vegas Baby Vodka
Vegas Baby Vodka was founded in 2019 to capture the incomparable spirit of Las Vegas in a bottle. Awarded a Gold Medal with a 92-point rating from the prestigious Beverage Tasting Institute, the ultra-premium vodka is now sold throughout Nevada and Texas and is available in 750 and 350-ML bottles. Made with mountain water and non-GMO, gluten-free corn, Vegas Baby Vodka is distilled in Montana, using a column still and filtered through a charcoal filter for an ultra-smooth finish. Vegas Baby Vodka is the premier spirit in the Vegas Baby Spirits portfolio. More information about Vegas Baby Spirits and Vegas Baby Vodka can be found on the website at www.vegasbabyspirits.com, as well as on Facebook at facebook.com/vegasbabyvodka, X, formerly known as Twitter, @vegasbabyvodka and on Instagram at @vegasbabyvodka
Summary
Article Name
Roxo Brands Acquires Vegas Baby Spirits, Building on Success of Company's Brand and Premier Spirit, Vegas Baby Vodka
Description
Roxo Brands Acquires Vegas Baby Spirits, Building on Success of Company's Brand and Premier Spirit, Vegas Baby Vodka