The first day of spring is finally just a few weeks away , but you're still feeling the havoc winter wreaked on your hair!
Months of gusty winds, frigid temperatures and desert-like conditions inside your home and office have left you with dry, dull, brittle and frizzed-out locks that are in need of some major TLC.
So as you transition your tresses to spring, try this easy DIY "Spring Into Healthy Hair" Hydrating Mask to help moisturize, nourish and calm those damaged, frizzled edges in no time.
With super nourishing and natural ingredients – Sea Buckthorn Berry Oil and Coconut Oil – this "Spring Into Healthy Hair" Hydrating Mask will restore and repair, helping to strengthen hair so it looks shiny and healthy!
Sea Buckthorn Berry Oil is a "super fruit" fortified with power antioxidants – Omegas-7, 3, 6, and 9 – and more than 190 phytonutrients that promote hair hydration and scalp health. And because coconut oil is comprised mainly of smaller medium-chain fatty acids, it penetrates hair more deeply and faster than others conditioners.
http://www.seabuckwonders.com/
http://www.facebook.com/SeabuckWonders
http://www.twitter.com/SeabuckWonders
http://instagram.com/seabuckwonders
http://www.pinterest.com/SeabuckWonders
"Spring Into Healthy Hair" Restoring Hydration Mask
Ingredients:
1 tbsp. of Coconut Oil – this will vary on how long and/or thick your hair is (if you need more, go for it!)
1-2 drops of SeabuckWonders Sea Buckthorn Seed Oil
1-2 drops of SeabuckWonders Sea Buckthorn Berry Oil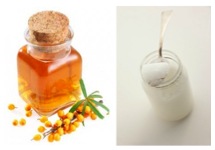 Directions:
Scoop out the coconut oil into a small bowl and microwave for six seconds; once the coconut oil has melted, add the sea buckthorn oils and blend with a spoon. (caution: don't heat the sea buckthorn oils!)
Work mixture into ends of hair, after all the oils have blended.
Pro-tip: You can also put the oils directly into your hand. The coconut oil will quickly melt by running your hands together, then start working the blended mixture directly into your hair. An extra benefit is you can rub the excess oil into your cuticles, nail beds, and slather on your neck or any other part of the skin that needs it – put those oils to use!
Leave oil on hair for as along as possible: This is not the mask to put in when you're racing to work – this takes some time. At a minimum, leave the mask in for 30 – 45 minutes. The drier your hair, the longer you'll want to leave it in.
Optional: To get the moisture deep into your hair shaft, use a blow drier on your oiled ends. The oil will absorb into your hair a bit which is a good sign. Extra points if you have a hollow blow-dry hairbrush. Don't use a flat or curling iron. There is a chance you could over-heat your hair.
Wash hair as usual: If you don't shampoo the oil out of your hair, anything that hasn't been absorbed will sit on your hair shaft, leaving your hair looking and feeling oily. By now, the hair mask has gotten as deep into your hair shaft as it's going to. Depending on your hair type, you can add normal conditioner. Finer or smoother hair types may not need to condition, while dryer or coarser hair-types may want to condition afterwards.
Company Overview
SeabuckWonders, a division of Balanceuticals Group, Inc., was the first company to introduce sea buckthorn to United States consumers back in 1994. We have over 20 years of experience producing the highest quality Sea Buckthorn products known in the world. SeabuckWonders maintains the highest of standards for all of our products by using only pure Himalayan, wild-grown, handpicked, USDA certified organic Sea Buckthorn berries. This high standard ensures our customers consistent quality whenever they reach for the SeabuckWonders name.
| | |
| --- | --- |
| | The SeabuckWonders Advantage |
How did it all begin? Back in the early 90's, when we started introducing Sea Buckthorn to the western world, no one had ever heard of it! It didn't take long to win over our first group of satisfied customers with this amazing health-nurturing wonder. After extensive research and experimentation with various sources, we discovered the best Sea Buckthorn to use for our expanding SeabuckWonders product line was from the Tibetan plateau.
Sea buckthorn plants have survived the harsh climates in the Himalayan mountain region since ancient times. The barren environment has caused sea buckthorn to develop high levels of Omegas, antioxidants and other complex nutrients. The pristine environment makes our sea buckthorn oils amazingly pure and potent.