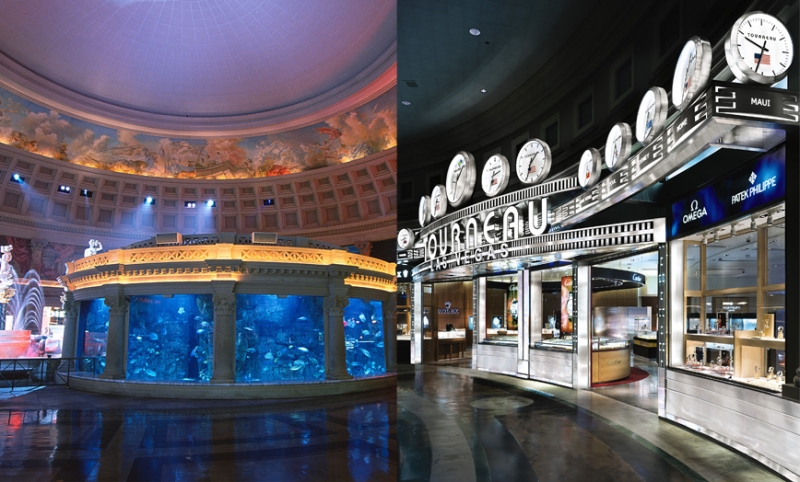 FROM FAMILY FUN TO LUXURY RETAIL;
IT'S ALL AT THE FORUM SHOPS AT CAESARS IN LAS VEGAS
World-Renowned Shopping Experience Offers Activities for Every Member of the Family
During those holiday vacations or holiday shopping excursions, families traveling to Las Vegas will want to visit The Forum Shops at Caesars for not only the great shopping and dining, but also the one-of-a-kind attractions. The sheer number of stores at The Forum Shops will keep kids' eyes roving, and the trademark sky-feature above and world-famous spiral escalator will make them happy shopping companions.  Below is a list of additional attractions for families:
The Atlantis Aquarium: The 50,000-gallon saltwater aquarium features colorful tropical fish and is located in the Roman Great Hall.  Of heroic proportion, the hall is 160 feet in diameter and 85 feet high with more than 300 fish.  Be sure to watch the aquarists feed them during dives scheduled at 1:15 p.m. and 5:15 p.m. daily.  Families can take a complimentary below-the-scenes guided tour of the support facilities Monday through Friday at 3:15 p.m.
The Atlantis Show: In this same hall is one of two locations where guests can see awe-inspiring statues that come to life. The gods unleash their wrath in this animatronics extravaganza of epic proportions. Fire, water, smoke, and special effects tell the tale of Atlas, Gadrius and Alia, who struggle to rule the undersea city.  Today, these statues are a "must see" for Las Vegas visitors of all ages.  The Atlantis Show has more than 400 moving parts in each of the characters.  Shows are daily on the hour, beginning at 11:00 a.m..
Houdini's Magic Shop: The magician in all of us comes out at this unique magic shop.  Kids can try out their new bag of tricks.  Shhh… in the back, there's a special room where Houdini's magicians train visitors on how to do their own tricks.
Kids Kastle: Need a baby or kid-sized signature Elvis white sequined jumpsuit, complete with a gold pair of sunglasses?  Or how about Las Vegas emblazed t-shirt with cartoon characters?  No problem.  Kid's Kastle carries children's apparel, infants to size 14, as well as toys, gifts and other unusual and unique accessories.
Max Brenner, Chocolate by the Bald Man: The worldwide phenomenon with a menu primarily made from chocolate debuts this summer.  Max Brenner's location at The Forum Shops will hold the distinction of being the largest at 9,400 square feet.  Also to catch the guests' eyes: enormous white vats mixing chocolate that will flow into pipes running throughout the entire space.  The décor will also feature huge bricks, candles, pralines, colorful toy tines and crates overflowing with cocoa beans.  Currently, including Las Vegas, there will be 29 total locations, with two in the United States: New York City and Philadelphia.
Telling time becomes fun: At Swatch, kids learn how to tell time with Flik Flak, a watch brand that developed a method of teaching children to tell the time as young as three.   Meanwhile, at Tourneau Time Dome, kids of all ages can turn this watch store into an adventure.  At 13,400 square feet, it is the world's largest watch store according to the Guinness World Book of Records.  More than 100 different watch lines are represented in this two-level venue.
Field of Dreams: For the sports enthusiast, this is the perfect spot for a walk through sports history as well as recognizing hall of famers.  Notorious for featuring guest appearances and autograph signings by Dan Marino to Smokin' Joe Frazier to Dick Butkus.
 
Nike: While we're on the topic of sports, Nike recently introduced its newest store concept at The Forum Shops at Caesars.  The expanded location features innovative NIKEiD customization for apparel, new runner's services involving Nike+, the exclusive technology that allows runners to track their distance, pace, calories and more. New iMac stations, iPod charging docks and wireless connectivity allows runners to sync up their run at NikePlus.com. Runners can also test-drive the latest Nike footwear and receive expert tips from Nike store athletes.
Three-level freestanding spiral escalator: When the Phase III expansion debuted in 2004, a three-level, freestanding spiral escalator became the first of its kind in the United States and was designed exclusively for The Forum Shops by Mitsubishi.
Unique ambience: Perhaps it is the cobblestone streets and the Mediterranean sky.  Or the numerous magical touches, such as the ornate fountains, spiral escalator and the intricate mosaic tile.  The Forum Shops at Caesars has been paralleled to the likes of Via Condotti, Rodeo Drive and other prestigious shopping venues worldwide.  With 160 specialty shops and restaurants The Forum Shops is unlike any other shopping experience in the world.
ABOUT THE FORUM SHOPS AT CAESARS
The Forum Shops at Caesars opened 283,000 square feet in May 1992 to immediate success.  An August 1997 expansion to 500,000 square feet continued the momentum.  The third phase of The Forum Shops' growth was a three-level expansion extending from the existing retail, dining and entertainment icon to the famed Las Vegas Strip adding 175,000 square feet, with completion October 2004.  A grand pedestrian plaza entrance on Las Vegas Boulevard further validates The Forum Shops as one of the finest luxury shopping streets in the world.  The Forum Shops is recognized for its unique combination of top retail, dining, entertainment, excellent location and exciting ambiance featuring 160 specialty shops and restaurants.  Additional information may be accessed at
www.forumshops.com
.