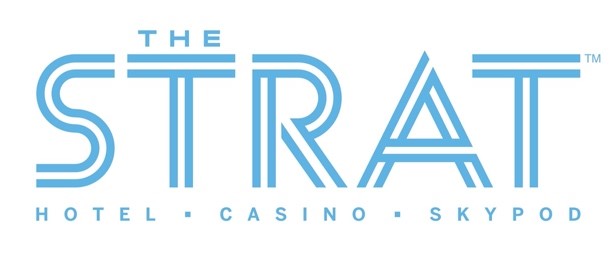 The STRAT Hotel, Casino & Tower to Offer Elevated Dining and Drinking
Experience and Room Package Worthy of a Grand Prix Champion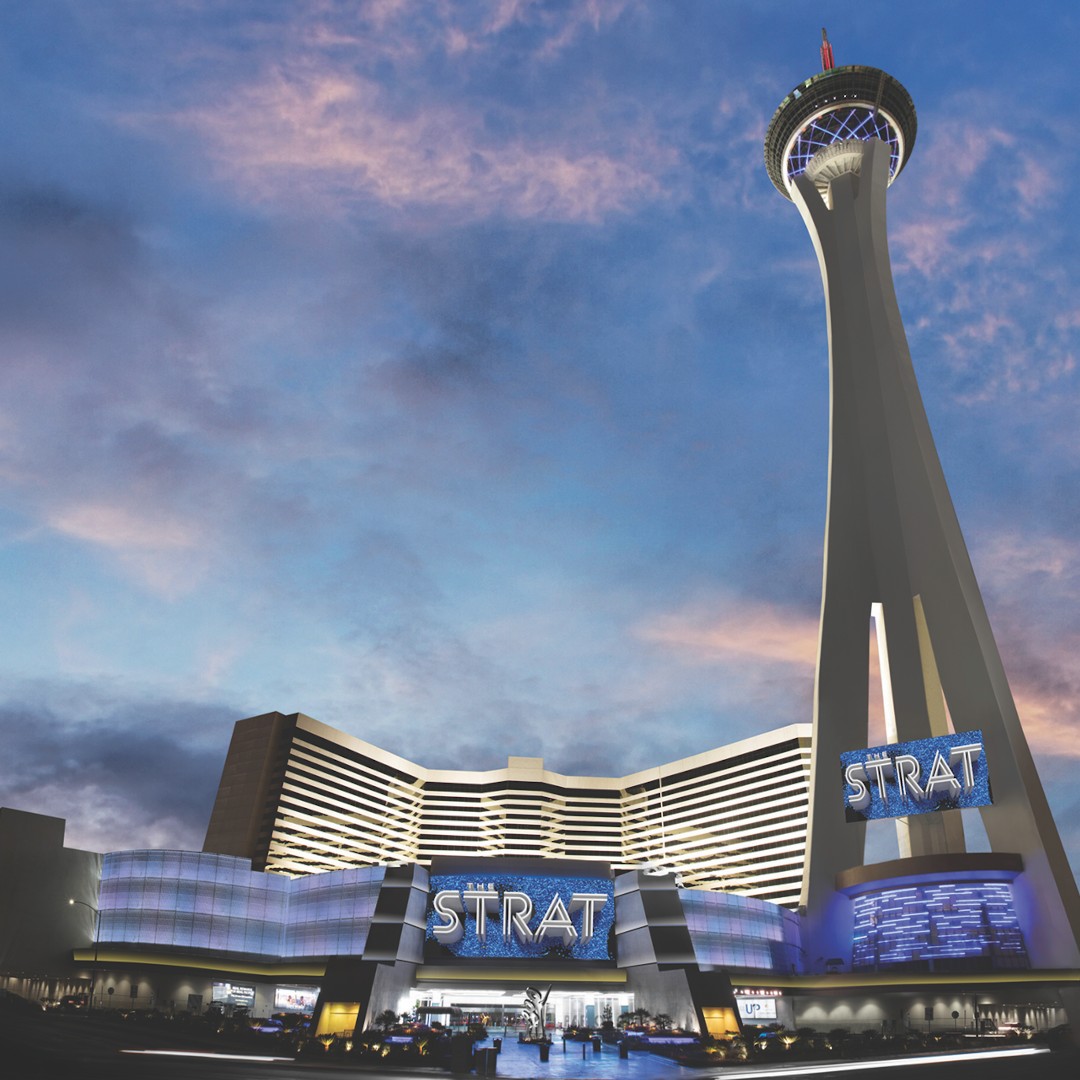 The STRAT Hotel, Casino & Tower will offer an elevated experience curated for champions with a specialty prix fixe menu and featured champagne offering at the award-winning Top of the World restaurant; as well as a specialty room package, "STRAT Your Engines;" available exclusively during the inaugural race, from Thursday, Nov. 16 through Saturday, Nov. 18.
Towering 844 feet above the Las Vegas Strip from The STRAT's iconic tower, Top of the World, famous for its 360-degree rotating dining room and stunning views, will offer the specialty "Circuit Tour" prix fixe menu, featuring four courses that each pull inspiration and flavors from countries where races are held. The culinary tour will begin with Bolinho de Bacalhau, Alaskan cod fritters with spicy black bean sauce and pickled onions, inspired by Brazil's Interlagos. Bouillabaisse, inspired by Circuit de Monaco, will be served for the second course, and made with cod, shrimp, lobster, mussels, sauce rouille and tomato, fennel and saffron broth. The entrée, Carrillada, will include red wine braised beef cheek with onions, mushroom jus and spicy potatoes in honor of Spain's Ciruito de Catalonia. The meal will end on a sweet note with Roll of the Dice, a chocolate cake with chocolate-raspberry crémeux, inspired by the hometown race. The specialty menu will be priced at $120 per person.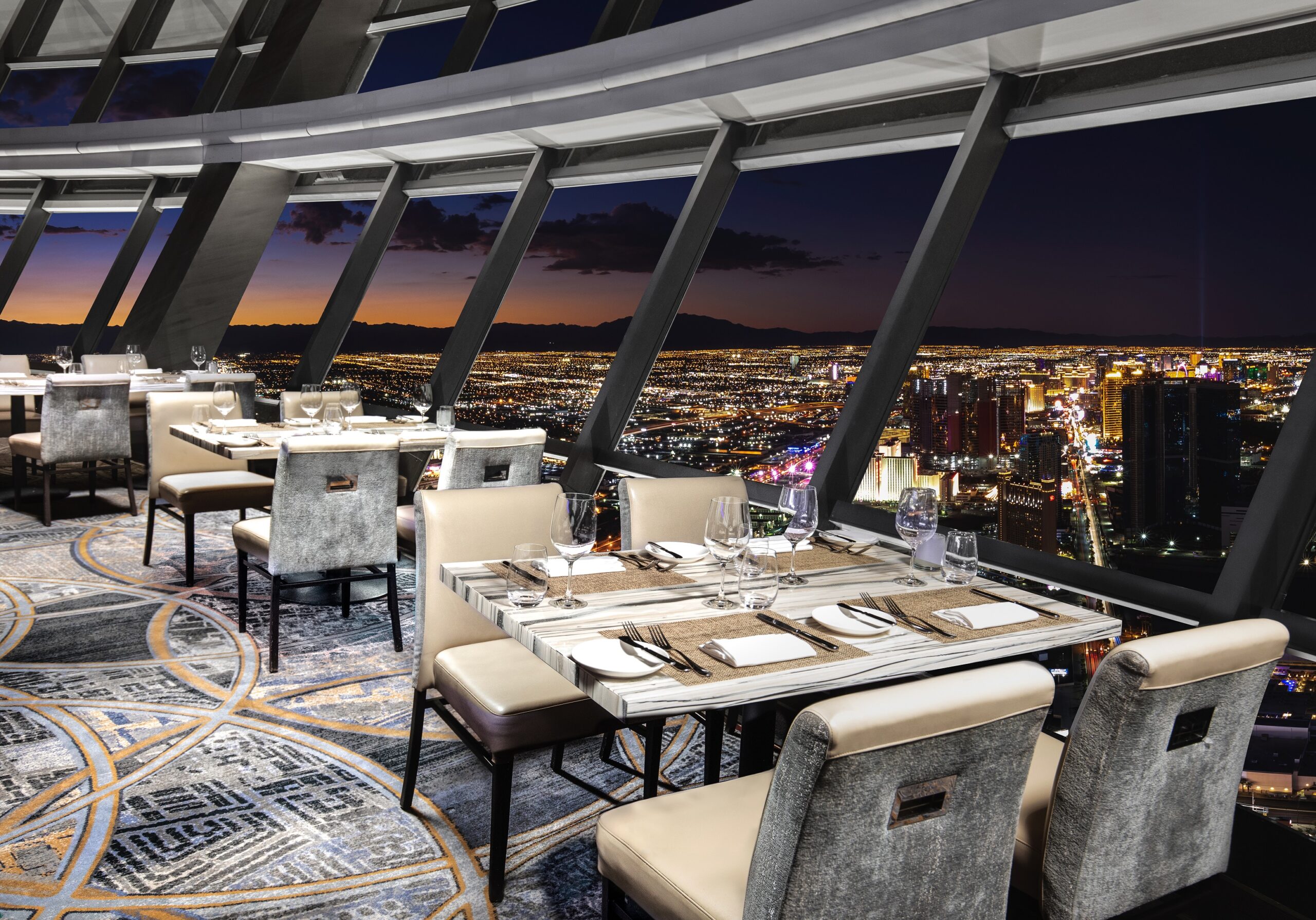 Top of the World will invite guests to experience the feeling of standing on the podium with a jeroboam of Ferrari Trento sparkling brut. Named the "official toast" of the premier racing series, guests may celebrate like a champion while sipping the 3-liter bottle of world-class sparkling wine, priced at $750. Reservations for Top of the World are recommended and may be made online, on-site or by calling (800) 998-6937.
The STRAT will also offer a specialty room package, "STRAT Your Engines." The package will be available for rooms booked throughout the weekend and will include an upgrade to a newly remodeled Elevate room; complimentary admission to the Observation Deck and STRAT Tower; and reserved seating for one of The STRAT's televised race viewing locations. The race will be broadcast on state-of-the-art LED video walls, as well as numerous LED TVs, offering prime viewing options throughout the STRAT. The package may be purchased online or by calling 1-800-998-6937.
The STRAT will soon offer specialty food and beverage offerings and other activations to honor the race. All promotions will be posted on the website at www.TheSTRAT.com as they become available.
About The STRAT Hotel, Casino & Tower
The STRAT Hotel, Casino & Tower, formerly the Stratosphere, Casino, Hotel & Tower, has introduced a full reinvention of the iconic property since Golden Entertainment, Inc. took ownership in late 2017. Located on the north Strip at the gateway to the Arts District at 2000 S. Las Vegas Blvd., the hotel offers 2,427 guest rooms, including the newly remodeled "Elevate" series rooms and suites, and an 80,000-square-foot casino. The 1,149-foot STRAT Tower is comprised of Top of the World, serving award-winning cuisine in a 360-degree rotating dining room on the 106th floor; the Observation Deck, which offers SkyJump, 108 Eats and 108 Drinks, located on the 108th floor; and thrill rides, located at the top of the tower, including Big Shot and X-Scream. The STRAT's main floor has introduced CHĪ Asian Kitchen, PT's Wings & Sports, View Lounge and STRAT Café, each offering chef-driven cuisine; the William Hill Sports Book; and REMIX Lounge. The STRAT offers two resort-style pools, WET24, an adult-only and top optional pool located on the rooftop of the 24th floor, open seasonally; and Swim & Social, on the eighth story rooftop with a poolside café. A variety of shows and entertainment include "Banachek's Mind Games Live," a mentalist act; iLuminate, a multi-sensory blend of dance and technology; ROUGE, an exciting, topless spectacular and immersive, sensual experience; and L.A. Comedy Club, which showcases up-and-coming stand-up comics. Golden Entertainment, Inc.'s innovative guest loyalty rewards program, True Rewards, is now available at The STRAT and 140+ other locations. More information is available at www.TheSTRAT.com or by calling 702-380-7777. The STRAT is on social media at Facebook, Twitter, Instagram and YouTube.
About Golden Entertainment, Inc.
Golden Entertainment owns and operates a diversified entertainment platform, consisting of a portfolio of gaming and hospitality assets that focus on casino, branded taverns, and distributed gaming operations. Golden Entertainment operates over 15,800 slots, over 100 table games, and over 6,000 hotel rooms. Golden Entertainment owns eight casinos in Southern Nevada and 65 gaming taverns in Nevada. Through its distributed gaming operations in Nevada and Montana, Golden Entertainment operates video gaming devices at nearly 1,000 locations. For more information, visit www.goldenent.com.
Summary
Article Name
The STRAT Hotel, Casino & Tower to Offer Elevated Dining and Drinking Experience and Room Package Worthy of a Grand Prix Champion
Description
The STRAT Hotel, Casino & Tower to Offer Elevated Dining and Drinking Experience and Room Package Worthy of a Grand Prix Champion