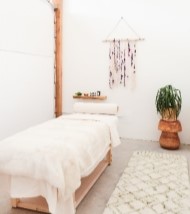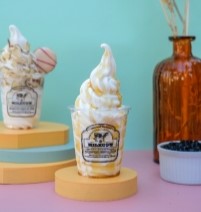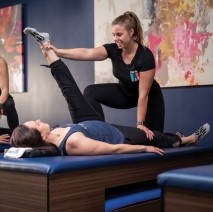 L to R: A Massage Table inside The NOW Massage: Milkcow's Milky Honey Soft Serve; A guest
at StretchLab. (Photos courtesy of Tivoli Village)
TIVOLI VILLAGE ADDS FOUR WELLNESS, DINING VENUES TO GROWING LIST OF TENANTS
Tivoli Village, Las Vegas' premier open-air, mixed-use lifestyle center featuring more than 50 tenants, retailers, restaurants and 300,000 square feet of Class A office space, recently signed leases with four new tenants: The NOW Massage, Milkcow, StretchLab and The Chancellor.
Now open inside Tivoli Village, The NOW Massage serves as an oasis to disconnect from the outside world and reconnect within. Offering high-quality, customizable massage services without the time commitment and cost of a traditional spa, The NOW Massage offers a thoughtfully crafted menu of services and healing products. With locations across the United States, its interiors have been recognized by press and influencers for its elevated aesthetic, inspired by exotic destinations from around the world. The NOW Massage is located at 410 S. Rampart Blvd, Suite 165 and is open daily from 10 a.m. to 10 p.m. For more information, visit thenowmassage.com.
Milkcow, was founded in 2013 as the first milk and honey concept ice cream brand and will officially open inside Tivoli Village on Saturday, June 18. After seven years in development, Milkcow is now open in more than 15 countries with more than 50 locations. ​Milkcow has also developed their own drink line with the best ingredients and taste, creating the most satisfying healthy dessert experience guaranteed with carefully sourced premium ingredients. Milkcow will be located at 400 S. Rampart Blvd, Suite 140 and will be open Sunday through Thursday from 11 a.m. to 8 p.m. and Friday and Saturday from 11 a.m. to 10 p.m. To learn more, visit milkcownv.com.
Slated to open the end of June, StretchLab is the ultimate one-on-one assisted stretching service. As an inclusive and accessible brand, StretchLab helps guests of all ages, body types and fitness levels achieve greater ranges of motion. Trained Flexologists® create customized, one-on-one assisted stretching routines based on the guest's needs and specific goals. With numerous benefits to stretching, customers will gain more flexibility and mobility, reduce muscle and joint pain, improve posture, reduce stress and improve sports performance. Complimentary stretch demo sessions are available now through opening day. To book a free stretch, email [email protected] or call 702-758-8810. They will be located at 410 S. Rampart Blvd, Suite 180 and will be open seven days a week. For more information, visit stretchlab.com/location/summerlin.
Now open at Tivoli Village is The Chancellor, an elevated dining experience featuring an eclectic mix of Italian, Mexican, French and American fare complemented by hand-crafted cocktails and impeccable wine list. The Chancellor is located upstairs at 440 South Rampart Blvd, Suite 180, next to El Dorado Cantina. The restaurant is open Wednesdays through Sundays from 5 p.m. to 10:30 p.m. For more information or to make a reservation, visit www.chancellorrestaurant.com or call 702-447-0502.
These new additions join Tivoli Village's dynamic roster of tenants spanning health and beauty, luxury design, clothing retailers for women and men, top-of-the-line fitness facilities and more than a dozen restaurants and bars. The destination also offers ample and convenient ground-level and garage parking.
Tivoli Village is conveniently located next to major highways, including Summerlin Parkway and Interstate 215. It is also situated minutes from a variety of residential communities, including the new Elysian at Tivoli apartments on Alta Drive.
"With a curated list of health and wellness destinations as well as some of Las Vegas's most notable foodie hotspots, we are thrilled to welcome these new tenants to our lifestyle center," said Andrea Blue, general manager, Tivoli Village. "Tivoli Village is doing better than ever before and we are excited to provide our guests with desirable amenities we know they'll love."
To inquire about long-term retail and office leases, visit TivoliVillageLV.com for more information.
ABOUT TIVOLI VILLAGE
From dancing in the streets to yoga on the Piazza, old-world elegance blends seamlessly with today's active lifestyle at Tivoli Village. Anchored by Restoration Hardware's RH Las Vegas, the outdoor center is complemented by a curated collection of retailers ranging from luxury brands to one-of-a-kind boutiques. Enticing restaurants include local favorites such as Echo & Rig Butcher and Steakhouse, Leoné Café and El Dorado Cantina, while Kilo Club serves as an upscale members-only gym beyond traditional options. Located in one of the most affluent sections of Southern Nevada, Tivoli Village is 15 minutes from the Las Vegas Strip, conveniently situated off Summerlin Parkway. The center proudly boasts 370,000 square feet of retail and restaurants and 300,000 square feet of Class A office space. Covered parking and curbside pickup zones are provided. Restaurant and store hours vary. For more information on Tivoli Village visit tivolivillagelv.com or follow along on Instagram or Facebook.
Summary
Article Name
Tivoli Village Adds Four Wellness, Dining Venues to Growing List of Tenants
Description
Tivoli Village Adds Four Wellness, Dining Venues to Growing List of Tenants