UNLV TRACK & FIELD/CROSS COUNTRY ROUNDS OUT COACHING STAFF WITH HENRY
2022 Junior College National Women's Assistant Coach of the Year and two-time Olympian, Tabarie Henry, to serve as assistant coach over Sprints, Hurdles and Relays.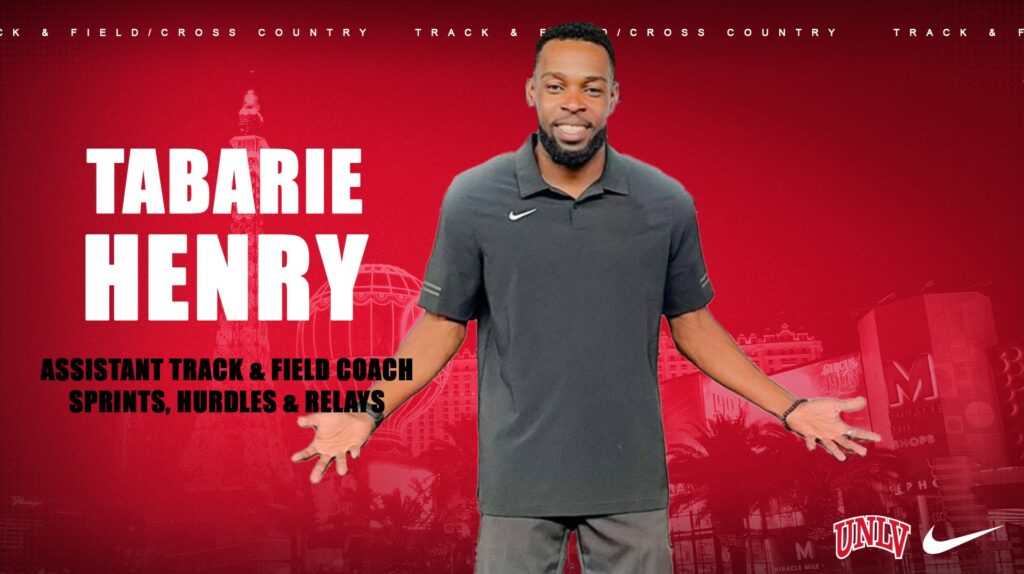 Tabarie Henry will join the UNLV Track & Field/Cross Country coaching staff as the assistant coach in charge of Sprints, Hurdles and Relays, Head Coach of Track & Field/Cross Country, Dorian Scott, announced Friday.
Henry joins the Rebels after serving as an assistant sprints and hurdles coach for New Mexico Junior College (NMJC) men's and women's cross country and track programs from July 2019 until the end of the 2021-22 season.
During his three seasons spent in Hobbs, NewMexico, he coached seven national champions and his sprinters played an intricate role in helping NMJC win the 2020 Women's Junior College Track and Field National Championship. During his tenure at NMJC, Henry also helped the women's track program finish as runner-up in the 2021 and 2022 indoor and outdoor National Championships.
Tabarie has been voted the 2020, 2021 and 2022 Women's Indoor and Outdoor West Regional Assistant Coach of the Year and had 98 total All-Americans for both men and women indoor track.
Prior to his time in New Mexico, Henry spent one season at Hawkeye Community College in Iowa (2018-19) where he coached 15 national qualifiers, 12 school record holders and had four All-Americans.
Before Hawkeye, Tabarie was a volunteer assistant coach at Texas A&M, serving under the Legendary Pat Henry from 2012-17. He then took the volunteer assistant coach position at Alabama under the guidance of Matt Kane, regarded as one of the best sprints coaches in the world. While assisting Kane, Henry helped coach two national champions. Coach Henry also coached at the Peak Performance Training Center, the Shed Performance Center and Cedar Park High School, all in Austin, Texas.
Henry has a long and storied track career, which includes being a former NCAA champion and two-time Olympian where he competed for the U.S. Virgin Islands in the 2008 Summer Olympics in Beijing and the 2012 Summer Olympics in London. He reached the 400m semifinals at both games, placed fourth at the 2009 IAAF World Championships in Berlin, Germany, and followed up with a seventh place finish at the 2011 IAAF World Championships in Daegu, South Korea. He was ranked as one of the top 15 400m runners in the world from 2008-2012.
Before starting his coaching career, Tabarie enjoyed success as a student-athlete for Texas A&M, where he was a back-to-back national champion (2010, 2011) and the 2011 Big 12 Indoor Track & Field champion in the 600-yard run 4x400m relay. He graduated in 2012 with a bachelor's degree in agriculture leadership and development and a minor in sports management. He also earned an associate degree from Barton County Community College in 2010.
Summary
Article Name
UNLV Track & Field/Cross Country Rounds Out Coaching Staff With Henry
Description
UNLV Track & Field/Cross Country Rounds Out Coaching Staff With Henry