UNLV VOLLEYBALL WELCOMES FIVE NEWCOMERS

Caleigh King, Basia Latos, Olivia 'Bibs' Mikkelsen, Kennedy Peery and Kennedy Prince make up the 2023 recruiting class as practice for the season gets started Tuesday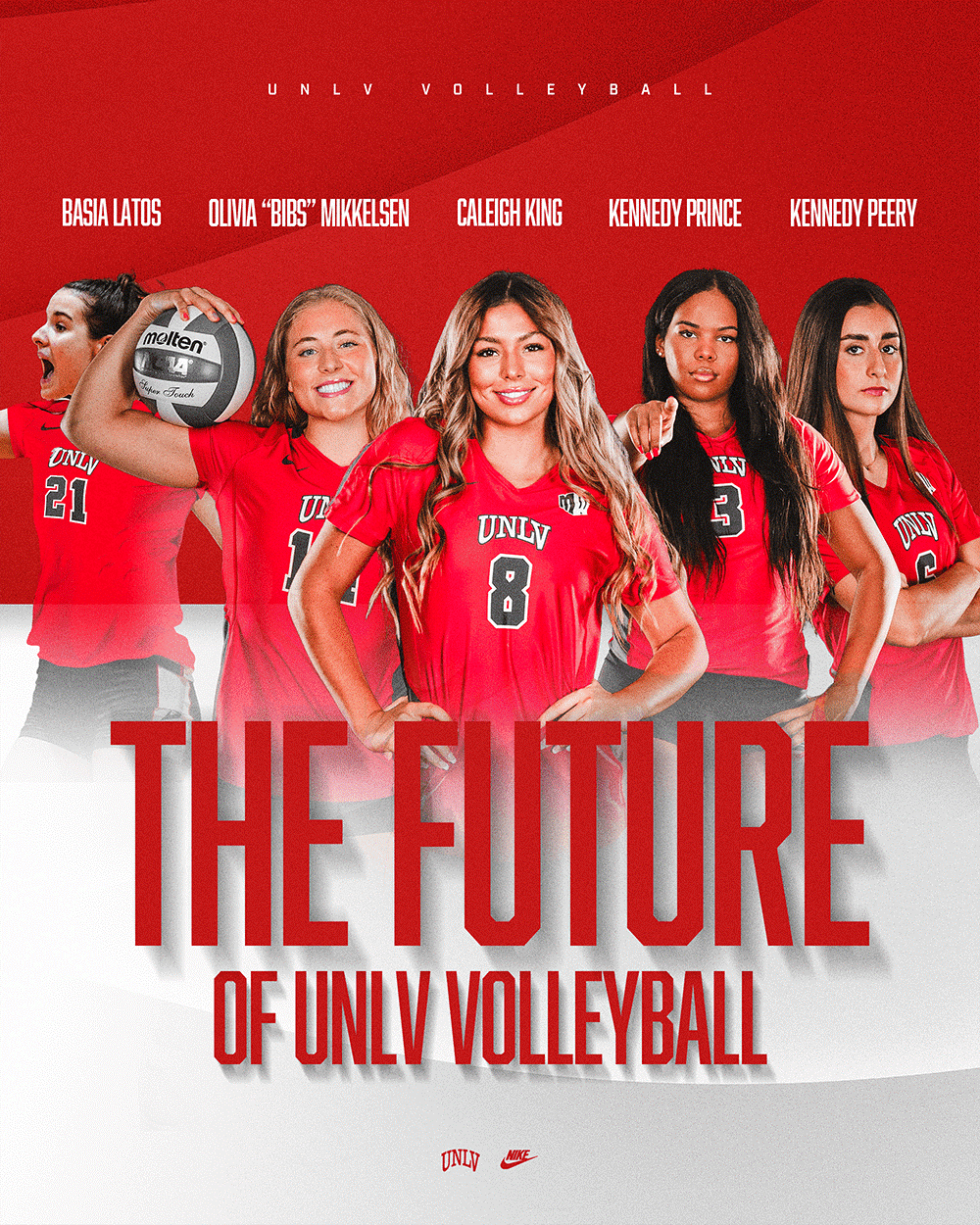 Buy UNLVtickets | @UNLVvball | Schedule
The defending Mountain West regular-season champion UNLV Volleyball team, which is coming off a 26-win campaign in 2022 and another NCAA Tournament appearance, will welcome five newcomers to the roster as practices for the 2023 season get underway Tuesday.
The Rebels, who are led by new head coach Malia Shoji, have added five new student-athletes to the program in Caleigh King, Basia Latos, Olivia "Bibs" Mikkelsen, Kennedy Peery and Kennedy Prince.
"Creating depth and competition within our roster was a top priority for our staff this spring," Shoji said. "This class of newcomers does just that. Not only are they talented volleyball players, but they also embody the values of the UNLV volleyball program. They will have a lasting impact on this program and help us make history."
Caleigh King
King is a 5-foot-6-inch libero from Southlake, Texas. A 2023 graduate of Southlake Carroll High School, she will be a freshman at UNLV. King was named her region's Defensive Player of the Year and earned First-Team All-District and Academic All-District honors this past season. She was also ranked among the top 50 players in the country by Prep Volleyball and received an invite to Under Armour's Next Camp. She led her team to the 6A-4 Bi-District Championship along with the 6A-4 Area Championship title and in club volleyball for Drive Nation she was named to the All-Tournament Team in the 17 Open division at the Girls Junior National Championship after her team finished fifth at the event. King graduated a year early to become a Rebel for the 2023 season.
Basia Latos
Latos is a 5-foot-11-inch outside hitter from Lazy, Poland. She will also be a freshman at UNLV after graduating this year from the School of Sports Championship in Stężyca, Poland. She was named the MVP of the National U19 Championships Finals this year and in 2022 she was named the same event's Best Spiker. This year, her team won gold in the Polish Women's Under-19 Championships and took bronze the year before. Latos is currently training with the Under-21 Polish National team, which will compete in the World Championships in Mexico, August 17-24. She played in the Polish Women's Under-17 Championships in 2020 and 20201, earning silver and bronze medals, respectively. Additionally, she won bronze medals with the Under-19 national team at the European Youth Summer Olympic Festival as well as the European Championships, both in 2022. She played her club ball with both UKS Atena Warszawa and GKS Wieżyca "2011" Stężyca.
Olivia "Bibs" Mikkelsen
Mikkelsen is a 5-foot-10-inch setter who transferred to UNLV from Washington. Originally from Nine Mile Falls, Washington, she was a member of the Huskies program from 2019-23 and will be a junior this season at UNLV. While at Washington, the team made four NCAA Tournament appearances, advancing as far as the Final Four in 2020. The team also won the Pac-12 Championship in 2020 and 2021. A 2019 graduate of Lakeside High School, her team won the state championship in 2016 and the league title all four years she was there. She also played basketball and participated in track & field in high school.
Kennedy Peery
Peery is a 5-foot-9-inch setter who transferred to UNLV from the College of Southern Idaho. Originally from Tigard, Oregon, she will be a junior at UNLV. At CSI for two years (2021-23), she is a 2021 graduate of Tigard High School. Peery was named to the All-Three Rivers League as a junior and senior. She also played tennis in high school and is the daughter of UNLV men's basketball assistant coach Barret Peery.
Kennedy Prince
Prince is a 6-foot outside hitter who transferred to UNLV from Miami. Originally from Houston, Texas, she will be a senior at UNLV. A part of the Hurricanes program from 2019-23, she recorded the second most kills by a freshman in school history. Miami played in each of the last two NCAA Tournaments. A 2019 graduate of George Ranch High School, Prince was named to the Under Armour All-America Watch List in 2018 and was a three-time Texas Association Volleyball Coaches All-Star Team member. She was also named her area's Offensive Player of the Year in 2016 and 2017, MVP in 2017 and Co-MVP in 2018.
2023 UNLV VOLLEYBALL SEASON: The Rebels are scheduled to play its intrasquad Scarlet & Gray scrimmage this Saturday, Aug. 12 in the Cox Pavilion's practice gym at 7 p.m. and host an exhibition match on Saturday, Aug. 19 against Northern Arizona at 1 p.m.
The regular season begins for UNLV at Colorado's tournament, Friday-Sunday, Aug. 25-27 in Boulder, Colorado. In addition to facing the Buffaloes on Aug. 25, UNLV will also play North Texas (Aug. 26) and Campbell (Aug. 27) at the event.
UNLV will host its first home match on Tuesday, September 12 against Southern Utah. The full season's schedule may be found here.
UNLV SEASON TICKETS: Season tickets for UNLV volleyball are on sale now and may be purchased at UNLVtickets.com or by calling 702-739-FANS (3267). Season tickets are $50 for adults (13 and older), and $40 for active alumni, seniors, and faculty and staff.
Summary
Article Name
UNLV Volleyball Welcome Five Newcomers, Practice For 2023 Season Begins Tuesday
Description
UNLV Volleyball Welcome Five Newcomers, Practice For 2023 Season Begins Tuesday