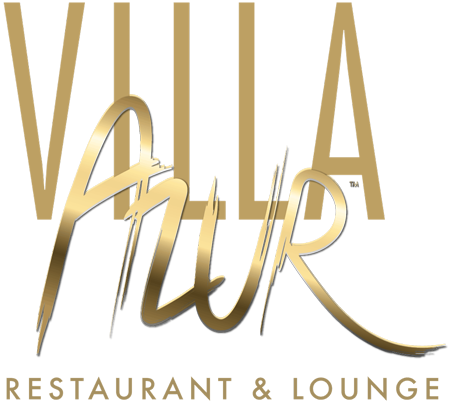 JOIN THE FIESTA: VILLA AZUR LAS VEGAS COMMEMORATES MEXICAN INDEPENDENCE DAY IN STYLE
Villa Azur Las Vegas sets the stage for an unforgettable Mexican Independence Day experience filled with authentic cuisine, live music, and incredible tequila offers.
Vibe-dining restaurant, Villa Azur Las Vegas is thrilled to announce its upcoming Mexican Independence Day celebration, a three-day extravaganza from Thursday, September 14 to Saturday, September 16. As one of Las Vegas's premier dining and entertainment destinations, Villa Azur invites locals and visitors alike to immerse themselves in the vibrant culture and flavors of Mexico during this special event.
Highlights of Villa Azur's Mexican Independence Day special include:
Live Mariachi and Entertainment: Guests will be serenaded by the enchanting melodies of traditional mariachi music and treated to live entertainment that captures the spirit of Mexico throughout the three-day celebration.
Live DJ: Keep the party going with a talented DJ who will be spinning beats that create an unforgettable atmosphere that blends tradition with contemporary vibes.
Chef Specials: Indulge in a mouthwatering array of upscale Mexican-inspired dishes prepared by Villa Azur's renowned culinary team.
Tequila Promotion: To elevate the festivities, Villa Azur is offering an exclusive promotion: guests who purchase one bottle of tequila will receive a second bottle at a 50% discount. This is a fantastic opportunity to savor some of Mexico's finest spirits while enjoying the festivities.
Villa Azur Las Vegas is excited to welcome guests to this unique three-day celebration of Mexican Independence Day. This special event promises to be a memorable experience that combines delicious cuisine, live entertainment, and the warmth of Mexican hospitality.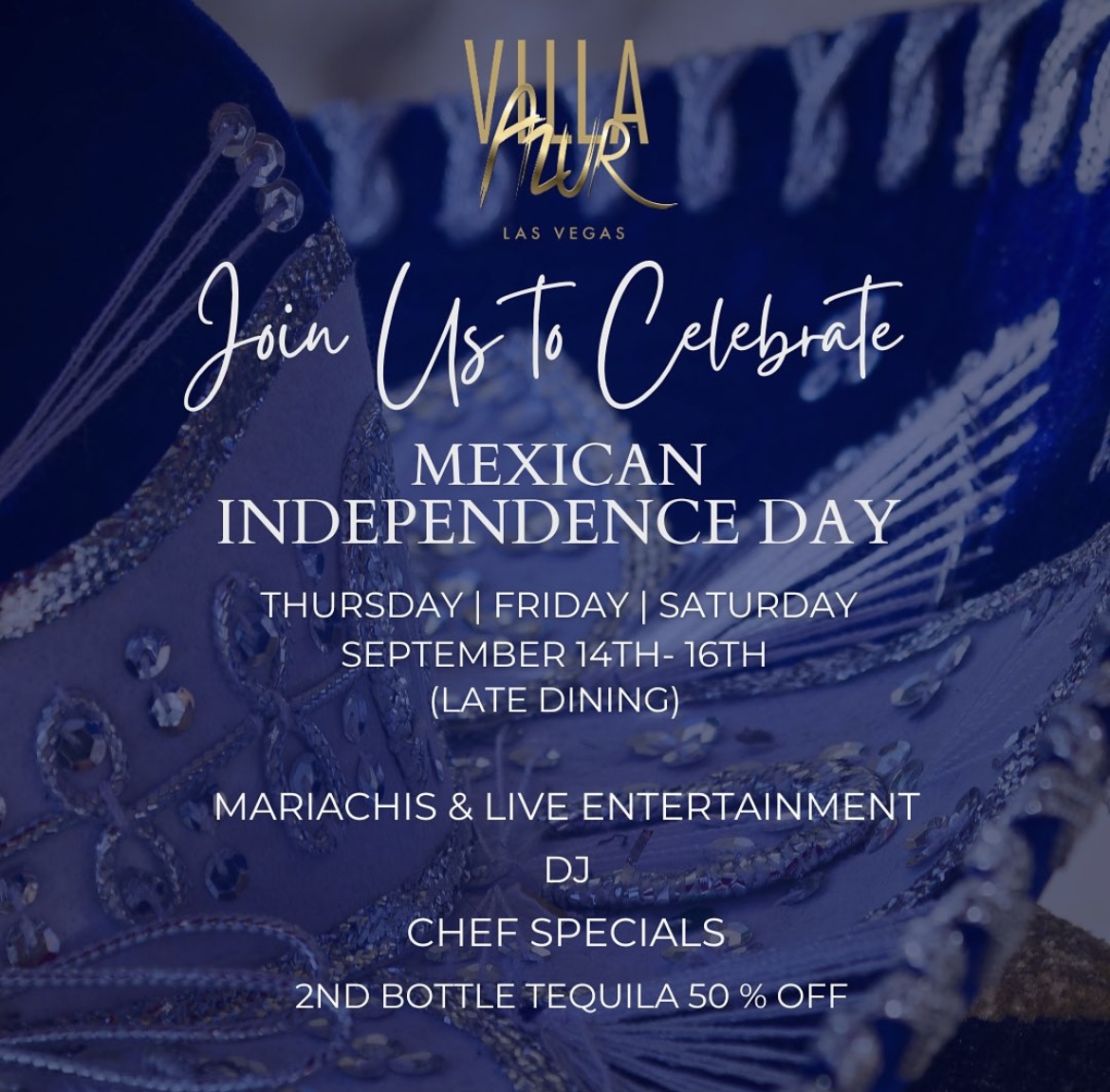 Visit www.villaazurmiamibeach.com/location/villa-azur-las-vegas for more information and click here to book a reservation.
ABOUT VILLA AZUR
Villa Azur at the Grand Canal Shoppes in Las Vegas is an upscale, vibe-dining restaurant and lounge with cuisine that features delicacies and flavors from the South of France. Signature dishes include Truffle Burrata, Seared Octopus, Truffle French Ravioles and Dover Sole Meunière. Some dishes are an experience as servers will prepare it table side, such as, Pâtes a la Meule served in a Parmigiano Reggiano wheel and cognac flamed. Their impressive menu continues with their wine and champagne list and cocktail menu featuring handcrafted, signature drinks made by master mixologists. Villa Azur also has locations in Miami Beach, Florida; Dallas, Texas; Las Vegas, Nevada; Saint-Tropez, France; Bodrum, Turkey; and Mexico City, Mexico.
Villa Azur in Las Vegas opened in November 2022. Their business hours are Tuesday – Thursday 5:30 – 10 p.m., Friday & Saturday 5:30 p.m. – 2 a.m with the kitchen closing at 11 p.m. Dance the night away with live entertainment featuring a jazz band Thursday-Saturday 7 – 9 p.m. and late-night DJ Friday & Saturday 9 p.m. – 12 a.m. Visit their website for more information and to book a reservation and follow them on social media on Instagram and Facebook.
ABOUT GRAND CANAL SHOPPES
Located inside The Venetian Resort® Las Vegas, the center boasts 160 specialty brands and world-class restaurants nestled around a charming and faithful reproduction of Venice's Grand Canal, complete with cobbled walkways, street-side cafes and live entertainment. Signature brands including Burberry, Jimmy Choo, Michael Kors, Louis Vuitton, and Tory Burch create an unparalleled retail environment that includes a star-studded line-up of restaurants headed by famous celebrity chefs: Wolfgang Puck's CUT, Emeril Lagasse's Delmonico Steakhouse, Buddy Valastro's Buddy V's and Carlo's Bakery, Lorena Garcia's CHICA, as well as Mercato della Pescheria, SUGARCANE raw bar grill, SUSHISAMBA, and Smith & Wollensky. The center is also home to the all-new ATOMIC SALOON SHOW by Spiegelworld. For more information, visit www.grandcanalshoppes.com
Summary
Article Name
VILLA AZUR LAS VEGAS COMMEMORATES MEXICAN INDEPENDENCE DAY IN STYLE
Description
VILLA AZUR LAS VEGAS COMMEMORATES MEXICAN INDEPENDENCE DAY IN STYLE