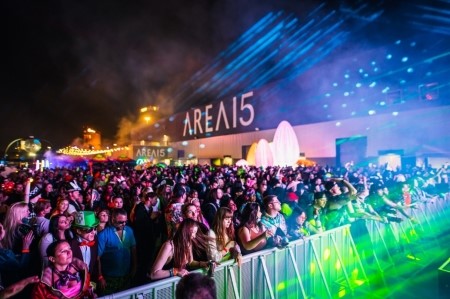 Crowd enjoying the sights and sounds at We're All Mad Here 2022.
(Photo Courtesy of AREA15/Bright Light Digital Art)
AREA15 SPEARHEADS RESURGENCE OF MASSIVES WITH LINEUP OF MULTI-
VENUE PARTIES
Massives Combine Concerts With Over-The-Top Festival Experiences
Including Music, Art, Performance, Spectacles
AREA15, the immersive art and entertainment district located minutes from the Las Vegas Strip, will spearhead the resurgence of Massives in 2023 with a lineup of multi-venue parties. Originally emerging in the late 1990s as a term for colossal rave-style events, Massives are a hybrid between typical concerts and over-the-top festival experiences – a place where music, art, performance and spectacle collide.
Through new, immersive elements, AREA15 will revive the festival and rave scene in a way that hasn't been done to this scale in recent memory. The art and entertainment district will bring back the concept with new, avant-garde additions, including immersive entertainment and roaming performers, specialty food and beverage offerings, thousands of guests decked out in costume, special activations and experience areas and multiple stages featuring DJs, electronic artists and other performers across an array of musical genres.
"From the moment visitors walk through our doors, they'll be transported to other worlds, including an enchanted forest, a neon-lit rave wonderland, the summer camp of their dreams, a haunted shipwreck isle and galaxies filled with psychedelic, otherworldly creatures," said Noah Kessler, head of entertainment, AREA15. "Massives encourage visitors to show up as their most authentic selves, embrace the future and become part of the experience."
All Massives include entry to AREA15, live performances across multiple stages and venues, spirited performers and characters, as well as interactive art and photo installations.
AREA15's 2023 lineup of Massives follows: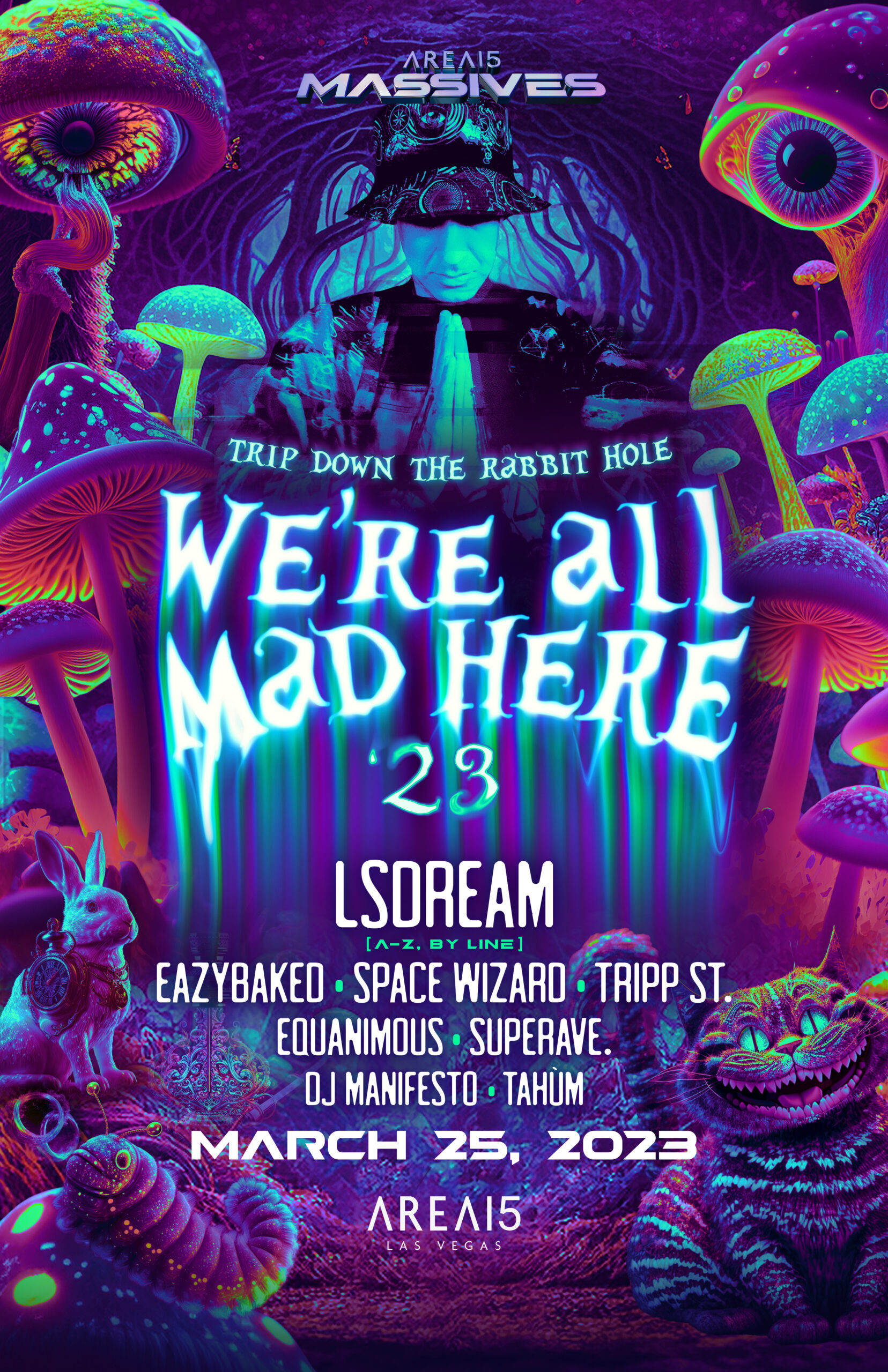 We're All Mad Here
On Saturday, March 25, guests are invited to take a step through the looking glass and discover psychedelic wonderlands filled with fantastical characters. Visitors will discover a Mad Hatter's Tea Party complete with specialty Drink-Me Potions, interactive photo displays, immersive art installations, festival-style vendors, craft makers and more at We're All Mad Here. Guests can embrace the oddities of wonderland by dressing as their best Alice, Queen of Hearts, Cheshire Cat, Mad Hatter or any other bizarre and outlandish characters.
We're All Mad Here's 2023 lineup includes a headlining performance by LSDream with support by Eazybaked, Space Wizard, Tripp St., Equanimous, SuperAve., Tahùm and DJ Manifesto.
Tickets to We're All Mad Here are on sale now at AREA15.com. Must be 18 years or older to attend.
Secret Garden
Visitors are invited to dance and frolic through a magical forest at Secret Garden on Saturday, April 29. Upon entering, guests will be transported to an opulent realm filled with lavish soundscapes, mysterious and enticing performers, bewildering art installations, delectable cocktails, festival-style vendors, craft makers and more. From enticing fairies and lush forest sprites to enchanting woodland creatures, guests can embrace the natural beauty of the deep woods and come dressed in their most ethereal looks.
The entertainment lineup and tickets for Secret Garden will be announced closer to the event. Full details available at AREA15.com.
Neon Dream
Guests can illuminate their Memorial Day weekend at Neon Dream on Saturday, May 27. The Massive will feature a glowing spectacle of psychedelic light shows, out-of-this-world drinks, vibrant roaming performers, Instagram-worthy photo ops, eye-catching art installations, festival-style vendors and craft makers. Visitors can glow wild and don their most vibrant neon and LED-lit gear.
The entertainment lineup and tickets for Neon Dream will be announced closer to the event. Full details available at AREA15.com.
Happy Camper
On Saturday, July 22, visitors can unleash their inner child at Happy Camper, the ultimate summer camp party. Attendees will relive their favorite camp memories and escape the heat dancing around AREA15's extraordinary venues, playing old-school games, creating trippy arts and crafts, connecting with friends new and old and more. In addition to multiple stages and entertainers, guests can also enjoy goofy and eccentric performers, characters and camp counselors. The adult summer camp invites guests to dress as campers or counselors and embrace the good summertime vibes.
The entertainment lineup and tickets for Happy Camper will be announced closer to the event. Full details available at AREA15.com.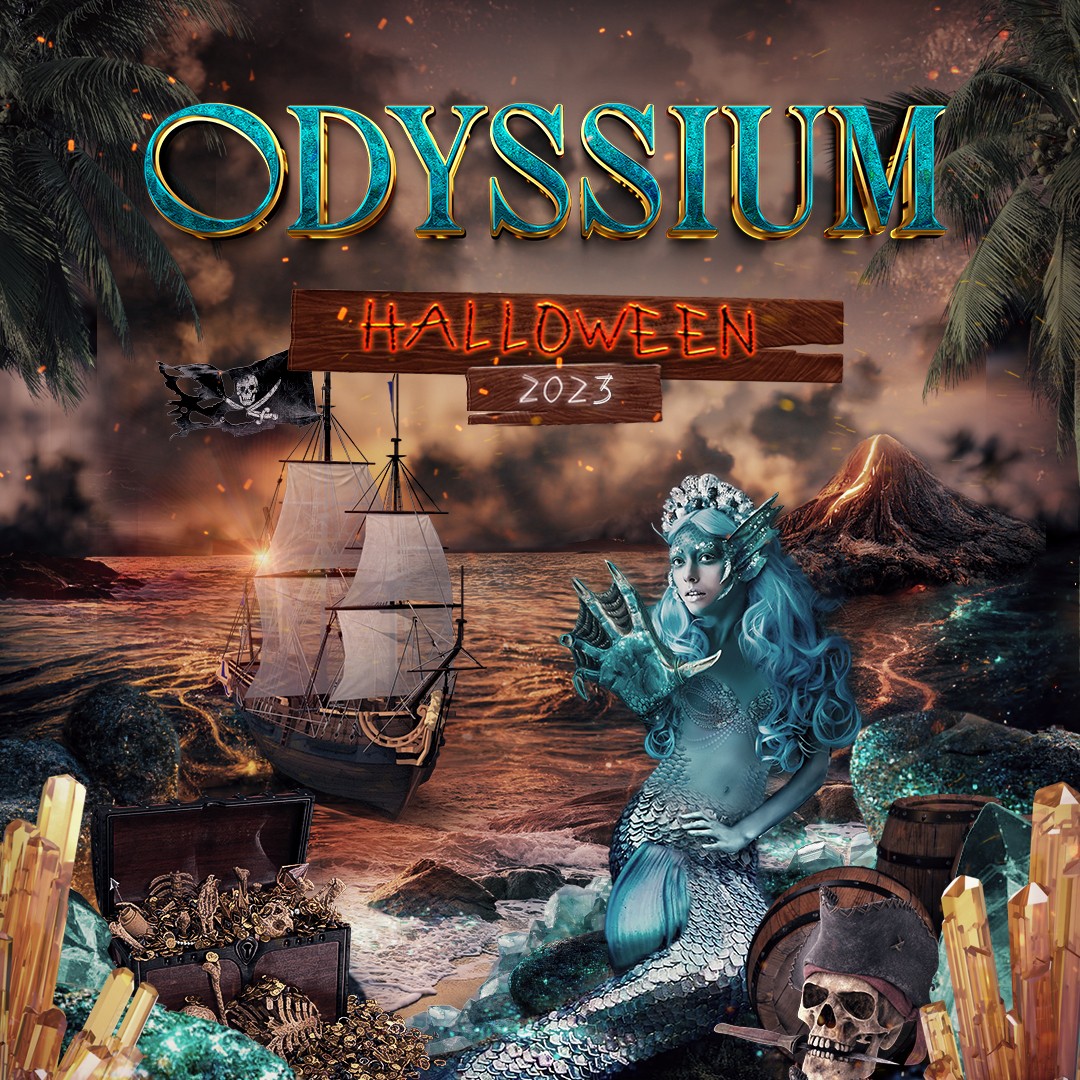 Odyssium
Attendees can spend Halloween weekend at scAREA15 for Odyssium on Saturday, Oct. 28 and Sunday, Oct. 29. Odyssium unlocks a full-venue Massive filled with alluring music, adventure, seductive sirens, treasure, delights and, of course, some frights. Guests can start their journey at LIFTOFF Tavern before finding their treasure in the Sanctuary Cave, discovering the Siren's Cove Portal and ending their quest at the A-Lot shipwreck party. Visitors can let their inner pirate, siren, mermaid (or merman), sea creature or bohemian wanderer come to life at Odyssium.
The entertainment lineup and tickets for Odyssium will be announced closer to the event. Full details available at AREA15.com.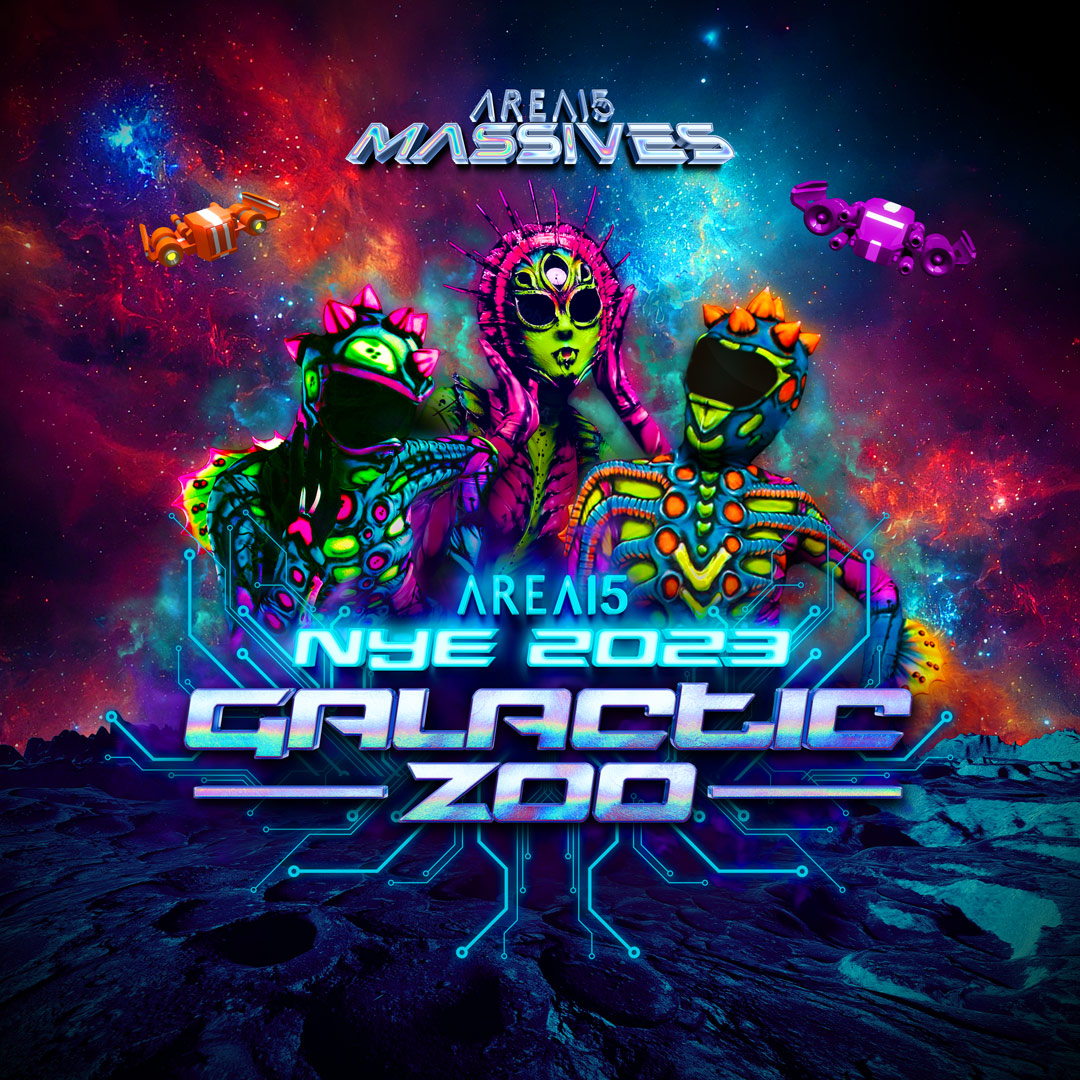 Galactic Zoo
This New Year's Eve, guests can explore the out-of-this-world wanderland at AREA15's Galactic Zoo on Sunday, Dec. 31. Earthlings are invited to unleash their inner space animal at this full-venue Massive featuring cosmic delights, multiple stages of music, performers, festival-style vendors, craft makers and more. Celestial voyagers are invited to dress the part and embrace their inner space animal. Guests can don tinfoil hats or defy gravity in their best star-studded attire.
The entertainment lineup and tickets for Galactic Zoo will be announced closer to the event. Full details available at AREA15.com.
For more information about AREA15 or to learn more about Massives, visit AREA15.com.
ABOUT AREA15 LAS VEGAS
AREA15, located minutes from the Las Vegas Strip, represents the world's first purpose-built immersive entertainment district offering live events, distinctive attractions, interactive art installations, extraordinary design elements, unique retail, ground-breaking technology, bars and eateries and much more. AREA15's curated mix of dynamic destinations—including Meow Wolf's Omega Mart, Lost Spirits Distillery, Illuminarium, Dueling Axes, Five Iron Golf, The Beast by Todd English, Wink World: Portals Into the Infinite, Museum Fiasco, Virtualis VR, Emporium Arcade Bar and many more—represents what's next in experiential entertainment. With a robust, ever-changing roster of concerts, events, immersive art exhibitions, out-of-this-world nightlife and boundary-pushing production shows, AREA15 attracts visitors of all ages.
AREA15 has received numerous accolades, including being named "Best Immersive Art Experience" by USA Today 10Best Readers' Choice Travel Awards, one of "The 10 Most Innovative Urban Development and Real Estate Companies of 2020" by Fast Company, "Best Place for Your Instagram Shot" as well as "Best Attraction" for two consecutive years by Las Vegas Weekly Readers' Choice Best of Vegas Awards, "Best Arts Hub" by Vegas Magazine, claiming the No. 1 spot in Blooloop's "World's Top 11 Immersive Art Experiences" and being included in Las Vegas Magazine's Hall of Fame.
Follow on Instagram and Twitter: @AREA15Official; Facebook: AREA15LasVegas and YouTube: AREA15. Hashtag: #AREA15. Click here for directions and here to download high-res images.
Summary
Article Name
AREA15 Spearheads Resurgence of Massives with Lineup of Multiple-Venue Parties
Description
AREA15 Spearheads Resurgence of Massives with Lineup of Multiple-Venue Parties