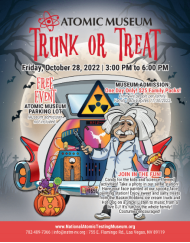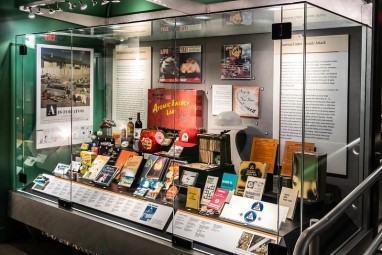 L to R: Promotional Graphic for Trunk or Treat; Image of the Atomic Testing in Pop Culture
Exhibit at the Atomic Museum.
(Photos Courtesy of Atomic Museum)
ATOMIC MUSEUM INVITES COMMUNITY TO HALLOWEEN TRUNK OR TREAT,
FRIDAY, OCT. 28
WHAT:
The Atomic Museum invites the local community to its first-ever Halloween Trunk or Treat event on Friday, Oct. 28. At this FREE event, the Atomic Museum will host cars outfitted with Halloween décor as they pass out candy to guests dressed in costume. Additionally, the event will include science-themed activities for kids, a DJ, face painting, sweet and salty treats and more.
Special guest vendors include:
SeaQuest
DISCOVERY Children's Museum
theCoderSchool Las Vegas
Dairy Council of Nevada
Las Vegas Metropolitan Police Department (LVMPD)
Hot Dog on a Stick pop-up
Baskin-Robbins ice cream truck
Las Vegas Fire & Rescue
Community Environmental Monitoring Program (CEMP)
WHEN:
Friday, Oct. 28
3 to 6 p.m.
WHERE:
Atomic Museum
755 East Flamingo Rd.
Las Vegas, NV 89110
TICKETS:
Admission to the Trunk or Treat is complimentary. However, museum admission is not included. To purchase tickets to the museum or learn more about discounted packages for families, visit nationalatomictestingmuseum.org.
ABOUT THE ATOMIC MUSEUM
The Atomic Museum is operated and maintained by its parent company, the Nevada Test Site Historical Foundation (NTSHF), an IRS 501(c)3 charitable, non-profit organization chartered in Nevada. The Atomic Museum is one of 37 museums designated as an Affiliate Partner of the Smithsonian Institution and is a repository for one of the most comprehensive collections of nuclear history in the world. Covering nuclear history beginning with the first test at the Nevada Test Site on January 27, 1951, the Atomic Museum's exhibitions and programming also address current affairs related to the nuclear industry.  For more information, go to www.nationalatomictestingmuseum.org and follow on Facebook, Instagram and Twitter.
Summary
Article Name
Atomic Museum Invites Community to Halloween Trunk Or Treat, Friday, Oct. 28
Description
Atomic Museum Invites Community to Halloween Trunk Or Treat, Friday, Oct. 28