B&B RISTORANTE AT THE VENETIAN UNVEILS NEW YEAR'S EVE MENUS
On Dec. 31, New Year's Eve, B&B Ristorante at The Venetian will offer guests two dining experiences to usher in 2018: a chef's tasting menu and a prix-fixe menu.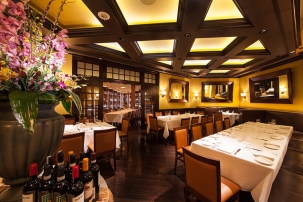 (Photo Credit: Batali & Bastianich Hospitality Group)
CHEF'S TASTING MENU – $195 per person*
The 8-course dining experience will feature Chef Brett Uniss' favorite dishes including the Bone Marrow Ravioli and Roasted Lobster.
First Course
– Sunchoke Panna Cotta with kaluga caviar
Second Course
– Carpaccio di Vitello with olio nuovo and Bruce's arugula
Third Course
– Duck Egg with black truffle, potato and prosciutto
Fourth Course
– Bone Marrow Ravioli with osso buco ragù
Fifth Course
– Roasted Lobster with herb salad, Kishu tangerine and lobster butter
Sixth Course
– Cotechino with lentils and zabaglione
Seventh Course
– Pomegranate Sorbetto
Eighth Course
– Spiced Almond "Tronchetto" with caramelized apples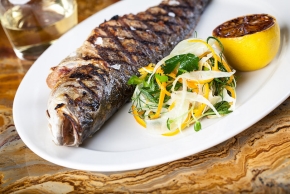 Whole Grilled Branzino
(Photo Credit: Batali & Bastianich Hospitality Group) 
PRIX-FIXE MENU – $135 per person*
This 4-course option will feature Mario Batali's signature dishes including the Beef Cheek Ravioli and Whole Grilled Branzino. The menu will include a choice of one dish for each of the following courses:
Antipasti
– Grilled Octopus with "fagioli marinati" and spicy limoncello vinaigrette
– Butter Lettuce with pancetta, shaved radish and gorgonzola dressing
– Beet Salad with walnuts, persimmons and ricotta salata
– Calamari "Fritti" with caper, pickled chili and butter
– B&B House Cured Salumi with seasonal pickles and marinated olives
Primi
– Garganelli "Bolognese" veal and pork ragù
– Goat Cheese Tortelloni with dried orange and wild fennel
– Beef Cheek Ravioli with black truffle and crushed duck liver
– Lobster Spaghetti with garlic chives and sweet garlic ($10 supplement)
– Tajarin with Alba White Truffle and Luigi Guffanti butter ($50 supplement)
Secondi
– Braised Short Rib "al Barolo" with Anson Mills polenta and horseradish
– Florida Snapper with cauliflower, capers and pine nuts
– Steak Tagliata with arugula, parmigiano reggiano and aceto manodori
– Veal Chop with balsamic glazed cipollini, orange and marjoram ($15 supplement)
– Whole Grilled Branzino with herb and fennel salad ($15 supplement)
Dessert
– Chocolate Torta with vanilla gelato
– Pumpkin Spice Panna Cotta with spiced caramel sauce
– Gelati and Sorbetti
For reservations, please visit www.BandBRistorante.com or call (702) 266-9977.
*Tax and gratuity not included.
ABOUT B&B RISTORANTE AT THE VENETIAN
At B&B Ristorante, Chef Mario Batali and Joe Bastianich's award-winning New York City-based Italian restaurant experience uses only the best local ingredients, treats them as artfully as possible then serves them with gusto. Batali and Bastianich have created an incredible menu paired with Italy's finest wines in a simple and elegant atmosphere. Batali's signature dishes appeal to all personalities, from the classic to the adventurous. Bastianich's wine list showcases selections from every region in Italy, many of them available by the "quartino" (quarter-liter). In B&B Ristorante's dining room, classical Old World charm meets the stylish appeal of the Las Vegas Strip. B&B Ristorante is located inside The Venetian Las Vegas. B&B Ristorante is open nightly starting at 5 p.m. For more information, go to BandBRistorante.com and follow on Facebook, Twitter and Instagram (@BandBRistorante).
Summary
Article Name
B&B Ristorante at The Venetian Unveils New Year's Eve Menus
Description
B&B Ristorante at The Venetian Unveils New Year's Eve Menus
Author