Bottiglia Cucina & Enoteca to Offer Sweet and Savory New
Selections for National Dessert, Pasta Days in October

Sophisticated rustic Italian restaurant at Green Valley Ranch will introduce new
gelato and sorbetto, plus offer two specialty pasta dishes for Pasta Day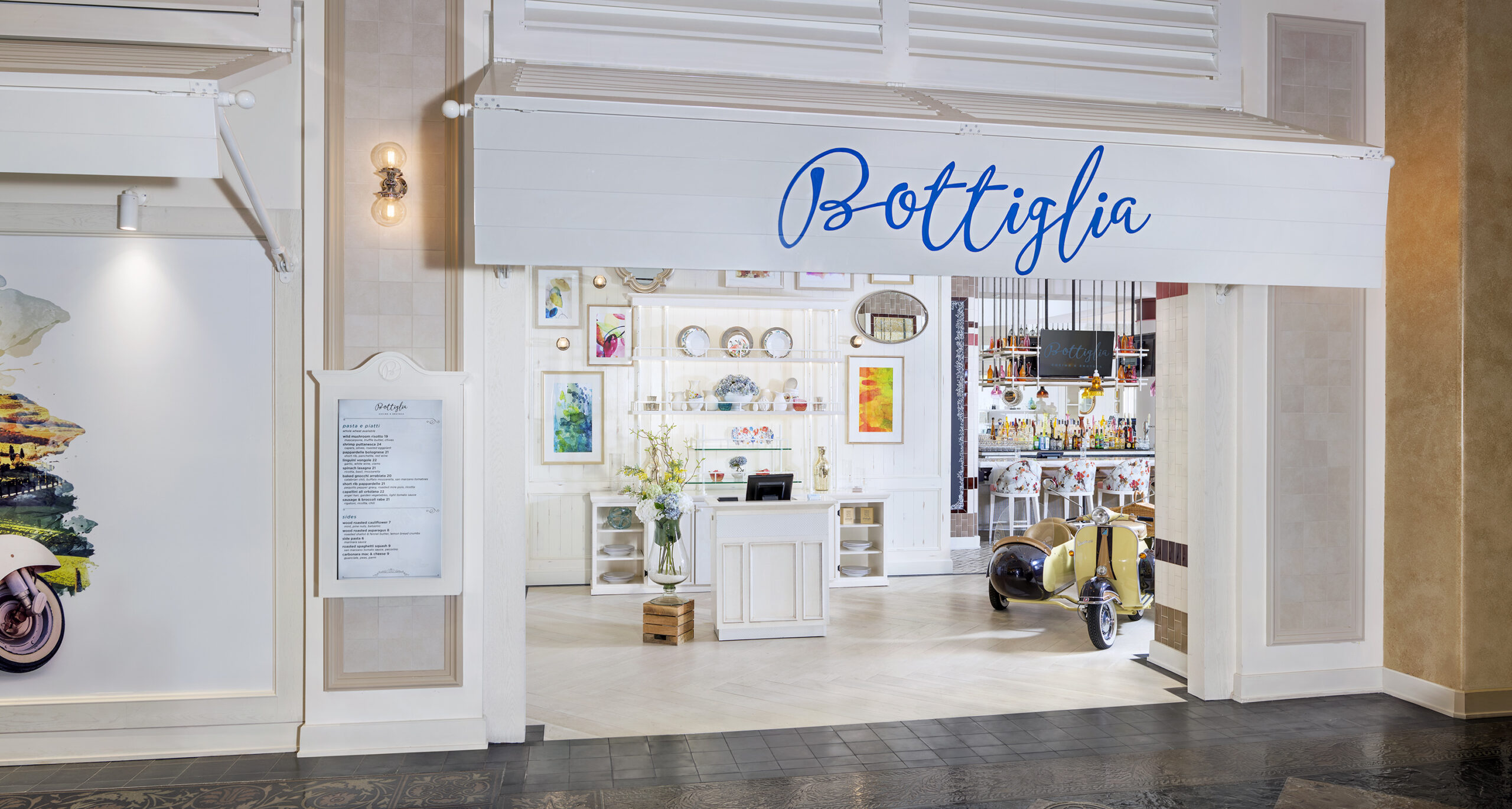 Bottiglia Cucina & Enoteca, located at Green Valley Ranch in Henderson, will take diners on a culinary tour along the coast of Southern Italy in October, introducing decadent and delizioso offerings in honor of National Dessert Day and National Pasta Day. A new gelato and sorbetto will be available for dolce on Saturday, Oct. 14, while two specialty pasta dishes will be available exclusively on Tuesday, Oct. 17.
Putting an Italian twist on National Dessert Day, Executive Chef Alessandro Capuano will invite guests to enjoy the restaurant's new gelato and sorbetto, featuring the chef's personal selection of refreshing flavors: cookie dough, vanilla, double chocolate, vegan chocolate, strawberry, and pistachio for the gelato; and mango or wildberry for the sorbetto. Priced at $12, the gelato and sorbetto are each served with a sweet Italian biscotti.
Available exclusively from 4 to 10 p.m. on Tuesday, Oct. 17, two rich pasta creations have been created by Chef Capuano to elevate the dining experience: a decadent wild boar ragu with mezze maniche rigate pasta, priced at $42; and penne arrabiata, a spicy tomato sauce topped with creamy burrata cheese, priced at $26.
Guests are also invited to explore Bottiglia's diverse wine menu, boasting red, white, pink and sparkling varietals from around the world, including Italy, France, Germany, New Zealand, California, Oregon, Washington and more.
Reservations are encouraged and can be made on the website here or by calling (702) 617-7191.
About Bottiglia Cucina & Enoteca:
Serving sophisticated Tuscan-style fare in a bright and lively setting, Bottiglia Cucina & Enoteca is located within Green Valley Ranch Resort Spa and Casino in Henderson. The menu is bountiful with antipasti, salads, fresh fish, and specialty pasta dishes complemented with wines from all around the world. Bottiglia is open 4 to 10 p.m. Sunday through Thursday; 4 to 11 p.m. Friday and Saturday; and 10 a.m. to 3 p.m. for brunch on Saturday and Sunday. Happy Hour is 4 to 6 p.m. Monday through Friday; Reverse Happy Hour is 9 to 10 p.m. Sunday through Thursday and 10 to 11 p.m. on Friday and Saturday. More information can be found on the website at www.BottigliaLV.com, by calling (702) 617-7191, and on Facebook, Instagram and Twitter.
About Clique Hospitality:
Industry trendsetter Clique Hospitality, founded by hospitality innovator Andy Masi in 2014, has conceptualized nearly two dozen of the top nightlife and dining destinations in San Diego and Las Vegas. The company's Las Vegas day and nightlife portfolio includes The Barbershop Cuts & Cocktails and CliQue Bar & Lounge at The Cosmopolitan of Las Vegas; Eight Lounge and Gatsby's Cocktail Lounge at Resorts World Las Vegas; and DAYLIGHT Beach Club at Mandalay Bay Resort and Casino. The company's Las Vegas dining portfolio includes Bottiglia Cucina & Enoteca and Borracha Mexican Cantina located at Green Valley Ranch Resort Spa & Casino in Henderson; Side Piece Pizza at Red Rock Casino Resort & Spa in Summerlin; The Still Drafts, Crafts & Eats at The Mirage Hotel & Casino; Tailgate Social Sports Bar & Grill at Palace Station Hotel & Casino; and Proper Eats, the highly anticipated food hall now open at ARIA Resort & Casino with a global collection of cuisine and cocktail offerings. Clique will soon unveil three new, immersive concepts at Durango Casino & Resort in Southwest Las Vegas: Mijo Modern Mexican Restaurant and Bel-Aire Lounge, both opening Fall 2023, and Bel-Aire Backyard, opening late Spring 2024. Clique Hospitality's San Diego restaurant portfolio includes Joya Kitchen, Lionfish Coastal Cuisine, Serea Coastal Cuisine and Temaki; and day and nightlife portfolio includes Elicit Lounge, Oxford Social Club, Retreat Pool and The Pool House. More information about Clique Hospitality and the company's full portfolio is available on the website at www.cliquehospitality.com.
Summary
Article Name
Bottiglia Cucina & Enoteca to Offer Sweet and Savory New Selections for National Dessert, Pasta Days in October
Description
Bottiglia Cucina & Enoteca to Offer Sweet and Savory New Selections for National Dessert, Pasta Days in October