Celebrate National Popcorn Day at Garrett Popcorn Shop inside Miracle Mile Shops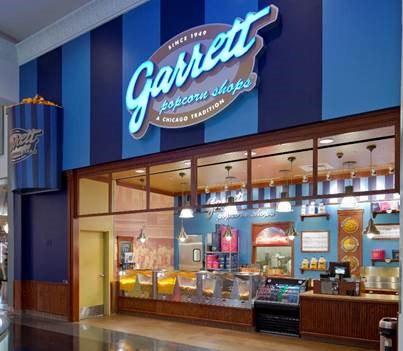 Tomorrow, January 19th, is National Popcorn Day, and there is no better place to celebrate than Garrett Popcorn Shops located at Miracle Mile Shops – the only Las Vegas location of the world-famous popcorn shop.
Made only in small batches, and offering a variety of mouth-watering flavors, it's no surprise that Garrett Popcorn has become a fan favorite across the country. Guests can celebrate National Popcorn Day by sampling Garrett Popcorn's specialty handcrafted flavors like CaramelCrisp, CheeseCorn, Garrett Mix and Buttery popcorn.
CaramelCrisp features caramelized brown sugar with a mouthwatering crème brûlée crunch. The CheeseCorn is classic cheddar popcorn made with real cheddar cheese. The popular Garrett Mix is the perfect combination of cheese and caramel, for those who are craving something salty and sweet. For fans of traditional popcorn, you can never go wrong with the Buttery flavor, a simple (but delicious) buttered popcorn.
Stop by Garrett Popcorn Shop at Miracle Mile Shops and celebrate National Popcorn Day with all the delicious gourmet flavors. High-res photos can be found here.
###
About Miracle Mile Shops™:
Miracle Mile Shops at Planet Hollywood Resort & Casino features more than a mile of premier shops, tempting restaurants and live entertainment venues at the heart of the famed Las Vegas Strip. The center is home to M·A·C Cosmetics, a leading brand of professional cosmetics; Sephora; Morphe; Quay Australia; H&M; Flight 23 at Footaction; Tipsy Robot, the first land-based cocktail bar operated by robots; Chicago popcorn legend Garrett Popcorn Shops' only Las Vegas location; Nacho Daddy, home of the world-famous Scorpion Shot; 15,000-square-foot bar and restaurant Cabo Wabo® Cantina; Club Tattoo, featuring some of the best tattoo artists and body piercers in the nation; as well as a free daily rainstorm show in the desert featuring thunder, lightning, fog and rain. Miracle Mile Shops is an affiliate of Institutional Mall Investors LLC, a co-investment venture owned by Miller Capital Advisory, Inc., and CalPERS.
For more information, call 702.866.0710 or visit www.miraclemileshopslv.com. Keep up with the latest Miracle Mile Shops news via Facebook, Twitter, Instagram and YouTube
Summary
Article Name
Celebrate National Popcorn Day at Garrett Popcorn Shop inside Miracle Mile Shops
Description
Celebrate National Popcorn Day at Garrett Popcorn Shop inside Miracle Mile Shops